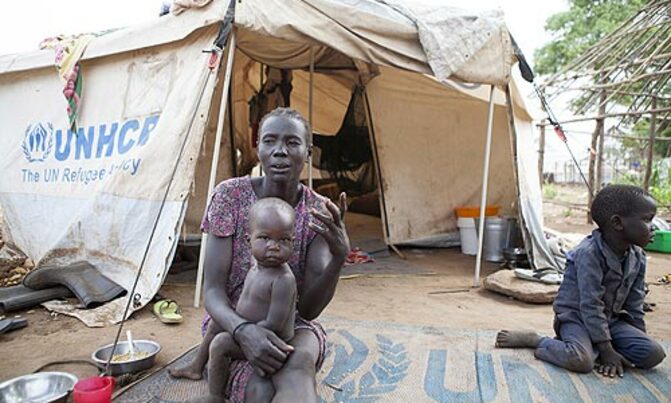 Worsening conflict in Darfur and an influx of people fleeing war in South Sudan helped push to almost seven million the number needing aid in Sudan, the UN said Wednesday.
KHARTOUM - Worsening conflict in Darfur and an influx of people fleeing war in South Sudan helped push to almost seven million the number needing aid in Sudan, the UN said Wednesday.

The figure is a jump from the United Nations' previous estimate of 6.1 million, issued last year.

Aid agencies urgently need funding "to assist 6.9 million people in need of humanitarian assistance (roughly 20 percent of Sudan's population)," a UN statement said.

"The Sudan humanitarian response plan has been revised to reflect the deteriorating situation in Darfur, the influx of new refugees from South Sudan, and Sudan's acute malnutrition crisis," Ali Al-Za'tari, the UN's Sudan humanitarian coordinator, said in the statement.

Violence throughout Darfur reached its worst levels in a decade this year, displacing about 300,000 people from late February to mid-April.

The latest displacements bring to 2.2 million the number uprooted and living in camps in Darfur, where conflict began 11 years ago.

Adding to the humanitarian burden, more than 85,000 people have sought refuge over the border in Sudan since December when a power struggle between South Sudan's President Salva Kiir and his former deputy Riek Machar spiralled into brutal ethnic conflict that killed thousands.

There has also been "an increase in people suffering from acute malnutrition, especially children," after a comprehensive Sudan-wide survey, the UN said.

Overstretched

"Given these new needs, aid agencies in Sudan have reassessed their priorities and refocused primarily on the immediate delivery of life-saving assistance," it said.
true
A young girl displaced by fighting in South Sudan sleeps while her family wait to be registered in the Kule 1 and 2 camps for Internally Displaced People at the Pagak border crossing in Gambella, Ethiopia, on July 10, 2014. AFP PHOTO
"For example, the water and sanitation services for newly displaced people who have fled to Darfur's camps are now severely overstretched, giving rise to the spread of diseases such as jaundice and hepatitis E."

Elsewhere in the country, a three-year war in South Kordofan state and a smaller-scale conflict in Blue Nile have affected more than one million people.

Despite the humanitarian needs, aid agencies have faced obstacles to their work in Sudan.

The government has controlled the movement of aid groups in South Kordofan and Blue Nile. Relief agencies have had no access into rebel areas from within Sudan since 2011.

Sudan's Humanitarian Aid Commission has said the country is a partner of the international community and wants to ensure the safety of aid workers.

In the latest restriction, Doctors Without Borders (MSF) said in early July that Sudanese authorities blocked an MSF emergency team from travelling to Darfur to help thousands of recently displaced people who were barely surviving.

In February Khartoum suspended operations of the International Committee of the Red Cross, which provided health and other services in Darfur.

While needs increase, they are being served by a declining number of relief workers, the UN says.

From 17,000 staff working for international aid groups in Darfur in 2009, the number dropped to 6,850 at the end of last year, the UN has said. Most of those employees are Sudanese.

Za'tari has previously expressed concern that Sudan's staggering aid needs were at the risk of fading as the world deals with other crises.

The UN says it needs $995 million in donor funds to help people this year.

While 45.5 percent of that money has been obtained, most of it is for food aid, and the UN says it is "very concerned" at the low funding for some life-saving sectors.

Only 10.3 percent of the $109 million required for water, sanitation and hygiene assistance has been obtained, UN data show.
AFP
Almost 7 million need aid in Sudan: UN