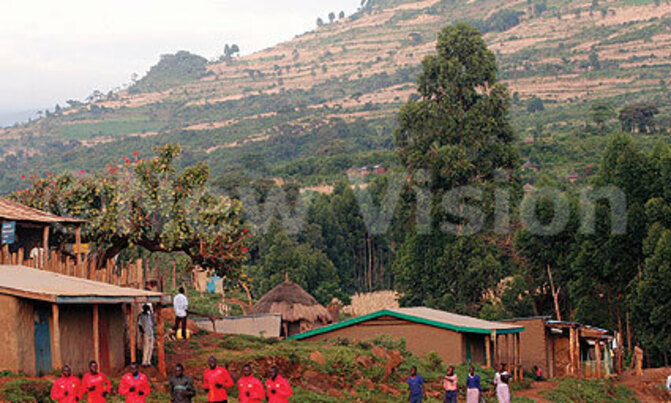 Moses Mashak, 41, established a home in the area in 1996. But it took him 11 years to dig a pit-latrine at his home.
By Daniel Edyegu

Most Ugandans know Rwanda as a neighbouring country! But Rwanda is also a village in Sosho parish, Bukwo sub-county in Bukwo district.
The village derives its name from the Kupsabiny word "rwandet" that means rocks. And therein lies the problem. For decades, the rocky nature of Rwanda village has made the digging of pit-latrines in the area an uphill task.

Expensive venture

Moses Mashak, 41, established a home in the area in 1996. But it took him 11 years to dig a pit-latrine at his home. Even then, it was not his free will but the pressure exerted on the family by the couple's five children who kept littering the compound with their faeces.

"In this place, just three to four feet underground lie huge rocks. At about six feet deep, the rock becomes compact. Due to this, labourers charge sh8,000 per foot to dig a pit-latrine. This is about sh2,000 more than what is charged in other areas with softer soil," Mashak explained.

"Given our meagre earnings, it's difficult for one to sacrifice money on a pit-latrine at the expense of basic household needs. The toilet I built is only 13 feet deep. But I had to participate in the digging, besides the hired labour, to cut the costs," Mashak added.
true
A woman entering a pit-latrine in Rwanda village in Bukwo
Forced to act

Despite these hurdles, Rwanda is among the 42 villages out of 84 in Bukwo town council, Kaptererwo and Bukwo sub-counties that have been declared open defecation-free by Bukwo district. Being declared open defecation-free implies that each household in the 42 villages has a pit-latrine.

Like Mashak, circumstances forced Liniet Chemutai, a mother of seven residing in Rwanda village, to dig a pit-latrine.

"After establishing our home in 2004, we spent two years without a pit-latrine. We would help ourselves in the bushes. My husband was always out looking for money. The children became frequently sick from diarrhoeal diseases. That's when we thought of digging a pit-latrine. That solved the problem," Chemutai said.

According to statistics from the district health department, Bukwo town council currently tops in pit-latrine coverage, ranking at 86%. It is closely followed by Bukwo sub-county at 84% and Kaptererwo sub-county at 80%. Chepkwasta sub-county at 64.5% trails in pit-latrine coverage.

United effort

Overall pit-latrine coverage in Bukwo district stands at 67.6%. Grace Sali, the district secretary for gender, explained that to push up the coverage, political leaders, civil servants and the civil society had to unite to fight some aspects of Sabiny culture that stand in the way of proper hygiene.
true
But not all homes in Bukwo are struggling with toilets. Ugandan athlete Moses Kispiro has a self-contained modern house in the area.
"There is a mistaken belief in our communities that if the compound is dotted with faeces of children, it is a clear testimony that they are feeding well. And if there's no sight of faeces on the compound, it means the parents are starving their children. We need to fight this backward thinking that exists in our communities," Sali stressed.
Target set

Wilfred Yesho Kipsang, the Bukwo district health inspector, said the fact that only 42 villages have been declared open defecation-free out of 501 villages throughout the 12 sub-counties in the district, calls for continuous effort.
He said the Catholic Relief Services has been carrying out sanitation campaigns in the three sub-counties.

"Our target is to have the district pit-latrine coverage at 80% by the end of next year. We have already planned to go to all homes without pit-latrines and deliver final warnings before arrests are made.
"People with pit-latrines, neighbouring those without, also suffer the consequences of faeces being washed into their neighbourhood," Yesho explained.
Bukwo, where pit-latrines cost more than houses