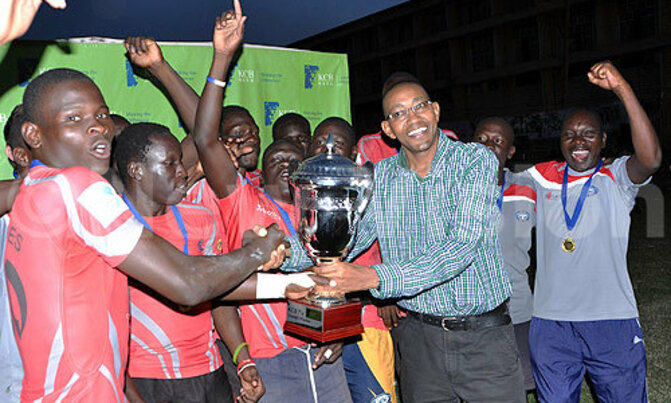 After winning the 2014 Kenya commercial Bank rugby 7s crown, Toyota Buffaloes coach Robert Sseguya has turned his focus on winning this year's Uganda Cup title
By Johnson Were
Main Cup final
Buffaloes 17 Pirates 5
Plate final
Heathens 15 Rhinos 10
Third Play-off
Impis 10 Hippos 0
Bowl final
Mongers 32 UCU 0
Prize Money
Buffaloes sh3.5m
Heathens sh2m
Overall points
Heathens 76pts
Buffaloes 80pts

They have come along way, and finally their hard work and tenacity has paid off.
It was a moment they have all waited for and worked hard as well. Toyota Buffaloes Saturday were crowned 2014 Kenya Commercial Bank rugby 7s champions, and now coach Robert Sseguya turns his focus on winning this year's Uganda Cup title.
true
Buffaloes players celebrate winning the 2014 KCB National Rugby 7s tournament. Photos/Johnson Were
Sseguya, who has groomed the youngsters from minnows, disclosed this to the New Vision in an interview after winning the 2014 Edward Kitaka Memorial rugby 7s circuit at Legends rugby Club on Sunday and also won the overall KCB 7s trophy with sh3.5m cash prize.
"We won this trophy but it's just the beginning because our main focus this season is the Uganda cup," Sseguya stated.
true
KCB MD Joram Kiarie hands out medals to the KCB rugby 7s overall winner Toyota Buffaloes at Legends sports club
Buffaloes won both the Jinja and the Kitaka Memorial Circuit and finished second in the Kyadondo and Makerere Ciruits while Heathens won the Kyadondo and Makerere Circuit but finished second and fifth in the circuits Buffaloes won.
KCB managing director promised continued support for rugby in the country as one way of helping build sevens culture in the country.
URU rugby manager Yayiro Kasasa was impressed with the organisation and promised to improve on it.
"I think it has to been successful and we just need to improve on some areas but we have to go the IRB standards by maintaining the two day sevens Circuit tournament.
 
Buffaloes dethrone Heathens as rugby 7s champions