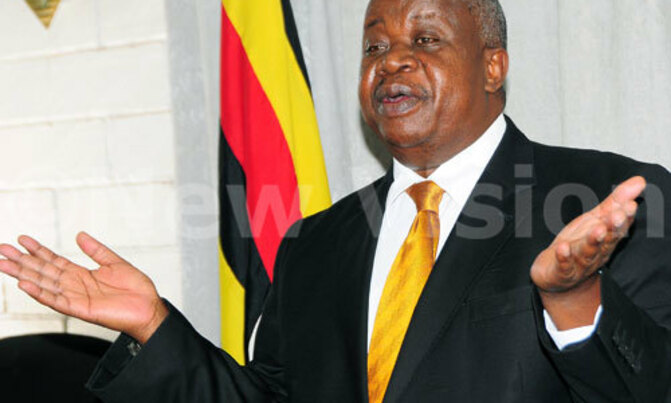 Justice and constitutional affairs minister Kahinda Otafiire says China acted within its laws to execute Ugandan drug traffickers.
By Umaru Kashaka

KAMPALA - Justice and constitutional affairs minister Kahinda Otafiire has said China acted within its laws as a sovereign state to execute Ugandan drug traffickers.

Otafiire stressed that as long as Ugandans cross into the boundaries of China or any other state, the laws of that state are applicable to them regardless of their status.

"Ugandans should stop smuggling narcotics to China, they will be hanged. If you don't know how to swim don't go into the swimming pool. China is a sovereign nation we can only plead for mercy," the minister told journalists yesterday.

Andrew Ham Ngobi, 39, and Omer Ddamulira were executed on June 25, in the city of Guangzhou over possession of cocaine worth $2.6m (about sh6.6b). Their bodies were later cremated.

The executions sparked off a public outcry on whether the action was right and what Ugandan government can do to save the other Ugandans still on death row and those imprisoned in Chinese prisons.

Sources at the Uganda mission in Beijing said that at the time of arrest, Ddamulira was carrying 28kg of cocaine while Ngobi had 15kg.

The ministry of foreign affairs spokesperson Fred Opolot last week said there was an ongoing process to have bilateral agreements allowing transfer of prisoners between Uganda and China.

He, however, expressed pessimism whether the agreements would also cater for 'extremely dangerous' offenders like drug traffickers.

Chinese laws call for punishments such as death for economic crimes like bribery, drug trafficking and embezzlement.

Uganda's Ambassador to China, Charles Wagidoso, told the media that most Ugandans caught in the drugs trade, which is banned in many countries, are mere conduits of bigger players.
He said their investigations showed that most of the mules were paid an average of $5,000 (about sh12m) for each mission.

Also related to this story

China kills 2 Ugandans over drug trafficking
   
No funds to return Ugandans executed in China

Ugandans on death row in China named

Uganda warns of drug smuggling danger after China executions

Ugandan drug dealers survive gallows in China
Uganda respects China's laws, says Otafiire