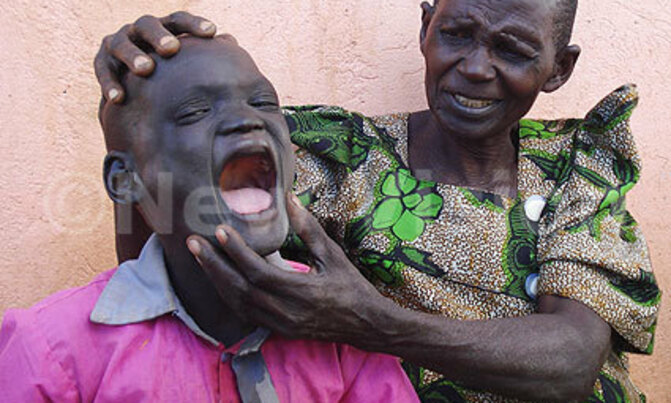 Innocent Kyalimpa, 10 and Ambrose Mugisa, 12, have lived their lives without hair or teeth. It sounds strange to many
By Geoffrey Mutegeki  and Taddeo Bwambale
Innocent Kyalimpa, 10 and Ambrose Mugisa, 12, have lived their lives without hair or teeth.  It sounds strange to many who hear about these two lovely little boys, but it is true.
Their heads are bald and shiny. Their skin is rough and they have round eyes. Their teeth have never developed at all.
I first heard about these boys from David Matovu, the resident district commissioner for Kiryandongo, who said he was astonished when he first saw them.
The following day, I decided to look for them. The darkskinned brothers hail from Kapundu village in Kitwara parish, about 15km from Kiryandongo town.
They are studying in Primary Three at Kitwara Primary School.
We reached Kitwara Primary School at around 1:00pm; the boys were called out of the  classroom by the deputy head teacher. They were so excited to see us and immediately greeted us. Kyalimpa kept pocketing his hands to shield it from the hot sun.
The boys were abandoned by their mother about five years ago and are currently living with their grandmother, Constance Ngonziwe.
Since childhood, life has not been easy for the boys who have faced challenges ranging from family rejection, abuse by the community and the harsh environment, especially the sunshine.
true
Kyalimpa and Mugisha in their classroom at Kitwara Primary School. Photo by Godfrey Mutegeki
What residents say
The community in Kapundu attribute the boys' condition to to witchcraft and evil spirits. David Musinguzi, a resident claimed evil spirits made the children look that way.
"At first, everybody here used to fear them, but we got used to them," he said.
"I have never seen such a kind of people; failing to grow teeth and hair. It is still not understandable." Musinguzi said
"We do not know what caused it because all the parents are normal," says Esther Nkwanzi, another resident.
Even Ngonziwe keeps wondering why her two grandsons' hair and teeth have failed to grow.
"They were taken to Lacor Hospital for examination, but we did not get the results. I am a Christian and I don't believe the ghost stories," Ngonziwe says.
"God controls everything. If he decided to create them like this, as humans, we have nothing to do, but to show them love." She says the father of the boys died when they were still young, while the mother went to Lango and got married to another man and since then they have never heard from her.
"She (their mother) abandoned them about five years back. They told us she got married, but we don't have her contact," Ngonziwe said.
true
Mugisa's hairless head. Photo by Godfrey Mutegeki
The boys need care
Without teeth, Kyalimpa and his brother cannot eat hard food.
"I have to pound the food first before serving it to them. It is hectic, but that's the cross God gave me. I have to accept it," Ngonziwe said. As the grandmother explains to us, Kyalimpa and his brother are busy singing the Uganda National Anthem in Swahili before their uncle Joshua Mugume, interrupts them.
"Stop making noise," he said, but they would not stop.
Then Kyalimpa complains that he does not want to go back to school because the heat is too much. "I keep going to the borehole to pour water on my head, but now I am tired," Kyalimpa said.
His brother Mugisa interjects, "Children keep calling me kawalata (bald one). I am going to beat them up." Their grandmother claims they are stubborn at home and do not want to study.
"Kyalimpa is very stubborn. He doesn't want to go to school nor does he want to go to church. They always give me a headache," Ngonziwe says.
The teachers at Kitwara Primary School say the boys are slow learners who need special care. "Our teachers cannot effectively handle them," said Simon Mugisa, the school's deputy head teacher.
"When they had just joined the school, everyone used to fear them. But now they are socialising very well," he says. Kyalimpa and Mugisa love playing, but during the dry seasons, it becomes a challenge due to the heat.
"They cannot concentrate in class. They keep moving outside to pour water on their heads. They feel like their heads are on fire when it is very hot," Mugisa said.
true
Kyalimpa pouring water on his head to cool it. Photo by Godfrey Mutegeki
Helping hand
Child Fund has constructed a residence for them and a commercial building, which is yet to be completed.
"These children would not walk or talk in public. They feared people," said Noelina Baguma, the district councillor for Kiryandongo sub-county.
"But here they are studying and sleeping well. But more support is needed from well-wishers to support them further so that they go to a special needs school."
What medical experts say
Dr. Fred Mutabazi of Kiryandongo Hospital could not readily explain the condition of the boys.
"It is my first time to see such a condition. In most cases, we see people who lose hair, but failing to grow hair or teeth remains a mystery to me," Mutabazi said.
Dr. Fred Kambugu, a senior consultant dermatologist, describes the condition as congenital ectodermal dysplasia, a group of inherited disorders that cause hair, teeth, nails and glands to develop and function abnormally.
According to Kambugu, the condition arises out of malfunction of the ectoderm, one of the three primary germ cell layers that make up the early embryo.
"The ectoderm is the outermost of the three layers. It differentiates to give rise to many important tissues and structures, including the hair, nails and teeth," he explains.
The ectoderm also determines the lens of the eye, parts of the inner ear, the nerves, brain and spinal cord.
Kambugu, who has handled numerous cases of congenital abnormalities, says there are various sub-types of congenital ectodermal dysplasia and notes that the cases are rare in Uganda and across the globe.
Kambugu says the first step in seeking treatment is for a specialist to determine the type of condition afflicting the patient, but warns that the condition has no cure.
"Treatment for the condition is supportive and nothing can be done to restore the structures, since the condition is genetic," he says.
He advises parents or guardians to visit Mulago Hospital or consult a skin specialist for guidance.
Among babies, teething differs from child to child, but the typical first teeth begin to break through the gums at about six months of age.
The growth of hair may also differ depending on one's growth pattern or other characteristics including race, Kambugu says.
 Related stories
Children with abnormalities overwhelm medics
Rats, cockroaches fed on my intestines
Nodding disease: Gov't sends 10 patients to US
Kiryandongo's toothless, hairless boys