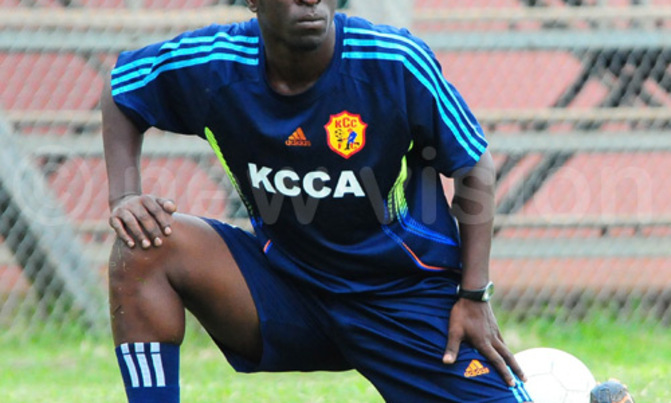 KCCA FC winger Steven Bengo has been ruled out of the 2014 Uganda Cup final due at Mbale Municipal Stadium on Saturday
By Swalley Kenyi
Uganda Cup Final
KCC v URA (Saturday, Mbale Municipal Stadium)
KCCA FC winger Steven Bengo has been ruled out of the 2014 Uganda Cup final due at Mbale Municipal Stadium on Saturday.
Quoting Article 20 of the rules of the Cup, FUFA competitions manager Ali Mwebe said on Wednesday that Bengo is ineligible for the final because he has accumulated two cautions.
Article 20 of the regulations reads as, "A player, who earns two bookings in a mini league, mixed-format and knock-out competitions shall automatically become an ineligible player for the next physically played match."
Bengo picked a yellow card against Friends of Soccer in the round of 32 and another against Victoria University in the semi-final.
KCCA FC coach George Nsimbe said that Bengo's absence will not affect the team's ambition to win a double this season.
"Bengo is only one player but we have many more to deploy. I will come up with the final team before we go to Mbale on Friday," Nsimbe said.
Meanwhile, FUFA will hold the Uganda Cup final technical meeting on Thursday to discuss logistics for the final. 
Mwebe said the meeting is expected to address issues to do with difference in uniforms, security at the match and medical provision during the match. 
"We wanted to have this meeting early enough to have ample time to discuss what is necessary before the final. We don't want incidents of issues that should have been addressed coming back," Mwebe said. 
The meeting will be attended by respective team coaches, medics, captains, security officers and the stadium manager.
The respective team officials are expected to carry playing-goalkeeper, outfield players and warm up kits and the respective list of 25 players and five officials who will be awarded medals after the match. 
Brian Nsubuga will officiate the final match. He will be assisted by Samuel Kayondo, Kalifan Kanakulya and Rajab Bogere. 
The Uganda Cup winner will pocket sh7m while the runners up will take sh2m.   
Related stories
KCCA edge into Uganda Cup final
Mbale to host Uganda Cup final
Bengo ruled out of Uganda Cup final