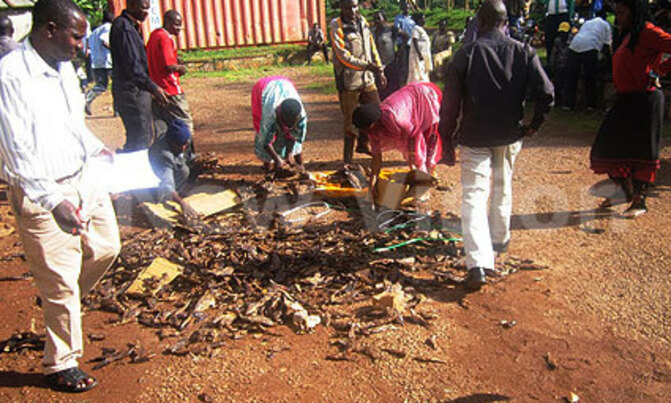 Chaotic scenes as police fire live bullets to ward off a group of people who had attacked a local fisheries officer.
Davis Buyondo & Maria Nakitende

KALANGALA - Bugoma landing site played host to chaotic scenes as anti-riot police fired live bullets to ward off a group of people who had attacked a local fisheries officer.

The men were angry that their boats laden with immature fish were confiscated during an operation by fisheries officials.

Erias Kamoga, the Mugoye sub-county fisheries officer, commanded the Wednesday night operation.

His team intercepted two vessels carrying over a tonne of immature fish packed in boxes, alongside other fishing equipment.

But morning following the crackdown, a group of about 15 men – armed with machetes, stones and clubs – stormed Kamoga's office and tried to forcefully take the impounded fish, police said.

They then tried to drown him in the lake waters only for police to swing into action just in time to save the fisheries officer.

Alkins Tumuramye, the OC CID Bugoma police post said the group got to Kamoga's office at about 9am local time Thursday.

It is understood the men were sent by rally driver Ponsiano Lwakataka, who has several times been implicated in illegal fishing activities in areas like Kalangala, Rakai, Masaka.

During the recent incident, Kagoma sustained serious injuries courtesy of his attackers.
true
Last year, a truck carrying boxes of immature fish was intercepted in Rakai district
 
true
The fish, said to belong to rally driver Ponsiano Lwakataka, was given to inmates in various prisons

The group later tried to engage the police operatives, who were forced to open fire to disperse them.

The hour-long clash led to the arrests of four members of the group, and also put local business activity to a near standstill.

Abdu Mukiibi, Patrick Tumwesigye, Friday Lukka and Tonny Mukasa were immediately taken to Kalangala police station.

Police says it is hunting for the others, who are still at large. Those that are in custody, OC Tumuramye said, will be indicted in courts of law for assault and other offences.

The district fisheries officer Jackson Baguma confirmed that the impounded immature fish was packed in 100 boxes.

He pointed out that the illegal fishing activities have greatly hampered fishing in Kalangala, but made it clear that the authorities will not tolerate the vice in efforts to revive good fishing practices on Lake Victoria.

In July last year, fisheries officials in Rakai district intercepted a truck carrying 10 tonnes of immature fish from Kasensero landing site headed for Kampala.

The fish, said to belong to Lwakataka, was given to inmates in different prisons on orders of Carlo Kintu, the then-Rakai Grade I magistrates.
Gunfire as angry fishermen try to drown official