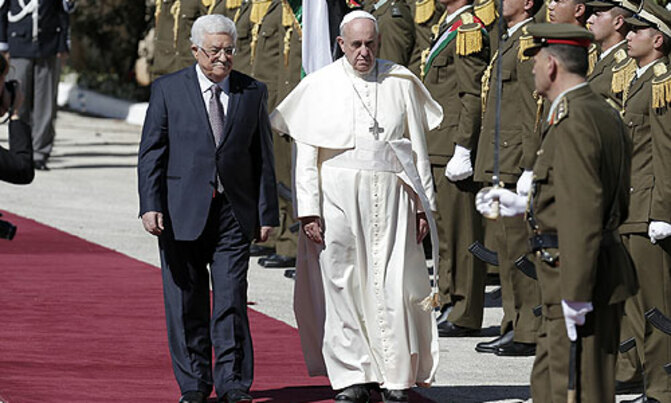 Pope Francis arrived in Bethlehem Sunday to begin the most sensitive part of his three-day Middle East tour.
BETHLEHEM - Pope Francis arrived in Bethlehem Sunday to begin the most sensitive part of his three-day Middle East tour aimed at easing an ancient rift with Orthodox Christians and forging regional peace.

He made the short trip from Amman, where he began his visit Saturday, aboard a Jordanian military helicopter.

The pontiff appeared tired as he was helped down the steps to a red carpet welcome from local Palestinian officials and priests.

Palestinian president Mahmud Abbas received him at his palace with a warm embrace.

Francis, who made an urgent appeal Saturday to end the bloodshed in Syria, has now taken his "pilgrimage of prayer" to the Palestinian territories. There he was to celebrate mass with 10,000 people in Bethlehem's packed Manger Square, near the site of Jesus' birthplace.
true
Pope Francis, onboard a Jordanian military helicopter, arrives in Bethlehem on Sunday. PHOTO/AFP
true
He touched down at the helipad of the West Bank Biblical town of Bethlehem. PHOTO/AFP
true
An Israeli border policewoman walks past a large banner welcoming Pope Francis with her sniffer dog in Jerusalem's Old City Christian Quarter. PHOTO/AFP
He was scheduled to travel to Israel later Sunday.

Although Francis himself has said it will be a "purely religious trip," both Israel and the Palestinians will be looking to use the visit to score a few political points.

The Vatican said the main reason for the visit was a meeting in Jerusalem with Bartholomew I, the Orthodox Patriarch of Constantinople, seeking to heal a nearly 1,000-year rift between the Orthodox and Roman Catholic churches.

But ahead of the trip, Vatican Secretary of State Cardinal Pietro Parolin defended the Palestinians' right to a "sovereign and independent" homeland and said he hoped Francis's visit would lead to "courageous decisions" for peace.

Since dawn, Catholic pilgrims filed past security barriers into Manger Square. The scene was dominated by stage where the pope was to say mass, decked with huge Palestinian and Vatican flags and adorned with a giant tableau depicting the birth of Jesus.
true
The pope disembarks the Jordanian military helicopter. PHOTO/AFP
true
Here, he is welcomed by a clergyman upon his arrival. PHOTO/AFP
true
He smiles and waves as he enters a waiting car. PHOTO/AFP
To get there, the crowd-loving pope will drive through the city in an open-top car, raising security concerns in a region racked by political and religious strife.

Meanwhile, in Jerusalem, police arrested 26 Jewish extremists protesting at a site on Mount Zion where the pope will celebrate mass on Monday. Earlier this week, police imposed restraining orders on 15 extremists barring them from sites the pope will visit.

Overnight, police with sniffer dogs combed the narrow streets of the Old City, closely examining the stone alleyways down which the pontiff was to walk later Sunday.

In a separate development, Israel's foreign ministry confirmed that two of the three people shot dead in an attack Saturday on the Jewish museum in Brussels were Israeli tourists. The incident has drawn condemnation from top Israeli and European officials.
true
A view of the West Bank Biblical town of Bethlehem with the Church of the Nativity (C) where Pope Francis is to preside over an open-air Holy mass. PHOTO/AFP
true
People hold placards to shape the words "We love Papa" as they gather at the Manger Square, outside the Church of the Nativity. PHOTO/AFP
true
A woman waves a Palestinian flag as people gather at the Manger Square. PHOTO/AFP
'Charm offensive'

John Allen, an expert on the Vatican at the Boston Globe, said the pope was likely to "charm" both sides during the Israeli-Palestinian leg of his visit.

"Francis comes in with a lot of political capital. He's sort of a new Nelson Mandela, a new moral authority on the world stage.

"The question is: can he spend that moral capital to shame both sides into talking to each other? You might be able to get a public commitment to resume dialogue. It's the most we can expect."

US-led peace talks between Israeli and Palestinian negotiators collapsed last month amid bitter recriminations, ending a nine-month bid to reach a negotiated solution, with no political initiative on the horizon.

Travelling with the Argentine pontiff are two of his old friends from Buenos Aires -- Rabbi Abraham Skorka and Islamic studies professor Omar Abboud -- in a symbolic gesture of openness.
true
Pope Francis and King Abdullah II of Jordan (R) arriving in a golf cart to visit Bethany beyond the Jordan river. PHOTO/ AFP/OSSERVATORE ROMANO/HO
true
Pope Francis visiting Bethany beyond the Jordan river, the site believed to be of Christ's baptism. PHOTO/ AFP/OSSERVATORE ROMANO/HO
true
The site is in the west of Amman, Jordan. PHOTO/AFP/OSSERVATORE ROMANO/HO
Contribution to peace

After celebrating mass, the pope will have lunch with several Palestinian families then meet with refugee children at the entrance to Dheishe refugee camp.

During the afternoon, he will take a short flight to Tel Aviv where he will be formally welcomed to Israel by President Shimon Peres before flying on to Jerusalem.

"I don't think the visit is going to bring the signing of a peace deal tomorrow... but I am sure that it will make a substantial contribution, because the pope respects all cultures and all religions," Peres told French daily Le Figaro.

It is inside Jerusalem's walled Old City that he will attend a special joint prayer service with Bartholomew in the Church of the Holy Sepulchre -- venerated as the place of Jesus' crucifixion and resurrection.
AFP

Also related to this story
Pope postpones visit to Uganda

Pope declares John Paul II, John XXIII saints

Pope Benedict a year on: quiet life after making history
Pope Francis takes pilgrimage to Bethlehem