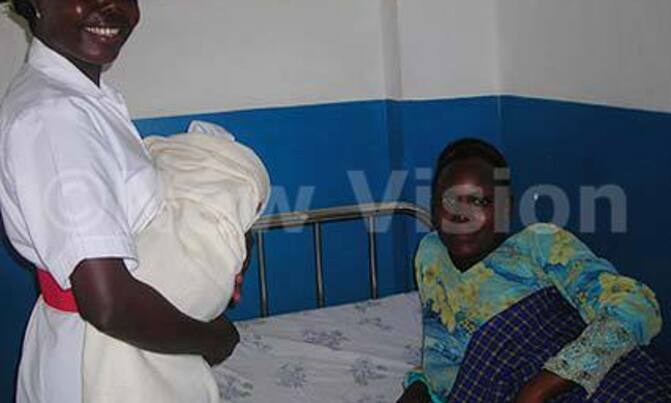 It''s 10:00am and am seated in the waiting area of the Maternity Ward at Naguru Hospital officially known as China-Uganda Friendship Hospital for the Midwife attached to me and as I busy myself away with the day's newspaper, my ears are well into the conversations of the ladies seated around.
By Gloria Nakajubi


It's 10:00am and am seated in the waiting area of the Maternity Ward at Naguru Hospital officially known as China-Uganda Friendship Hospital for the Midwife attached to me and as I busy myself away with the day's newspaper, my ears are well into the conversations of the ladies seated around.
 
These are mostly fresh mothers and their attendants, others, from the look on their faces are experiencing bouts of labour pains but I guess not yet due to be taken to the delivery rooms.
 
"Banakaweere nsaba tugende okugeema abaana, mujja kudda edda muwuumule," loosely translated as new mothers please, lets go out for immunization, you will relax there after, came a voice calling out in the corridor.

true
A midwife doing an antenatal check up at Naguru hospital. Photo/Gloria Nakajubi
 This, as I later find out, is the Midwife in charge of immunization section, a rather detached section from the maternity ward.
She takes the mothers through new baby care lessons and advises them on the immunization routines before the babies are immunized and finally discharged.
The whole process of getting the mothers out quite drags because obviously they are still experiencing some post delivery pain.
My hostess for the day, Sister Christine Ogwang, who is the in charge of the maternity ward comes in and am initiated into the process of giving birth in the hospital.
She takes it right from admission of mothers to the time they are finally discharged and at every point, you realize that the midwife plays a rather critical role that doctors are invited in for emergencies.
 
Just as she takes me through, a mother arrives seemingly in pain as she grimacingly bites on her lips with hands holding her back. I get interested in this particular case and choose to follow it up.

true
Midwives consulting at Naguru hospital
 First step, the midwife is already in charge and starts with checking the details of the mother's antenatal form to see any details that would call for special attention and this includes scan reports.
After going through her form, Sister Ogwang takes the mother inside the examination room where she is checked for presentation of the baby, finding out how far the uterus has opened and apparently it has to go up to at least 8cm for the baby to be able to come out, known as full dilation.
 
And my patient is just 3cm, this means waiting for some hours depending on the rate of contractions but who this has to be under close inspection of the midwife. She has to continuously check her to find out how far she has come.
 
At this moment, my excitement had gone down, I had expected to see a baby so soon but with these results, I had decided to weigh my options, from the little information I had gathered around, some people were talking of a woman taking even days in labour.
 
After every 15 minutes or less, the trainee midwife would check the mother to see how far the baby is pushing through and trust me, after just three checks, the mother had reached 8cm already and was told to stay on the delivery bed.
 
With Sister Ogwang running around coordinating the other activities, the student midwives had already embarked but remember every mother is supposed to be attended to by one midwife but because this is a rather relaxed day, her friends are helping her out.
 
She calls in the attendant who in this case is the aunt to bring the baby clothes where the new born will be wrapped.
Then she spreads one of the pieces of cloth in the baby bed that is lying by the side, a few metres away from the delivery bed.
 
Believe me, at this time, my spirits are rejuvenated and am just waiting for that first cry but this for any midwife is the defining moment, my student midwife is silently making her prayer. You can tell from the look in her eyes, she just doesn't want anything to go wrong at this moment.
 
And just as she had finished putting together all that she needed for this procedure which includes basically the cotton, gloves and all the mother was already ripe and boom, I saw the head popping through.
 
My goodness, this mother is making silent groans and am wondering whether she is actually in pain. In just a blink of an eye, a baby boy is in the hands and to confirm its healthy existence, the baby cries instantly set in and this puts a smile on my student midwife.
During that time she has already separated the two by cutting the cord and before doing anything away from the mother, asks her to confirm the sex of the new born.
 
Using the bulb sucker, the midwife has to suck out mucous from the babies nose and formerly before such equipment was made available, it's said that mothers would be made to suck out the babies mucous using their mouth and incase the mother couldn't do it, the midwife had to do it. The baby is then weighed and carefully wrapped off in clean cotton cloths.
 
After making sure the baby is well covered up, the midwife returns to the mother who has to be helped to deliver the placenta and as my student midwife tells me, this has to be let to take its natural course after confirming that there is no other baby.
 
In just a few minutes, the placenta comes out, and in amazement, my student midwife first analyses it and you would see her curiosity taking the best of her, 'so this is what keeps the baby!'
 
She carefully puts off the blood oozing placenta in the bucket and pushes it away. She is now left with the duty of cleaning up the mother and making sure she has not had a tear and for this case, there has been a tear, though not so big but still necessitates stitching.
 
Being a second time mother, she doesn't want anything to do with stitching and her argument, it hurts so much and she would rather be left to heal without any stitches.
Five minutes are spent on convincing her and making her understand the danger of leaving her like that. She eventually accepts and by the look on her face, this seems quite painful than when she was actually giving birth.
 
After a few stitches, she is padded with a heavy piece of cotton wool and given an injection to help stop the bleeding and also enable the uterus to contract. 
 
The midwife then has to give the baby a shot of vitamin K since they are born with which helps in preventing a condition known as heamorrhagic disease of the newborn(HDN) that can be fatal at times. She has to also apply tetracycline in the its eyes to avoid any infections.
 
After escorting the mother to the post natal ward, she has to return and clean up where the mother has given birth from so that it is set for the next mother.
My student midwife is very excited about her success and like she did when we first started, she says a silent thanksgiving prayer.
And by the time Sister Ogwang arrives, we are already through and after congratulating the young midwife, she goes to check on the new born baby and mother.
 
From the records in the hospital, on average the hospital registers 15-20 deliveries a day and the highest number is during the night.
And for every shift, there are three staff midwives who keep alternating to the different sections (admission, delivery room and post natal)
And as Ogwang explains, not all deliveries are as normal as this particular one. So for any complications or incase of caesarian birth, they always call in the doctors to  intervene.
 
Mid wives are at the frontline of maternal health care and they provide care to mothers right from antenatal care, birth and post natal.
 
Within the Ugandan health system, midwifery services may be provided by registered or enrolled nurses, midwives, nurse/midwives (those with a diploma or degree in nursing for registered and those who have completed a certificate programme for enrolled) and comprehensive enrolled nurses (those who have completed both midwifery and nursing courses).
 
In a 2011 report, 'Midwifery in Uganda, an in depth analysis' by Micheala Minca it's noted that there were 3,475 registered midwives and 6,226 enrolled midwives, together attending 80 percent of births in urban areas and 37 percent of births overall.
Find exclusive coverage in Monday New Vision as midwives celebrate their day today
A day with a midwife in the labour ward