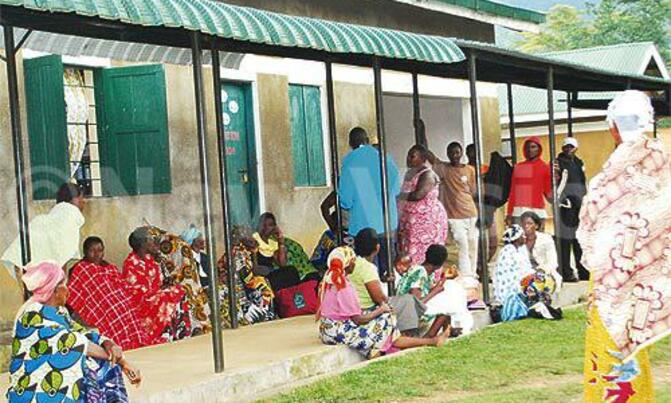 People at Kabale University are still reeling from the death of their lecturer. The health workers at Kabale Hospital live in regret, wishing they could have done more.
Since 2006, the maternal mortality rate in Uganda has stagnated at 435 deaths per 100,000 live births, yet the target was to reduce it to 131 deaths per 100, 000 live births by 2015.
By Caroline Ariba

People at Kabale University are still reeling from the death of their lecturer. The health workers at Kabale Hospital live in regret, wishing they could have done more.

On February 18, the lecturer, beaming with hope, arrived at the hospital in early labour. "We advised her to move about and relax her muscles.

On February 20, she was re-examined and found to be in an active phase of labour and encouraged to take tea," Christine Akurut, the principle nursing offi cer at Kabale Hospital, says. From about 3:00pm that afternoon, she was closely monitored.

"After a tough labour, she delivered, but we lost the baby," Akurut says. That day, there were only two midwives who had helped 13 mothers in labour. "When the baby was born looking exhausted, the midwife rushed to take the child for an emergency check-up," Akurut says.

The midwife asked a colleague who was not  on duty to help her look after the mothers in the theatre. When the baby died, the midwife returned to check on the mother and the other women in the labour ward.

"She found the baby's mother bleeding. She quickly repaired the tear, cleaned her up, made her comfortable and then left," Akurut says.
true
Ezra Byaruhanga with his wife at the mothers' hostel. Every Woman is allowed one caretaker
The next midwife on duty transferred the mother to the ward. "However, when the lecturer got off the bed, she could hardly stand and was dizzy. She was still bleeding," Akurut adds. They called a doctor who said she should be taken to the theatre and examined.

"The senior gynaecologist rushed to the lab for blood. Two drips were set up concurrently. Just after they made a cut on her leg to put another drip, she went into shock and breathed her last." Akurut's voice fades off in evident pain.

"When a mother is out of theatre, they should be monitored. But with two midwives very busy with six
other mothers who had caesarean sections, inevitably, it becomes quite hard to give each mother adequate attention," Akurut says.

"Ideally, every mother should have at least two midwives and a doctor attending to her." Kabale Hospital has close to 15 deliveries a day. If the midwives work in shifts and sometimes take days off, then the workload gets bigger per midwife.

Happening countrywide

A 2012 Ministry of Health report shows that on average, each of the six major Ugandan regional referral hospitals conduct 5,640 deliveries annually.
In Gulu Hospital where there are slightly over 100 nurses contrary to the 200 required for general hospital service delivery, only 10% are midwives.

Constance Akullo, a midwife at Alebtong district's Abia Health Centre II, says many of the mothers turn to traditional birth attendants because of the long queues in hospitals.

In Masaka, the referral hospital has close to 300 medical staff, while Fort Portal has 330, but a smaller percentage tends to expectant mothers. Recently, there were reports in the media that Kibaale Hospital had one midwife conducting 10 deliveries a day.
Like Kibaale, Kasese district's Bwera Hospital has only four midwives delivering 15 babies a day.

In 2012 in Mayuge, the district had one doctor tending to both the private and public health facilities.
Latest reports show that in Hoima Hospital, the maternity section has 15 beds, yet there are over 30 admissions on some days — all handled by one midwife.

"It is times like this that midwives complain that they have to work even when they are sick. Quite often, they turn patients away," Deborah Atwani, a retired midwife, says. She says until the workload on midwives is reduced, the Government's efforts to reduce maternal mortality will remain a distant dream.

Currently, Gulu's maternal mortality rate stands at 289 per 100,000 live births, and it is worse for Teso region's Soroti Hospital, whose mortality rate stands at 450 per 100,000 live births.
This could make Uganda miss the mark in achieving Millennium Development Goal (MDG) 5, which aims to reduce maternal mortality to 131 deaths per 100,000 live births by 2015.

Since 2006, the maternal mortality rate in Uganda has stagnated at 435 deaths per 100,000 live births.
 
However, some analysts believe it could be more, especially in situations where deliveries are not registered, or do not happen in a health facility.

"If expectant women do not come to hospital and are helped to deliver by anybody, but sadly pass on, there is a chance that death might not get to the maternal mortality statistics," Desire Aryong, a researcher with Mulago Hospital, says.

However, according to the UNFPA 2012 annual report, six out of 10 women deliver at a health unit. The same report shows that 6,000 girls die from avoidable pregnancy-related complications every year.
This is worrying because, according to the State of Uganda Population Report 2013, all women face some level of maternal risk, with 40% of them experiencing pregnancy complications and 15% in need of obstetrics care.

"Sadly, the midwives are not enough, so mothers do not get the required antenatal care to prevent such situations," Patrick Mwesigye, a youth reproductive health activist, says.

Government's new promise

In light of this, the Government and partners say Uganda may not achieve MDG 5 by 2015 and have outlined a new plan dubbed 'the reproductive maternal newborn child health sharpened plan' with the theme 'a promise renewed'.
The strategy is aligned with Uganda's Vision 2040.

In it, the health ministry notes: "Based on the rate of progress to date in MDG 4 and 5, Uganda is unlikely to achieve the 2015 targets for these goals.
There is glaring disparity between the rate of child and maternal death across wealth quintiles and geographical regions — disparities that will persist unless Uganda takes action."

Dr Jessica Nsungwa, the focal person at the ministry, says: "This time around, we decided to involve different stakeholders. World Vision Uganda is bringing together the civil society." James Kintu, the associate director for advocacy, World Vision, says:
"Following the renewed commitment by the global leaders, to which Uganda endorsed last year in November, the plan serves to encourage political momentum towards reducing preventable deaths among mothers and children."

"Inadequate staffing is one of the many preventable causes of maternal and newborn deaths. This issue is
addressed under the strategic shift of putting resources targeting priority areas.
"Other areas include completing the four antenatal visits and avoiding the delays in making a decision to travel to the health centre and delayed attention at the facility," Kintu adds.

Dennis Odwe, the executive director of Agha Uganda, one of the organisations working with the health ministry, says the Government has made commitments focusing on key indicators that are central to reduction of preventable death.
"The government also targets interventions in hard to reach areas," he says.

Recently, in a stakeholders' meeting organised by World Vision at the Kabale district offi ces, Dr  Catherine Nansubuga of Mulago Hospital, said:
"This plan deals with the three key barriers in maternal health, which all come down to delay, delay, delay. Mothers hesitate to go to hospital. When they do, transport is a problem and when they get to hospital, there is a shortage of staff."

Jonathan Mukose, the deputy chief administrative officer of Kabale district, says for this plan to  ucceed, the civil society has to work with the Government.
"For example, if the hospital has an ambulance, let civil society give a certain amount of fuel every month to that hospital," Mukose says.
Maternal deaths: Shortage of midwives derailing fight