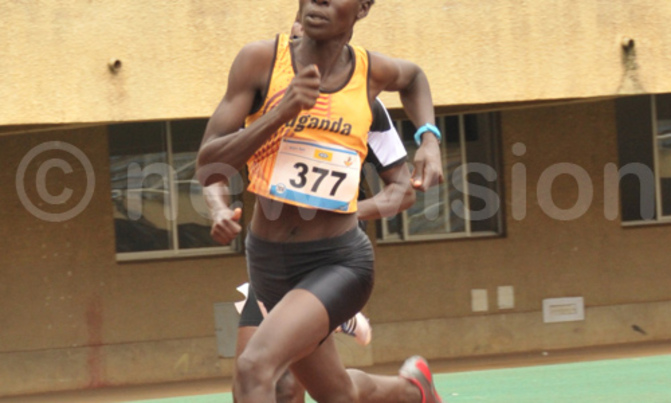 SHIDA Leni, Ali Ngaimoko and Dorcus Ajok all registered double victories in the second national track and field trials that were held at Namboole Stadium
By Norman Katende
SHIDA Leni, Ali Ngaimoko and Dorcus Ajok all registered double victories in the second national track and field trials that were held at Namboole Stadium on Saturday.  
Ronald Musagala and Sarah Nambawa, who represented Uganda at the World Athletics Championships in Moscow last year won their respective women's long jump and men's 800m events in the meet that registered a good turn up and good times too. 
Ajok calls the shots early 
After finishing second in the World University Cross Country Championships held at Entebbe golf course last month and won by Winnie Nanyondo, it was anticipated that Ndejje University's Dorcus Ajok would also play second fiddle in the women 1500m on Saturday.
However, crossing the half way mark in third position, Ajok out-sprinted all, relegating Nanyondo to second position in the event. 
Ajok though she insisted that it was too early to say who would dominate the season.
"This is our second race and we are all just returning to the track. I have not worked on my sprints. I have only worked on my endurance but I am happy with the times," said Ajok after the race.
Nanyondo, who said that she had been down with fever and did not train but she harbours high hopes for the season.
"The gold medal in Entebbe gave me motivation to win another medal at an international event. It might be at either the Commonwealth Games or the Africa Senior athletics Championships," said Nanyondo.
Ajok also won the 800m event, this time dominating the entire race from start to finish. 
Ngaimoko also sets early targets
Police's Ali Ngaimoko managed to beat a number of seasoned athletes to state his ambitions for this season clear.
The runner, who two years back failed to qualify for the London 2012 Olympic Games and reached the semi-finals of the Africa Senior Athletics championships in Benin this time beat Ndejje's Hamidu Bidusu and Prisons' Musa Isabirye to win the 200m race after clocking 21.54 seconds in the event.
But it was in the 400m event where he ran perfectly well with a hard first 150m, relaxing in the next 100m to get some gap before sprinting towards the final bend to come home with ease in a time of 47.18, beating Anthony Okiror who clocked 47.76.
"Well I have won but the times are not that good. I still need some speed work so that I can qualify for both the Africa Seniors and Commonwealth Games," said Ngaimoko after the race.
Waiswa Lukungu, who finished fifth said that he needed more training after a two year layoff for him to have an impact.
Shida Leni lights up women's sprints
Ndejje University's Shida Leni continued her early season form, clocking another sub 55 seconds in the 400m women event.
The youthful runner looked to be reaching her peak early as she beat Uganda Wildlife Authority's Nasimba Nabirye and Entebbe's Scovia Ayikoru, who is under the coaching of former sprinter Moses Asonya, in an interesting 400m event.
She clocked 54.2 seconds to win as Nabirye came home over two seconds behind with Ayikoru finishing in third.
Nasimba also finished behind her in the 200m event that registered a good turn just like the 5000m with over 40 starters.
Musagala still dominant in 800m
Uganda Wildlife Authority's Ronald Musagala, who reached the men's 800m semi-finals in the Moscow World championships was utterly dominant crossing the finish line in a time of 1minute 47.25 seconds. 
He beat Charles Owor, who was running for the Air Force.
Musagala, who switched allegiance from Kampala University ever since he was stopped from representing Uganda at the World University Cross Country championships, was spurred on by sprinter Dennis Opio's good speed until the 400m mark, giving him good pace to run a good early season time.
He also insisted that he still needed more time and tougher competition to make him qualify for big events.
"I have done the endurance and what is remaining is for me to work hard on the speed which I will perfect in the next months," he said.
A new name in the 5000m men competition 
With most distance runners still adjusting from the cross country and road to the track, Kampala University's Martin Chemtingen took the bragging rights as he ran a personal best of 14 minutes 15.78 seconds in the 5000m event.
It came as a surprise even to Chemtingen who decided to push after the fourth of the seven and half-lap race as others tried to slow down the race, slashing 30 seconds off his time without any competition.
"It was my first career win. I am so happy. I have been running 14:45 and was targeting to at least make it 14:30. Now I will try to run below 14 minutes so that I get selected for some international events. I will work hard for that," he said after the race, knowing how competitive the longer distance events are.
His only scare was UPDF's Stephen Mande, who relaxed and only remembered to close the 20m gap with about 200m to the bell and nearly made it even though Mande still finished second with KCCA's Dominic Korir finishing third in a race that attracted 46 starters.
Nambawa barred from facing men
Sarah Nambawa who is back after her studies in America proved that she is still a refined jumper when she leapt 5.76m in win the long jump event.
The Wakiso district jumper was in form as she beat UCU's Mary Unyuthfua (5.44) and KCCA Eveline Acan (5.30).
But the two time Africa triple jump champion could not compete in her favourite event after she was stopped from competing against men since there were no women triple jump entrants save for her .
"It is absurd. Triple jump is my favourite event and if I do not compete, how will I be able to defend my title. I would have been given an opportunity to compete against women as a guest jumper. It would be better for me," said a downcast jumper after waiting for two hours for the men's event with hope that she would be included on the start list.
Nanziri out sprints Ayikoru
Police's Emily Nanziri sent early warning that it is going to be a tight season in the sprints.
Despite another renowned female sprinter Mildred Gamba watching from the side lines, Nanziri and Ayikoru put up a good show in the women sprint, running together until about 90m when Nanziri edged ahead to win the competition by 0.05 seconds in one of the most interesting races of the day.
"It is still early and we expect to even have a tougher competition as the season goes on." Nanziri said.
No steeplechase but Araptany takes 1500m
Though there was no steeplechase event on the programme, two international steeplechase competitors graced the 1500m event.
Jacob Araptany was flawless as he won the event with Benjamin Kiplagat finishing fourth.
In other events, David Okot and Emmanuel Opio managed to jump 1.95 in high jump.
Janneth Achan and Lucy Aber also dominated the discus and Javelin event just as it was last season while Alfred Okot took the men's long jump honours.
Selected results
Women
100m 
1 Emily Nanziri (Police) 12.42
2 Scovia Ayikoru (Entebbe) 12.47
3 Mary Zawadi Unyuthfua (UCU) 12.59
200m  
1 Shida Leni (Ndejje) 24.76
2 Nasimba Nabirye (UWA) 25.84
3 Maureen Banura (KCCA) 25.89
400m
1 Shida Leni (Ndejje) 54.25
2 Nabirye Nasimba (UWA) 56.26
3 Scovia Ayikoru (Entebbe) 56.69
800m  
1 Docus Ajok (Ndejje) 2:08.63
2 Susan Aneno (KCCA) 2:09.80
3 Maureen Nandago (Standard) 2:11.47
1500m
1 Dorcus Ajok (Ndejje) 4:21.34
2 Winnie Nanyondo (UWA) 4:22.82
3 Patricia Chekwemboi (Police) 4:27.82
Shot Put
1 Janneth Acan (UCU) 11.29
2 Laker Mercy (KCCA) 10.38
3 Peace Mirembe (Ndejje) 10.38
Long Jump
1 Nambawa Sarah (Wakiso) 5.76
2 Mary Unyuthfua (UCU) 5.44
3 Eveline Acan (KCCA) 5.30
Javelin
1 Lucy Aber (Police) 43.75
2 Nancy Lakot (Nampunge) 38.45
3 Peace Mirembe (Ndejje) 37.09
Men
100m
1 Musa Isabirye (Prisons) 10.91
2 Hamidu Bidusu (Ndejje) 10.92
3 Moses Odong (Ndejje) 10.98
200m  
1 Ali Ngaimoko (Police) 21.54
2 Hamidu Bidusu (Ndejje) 21.78
3 Musa Isabirye (Prisons) 21.98
400m  
1 Ali Ngaimoko (Police) 47.18
2 Anthony Okiror (Ndejje) 47.76
3 Rashid Etiau (Entebbe) 48.96
800m  
1 Ronald Musagala (UWA) 1:47.25
2 Charles Owor (Air force) 1:52.17
3 Abu Mayanja (UWA) 1:52.95
5000m
1 Martin Chemtingen (KU) 14:15.78
2 Stephen Mande (UPDF) 14:16.18
3 Dominic Korir (KCCA) 14:22.54
Javelin
1 David Ssenoga (KCCA) 55.46
2 Oscar Opio (Prisons) 55.15
3 Moses Odongding (Gulu High) 53.77
High Jump
1 P. Okot (Police) 1.95
2 E.  Okello (UCU) 1.95
3 D. Mkwanga  1.70
Shot Put
1 Johnson Odiya (Ndejje) 13.83
2 Martin Odong (Prisons) 12.48
3 Oscar Opio (Prisons) 12.40
Long Jump
1 Alfred Okot (Prisons) 7.05
2 Francis Oketayot (KCCA) 6.88
3 Emmanuel Okello (Ndejje) 6.79
Ngaimoko, Shida light up national trials