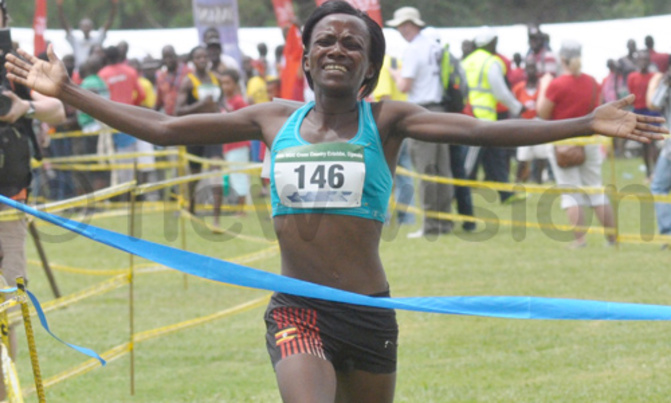 TWO weeks ago as Uganda's final World Cross Country was being selected, Winnie Nanyondo was very clear on her mission
By James Bakama
WINNIE NANYONDO
Two weeks ago as Uganda's final World Cross Country was being selected, Winnie Nanyondo was very clear on her mission.
"I'll get gold," she boldly stated contrary to most of her team-mates who were not very clear about their prospects.
When it got to the race proper on Saturday. Nanyondo indeed fulfilled her dream by leading Uganda to a 1-2-3 sweep in the women's race at the Entebbe Golf Course.
But maybe the Kampala University Industrial Art and Design student's confidence was understandable.
It was at the same course in December when she again sprinted to victory in the Africa University Cross Country Championship.
Nanyondo that time also led Uganda to a gold-silver- bronze sweep. She had earlier also been part of Uganda's team to the World University Games in Kazan.
Nanyondo, whose speciality is 800m and 1500m, did not break her track training regime in the build-up to the world meet.
She continued training at Namboole while the rest of the team fine-tuned in Ndejje.
DORCUS AJOK
Dorcus Ajok was always one of Uganda's medal hopes.
Like Nanyondo, the Ndejje University first year Counseling and Guidance student is steadily piling accolades. In December she also won silver at the Africa University Cross-Country Championships.
Her silver came after an impressive show in the Inter-University Games where she won gold in the 800m and 1500m. She was 12th out of 27 entrants in the 800m race in Kazan last year.
Like many members of Team Uganda, she is already attracting attention from US universities. Her dream is to excel on track.
"I look forward to the day I will win a medal at a big competition like the Olympics or World Championships."
That dream might after all not be far away. That, is at least going by her cross country season form. If a middle distance runner can harass seasoned long distance athletes at their specialty, then you know she is destined for big things.
PRIM TWIKIRIZE
Prim Twikirize, like Nanyondo, was always confident of winning a medal.
The Ndejje University second year SWASA student finished fourth in last year's Africa University Cross Country.
The smiling athlete kept on reminding doubting journalists that she was medal material, so when she fulfilled her promise on Saturday, the media took note bombarding her with interviews.
But to those who had been following her, the medal came as no surprise.
She showed great potential right from the Inter University Games winning silver in the 5000m and gold in the 10000m.
She also finished 15th out of 3582 female runners in last year's MTN marathon.
During preparations for the world meet, she famously said that by the time a serious student decides to first slow down on academics to seriously go into a competition, then you know that athlete is eyeing something big.
Nanyondo predicted gold and got it