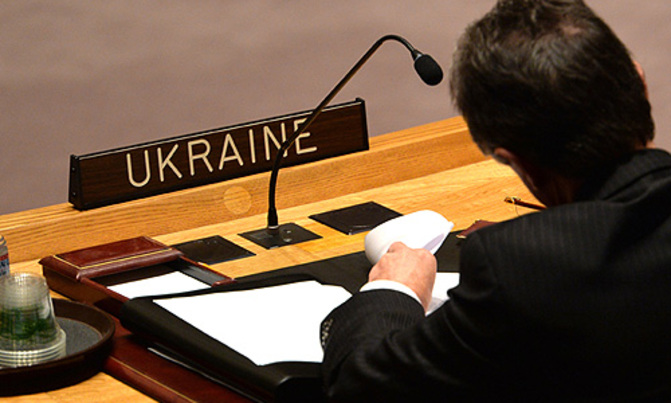 Ukraine announced plans Wednesday to out of a key post-Soviet alliance and slap entry visas on Russians while also preparing for a possible Crimean withdrawal.
KIEV - Ukraine announced plans Wednesday to drop out of a key post-Soviet alliance and slap entry visas on Russians while also preparing for a possible Crimean withdrawal following the Kremlin's absorption of the peninsula.

Kiev's first firm response to Russia's claim to the strategic Black Sea peninsula came as a deadline expired on an ultimatum set by the acting president for Crimea's separatist leaders to release the captured head of the Ukrainian navy.

The spiralling crisis prompted the White House to warn Russia it was "creating a dangerous situation" and the NATO commander to call the Kremlin's seizure of Crimea "the gravest threat to European security and stability since the end of the Cold War".

Germany said it was suspending a major arms deal with Moscow -- a signal that Washington's EU allies were willing to take more serious punitive steps against the Kremlin despite their heavy dependence on Russian energy supplies.

But Moscow appeared ready to up the diplomatic stakes, warning Washington it was preparing a "wide range" of countermeasures should the United States follow through on threats to impose broad economic sanctions.
true
Cossacks prepare to patrol an area near Russian-Ukrainian border near the southern city of Rostov-on-Don. PHOTO/AFP
true
Here, now mounted, the Cossacks start their patrol of the area. PHOTO/AFP
Three-hour ultimatum

Pro-Russian forces earlier seized two Crimean navy bases and detained Ukraine's naval chief as Moscow tightened its grip on the flashpoint peninsula despite Western warnings that its "annexation" would not go unpunished.

Dozens of despondent Ukrainian soldiers -- one of them in tears -- filed out of Ukraine's main navy headquarters in the historic Black Sea port city of Sevastopol after it was stormed by hundreds of pro-Kremlin protesters and masked Russian troops.

The local prosecutor's office said Ukraine's navy commander Sergiy Gayduk -- appointed after his predecessor switched allegiance in favour of Crimea's pro-Kremlin authorities at the start of the month -- had been detained.

Russian Defence Minister Sergei Shoigu later urged Crimea's pro-Russian leaders to free Gayduk, but only after the expiry of a 9:00 pm (1900 GMT) deadline set by Ukraine's acting president Oleksandr Turchynov for the Crimean authorities to release the commander.

His capture was a blow to efforts by a new team of untested pro-Western leaders in Kiev to impose some authority in the face of an increasingly assertive Kremlin.

Ukraine's National Security and Defence Council chief Andriy Parubiy said Kiev had decided to withdraw from the Moscow-led Commonwealth of Independent States (CIS) alliance that replaced the Soviet Union and to slap visas on Russians who sought to enter the country.

Parubiy added that Ukraine was also developing a contingency plan to withdraw Crimean servicemen and their family members "so that they could be quickly and efficiently moved to mainland Ukraine".
true
An Ukranian officer leaves the navy southern headquarters base in Novoozerne after it was taken by the Russian forces on Wednesday. PHOTO/AFP
true
Russian soldiers walk in the navy southern headquarters base after taking control of it. PHOTO/AFP
Putin defiant

A defiant President Vladimir Putin had brushed aside global indignation and Western sanctions on Tuesday to sign a treaty absorbing Crimea and expanding Russia's borders for the first time since World War II.

Russia's Constitutional Court ruled unanimously on Wednesday that the "treaty complies with the Russian constitution" after a disputed Sunday referendum in Crimea showed nearly 97 percent supporting a shift from Ukrainian to Kremlin rule. Kiev and the West have dismissed the referendum as illegal.

Putin's hugely controversial treaty signing came less than a month after the ouster in Kiev of pro-Kremlin president Viktor Yanukovych by leaders who spearheaded three months of deadly protests aimed at pulling Ukraine out of the Kremlin's orbit.

The Russian leader responded by employing the help of local militias to seize Crimea -- a region the size of Belgium that is home to two million people as well as Russia's Black Sea Fleet.

The explosive security crisis on the EU's eastern frontier now threatens to reopen a diplomatic and ideological chasm between Russia and Western powers not seen since the tension-fraught decades preceding the 1989 fall of the Berlin Wall.

British Prime Minister David Cameron said on Wednesday that next week's meeting of leaders from the Group of Seven (G7) most developed economies must discuss Russia's permanent expulsion from the wider G8 political grouping to which Moscow was accepted in 1998 as its reward for pursuing a democratic course.

United Nations chief Ban Ki-moon will meet with Putin in Moscow on Thursday before holding talks with Ukraine's interim leaders in Kiev on Friday to encourage a peaceful resolution of the crisis.
true
A Ukrainian helicopter flies above a check point at the border between Ukraine and Crimea near the Salkovo village near Kherson on Thursday. PHOTO/AFP
true
Here, on the same day, a Ukrainian soldier at a check point at the border between Ukraine and Crimea. PHOTO/AFP

Eastern threat

The US envoy to the UN warned Wednesday that America was ready to slap a fresh round of sanctions on Russia over its "aggression" in Ukraine.

"A thief can steal property, but that does not confer the right of ownership on the thief," Samantha Power said in New York.

But Russia's Deputy Foreign Minister Sergei Ryabkov warned Washington that Moscow was preparing an entire series of "asymmetrical measures" should the United States hit his country with more severe steps.

Ryabkov said these measures covered "a number of areas of dialogue... that are important to the Americans" and hinted that Russia could "raise the stakes" in the ongoing Iranian nuclear talks.

The greatest fear facing Kiev's new leaders and the West is that Putin will push huge forces massed along the Ukrainian border into the Russian-speaking southeastern swathes of the country in a self-professed effort to "protect" compatriots he claims are coming under attack from violent ultra-nationalists.

"We are not speaking about military actions in the eastern regions of Ukraine," Putin's spokesman Dmitry Peskov told the BBC.

"But Russia will do whatever is possible... to protect and to extend a hand of help to Russians living in eastern regions of Ukraine."

The head of NATO said the alliance was acutely worried that the crisis reflected a wider "strategy" by Moscow to exert control in the region.
AFP
Ukraine severs key ties with Russia over Crimea