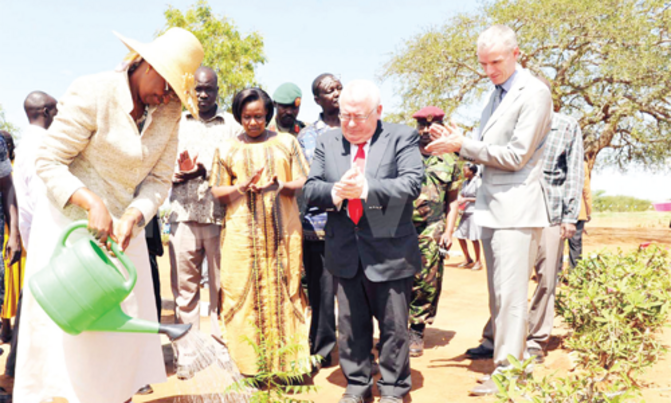 Relations between Ireland and Uganda have grown since Ireland's diplomatic mission was established in Uganda in 1994
Relations between Ireland and Uganda have grown since Ireland's diplomatic mission was established in Uganda in 1994. The mission represents the political, economic, social and cultural interests of the Government of Ireland in Uganda. It is responsible for implementing and overseeing the Irish Aid Uganda Development Programme, fostering political and economic links between Ireland and Uganda, catering for the consular needs of Irish citizens in Uganda, and providing visa services to nationals and residents of Uganda.
For the past 20 years, Irish Aid has worked with a variety of partner organisations including government institutions, UN agencies, civil society organisations, international research institutions, fund management agents and aid agencies to deliver on our development objectives in sectors such as health, agriculture, education, HIV/AIDS, gender, human rights & good governance, social protection, justice, law and order sector, public finance management, public sector governance through the public service reform and decentralisation reform programmes, extractive industry and programmes to improve livelihoods.
Area-based programmes were established in the early years in Kumi, Fort Portal, Kibaale, Kiboga and most recently, Karamoja sub-region, where the programme has been for the past ten years. As we celebrate twenty years of existence in Uganda, we highlight Irish Aid's involvement in the Karamoja region. Karamoja is the poorest region in Uganda with 75.8% of the population living below the poverty line, compared to the national average of 22%.
Poverty is on a very slow decline hampered by a combination of a harsh climate, poor farming practices and persistently poor harvests, lack of water, animal deaths, ill health and disability, lack of skills and alternative sources of income.
The people are traditionally nomadic pastoralists but with some engagement in agriculture. The Irish Embassy has developed close relations with Government of Uganda actors in Karamoja including the First Lady and Minister for Karamoja Affairs Mrs Janet Museveni, the Karamoja Parliamentary Group and different district leaders to ensure effective delivery of programmes in the region.
With a current budget of €21million in 2014, Irish Aid's focus is on poverty reduction for the most vulnerable people and communities in Uganda through interventions highlighted below:
Social Protection
This programme is jointly funded by Irish Aid, UKaid and Government of Uganda and is implemented by the Ministry of Gender, Labour and Social Development (MGLSD). Over the past three years, the MGLSD has implemented the Social Assistance Grant for Empowerment (SAGE) in 14 pilot districts.
The Senior Citizen Grant (SCG) targets older people aged 65 years and above (except in Karamoja where the age of eligibility is 60 years and above due to the extreme poverty and reduced life expectancy in the region). Beneficiaries receive sh50,000 every two months – equivalent to a monthly payment of sh25,000 per month through a partnership with MTN.
Mining
Karamoja is one of the poorest and yet also most mineral-rich regions in the country. Irish Aid has funded various researches in this area through the Ecological Christian Organisation (ECO) and the International Union for Conservation of Nature (IUCN).
The 2010 ECO research report showed that, there are over 50 different minerals attracting over 20 foreign and Ugandan owned companies to conduct exploration and, to a lesser extent, mining in the region. Up to 18,000 Karimojong men, women and children are involved in Artisanal and Small Scale Mining (ASM).
The IUCN research focuses on the economic, social and environmental cost benefit analysis of ASM and Large-Scale Mining (LSM) in Karamoja.
Education
Education is a priority sector for Ireland in Uganda and is recognition of the crucial role that education has played in Ireland's own development. Irish Aid has been supporting education in the Karamoja region since 2004 having begun with construction and furnishing of 13 Post Primary Education and Training (PPET) intuitions throughout the sub-region.
Over the last nine years, 1,750 bursaries have been provided to Secondary School students, of whom 1,170 are still in Secondary School. The bursary programme has since extended a pilot project at tertiary and university level. This has seen 60 Karamojong students currently enrolled in leading Universities within the Country. In collaboration with the Ministry of Education and Sports and under the project management partnership with Deloitte Uganda, Irish Aid has provided a grant for the construction and rehabilitation of infrastructure in 21 primary schools in Karamoja, three in each of the seven districts.
The project was launched in December 2013 by the Irish Minister of Trade and Development, Joe Costello T.D in the presence of the First-Lady & Minister for Karamoja Affairs, Hon. Janet Museveni, and the Minster for Education and Sports, Hon. Jessica Alupo. In addition, training of Science and Mathematics teachers through SESEMAT will continue.
Livelihoods
Irish Aid began its support to the Livelihoods programme in 2010, through a consortium of 12 organisations led by Oxfam GB and Trocaire.
The 3½ year programme is implemented in the Karamoja districts of Kaabong, Kotido and Moroto. The programme has worked with the local community structures, partners and government to deliver interventions that enhance the livelihoods of various local groups. A combination of direct and indirect approaches have been used to support livestock services, increase the number of households participating in the local government process, enhance advocacy on land reforms and natural resources management, as well as empowerment of women.
HIV/AIDS Decentralised Response
The Decentralised response to HIV/AIDS is about the supporting Local Governments and Civil Society Organisations responses to HIV/ AIDS in the coordination and integration of local HIV/AIDS responses. Since 2011, Irish Aid has been supporting the HIV/AIDS decentralised response in 5 districts of the Karamoja region, through two partners namely; the Alliance of Mayors and Municipal Leaders' Initiative for Community Action on AIDS at Local Level, Uganda Chapter (AMICAALL) and The AIDS Services Organisation (TASO).
In number of police officers countrywide and in order to facilitate police outreach to the communities, 414 mountain bicycles were donated by Irish Aid, 21 of which are in the Karamoja region. In addition to the Decentralised Response intervention, Irish Aid in partnership with other development partners is supporting the HIV Civil Society Fund. This main purpose of this fund is to have better engagement with civil society organisations in order effectively support the national response to HIV/AIDS.
Governance and Human Rights The Democratic Governance Facility (DGF) was established by Austria, Denmark, Ireland, the Netherlands, Norway, Sweden, the United Kingdom and European Union to support state and non-state partners to strengthen democratisation, protect human rights, improve access to justice and enhance accountability in Uganda.
The DGF supports a number of organisations working in the Karamoja region.
Justice reform
Given the critical importance of safety, security and access to justice for all, Irish Aid has worked with and supported the justice sector in all the Karamoja districts over the last 10 years, through support to the Justice Law and Order Sector.
This funding facilitated the operationalisation of the justice institutions particularly the courts and directorate of public prosecution in the sub-region. In addition, Irish Aid supports community policing, which is an approach that allows the police and community to work closely together in addressing local crime and incidences through identifying the problems, planning of the solutions and resolving the issue in an inclusive-participatory manner
Ireland, Uganda plot development