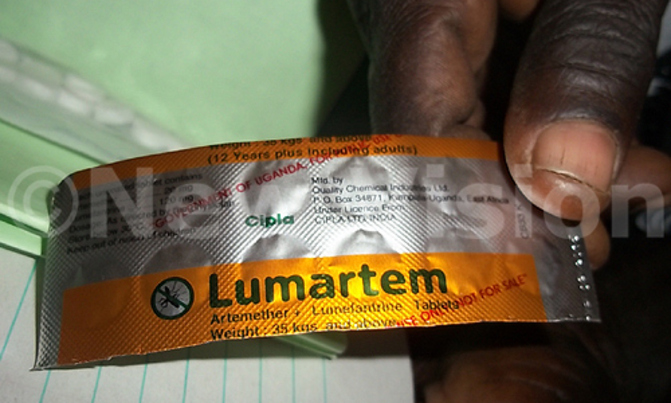 Is there a link between the presence of pharmacist professionals and chances to access drugs in public health facilities in Uganda?
By Raymond Baguma
Is there a link between the presence of pharmacist professionals and chances to access drugs in public health facilities in Uganda?

Using available data from the Pharmaceutical Society of Uganda (PSU), New Vision was able to establish the extent to which absence of pharmacists in districts curtails efficient delivery of essential medicines.
A pharmacist is critical in patient care through medicines management, ordering, usage, storage, recommending appropriate treatment, prescription and determining appropriate drug alternatives.
(All photos by Raymond Baguma)
true
A member of the health centre management committee for Kathile Health Centre III in Kaabong district signs to confirm delivery and receipt of drugs to the centre on February 8, 2014.
true
Drugs and health supplies are loaded onto the National Medical Stores (NMS) trucks from the central warehouse in Entebbe, ahead of transportation to various districts of the country.

true
Verifying the delivered drugs at Kaabong hospital. This process of verification of deliveries is replayed in all the over 2,800 health facilities all over the country which are supplied by National Medical Stores (NMS).
Samuel Opio, the secretary of the Pharmaceutical Society of Uganda said at the heart of Uganda's drug availability woes in public health facilities, is the shortage of pharmacists. This shortage leads to poor quantification of drugs, which results in shortages, excesses of stocks causing expiries.
According to Martin Oteba, the head of the Pharmacy Division in the ministry of health, the absence of a pharmacist affects quality of healthcare. This is because appropriate orders cannot be made for drugs. And in instances where drugs are delivered to hospitals, they cannot be appropriately used.
The World Health Organisation recommends a ratio of one pharmacist per 10,000 people. But Uganda's ratio of pharmacist to population is below what is recommended. Ideally, to meet the WHO target, Uganda would have to immediately recruit 3,500 pharmacists.
But records available with the Pharmaceutical Society of Uganda (PSU) reveal that presently, there are slightly over 700 trained pharmacists today for a population of 35 million people.
The ministry of health in its strategic plan is to have at least one pharmacist for every 20,000 Ugandans in the next 10 years, according to Oteba.
true
The verification process involves checking the quantities of drugs delivered against the orders that were made as well as checking the expiry dates amongst others.
true
Drugs and health supplies are off-loaded from the National Medical Stores (NMS) truck upon delivery at Kaabong hospital's main stores. It is from this point that the drugs and health supplies are taken by a private contractor to the lower health units in the district.
But in order to meet this national target, the education institutions will have to train a total of 1,750 pharmacists in the next decade, going by the current population of 35 million people.
There are three pharmacy degree-awarding institutions which include Kampala International University (KIU), Makerere University (MUK) and Mbarara University of Science & Technology (MUST).
According to Moses Kamabare, the National Medical Stores general manager, pharmacy is generally a young profession and the first pharmacist graduate left Makerere in 1992.
The three universities graduate over 65 pharmacy students annually and in order to achieve the national target, at least 100 pharmacists should graduate annually, according to Oteba.
In 2025, Uganda's projected population will be over 50 million. In this likely scenario, there will be need for increased investment in training of pharmacists, or else the shortage of professional pharmacists will persist for years to come.
A visualisation of where pharmacists are located in Uganda [Clickable navigation]

(SOURCE: Ministry of Health Annual health sector performance report 2013)
The national target is affected by the fact that Uganda has one of the fastest population growth rates in the world, at 3.2 present annually.
"It's a moving target because the population keeps rising," said Oteba.
To fill the gap with a rising population will require expanding teaching facilities such as laboratories, and recruiting more lecturers to accommodate the increase in student numbers.
A bi-annual report last published in October 2012 by the ministry of health on Uganda's human resources for health situation shows the shortage of pharmacists is critical in general hospitals.
Nearly all of the general hospitals lack pharmacists. This raises the need to fill these positions. According to the report, of the 89 approved pharmacist positions in the general hospitals, only 27 positions are filled, leaving a shortfall of 64 positions.
Also of the 42 pharmacist positions approved in the 13 regional referral hospitals, only 25 are filled, while 17 positions are vacant.
"One thousand times, we have impressed it upon Government about the need for more pharmacists. But our ecosystem is dependent on what government is able to fund," said Oteba.
Currently, majority of pharmacist professionals are privately employed and run pharmacy businesses in major towns, predominantly in Kampala. The countryside as well as the public sector are least served.
Records indicate that out of the 112 districts, pharmacists operate in only 50 districts. The districts where private pharmacists are most concentrated include Wakiso, Mbarara, Mbale, Jinja, Masaka, Mukono, Gulu, Kabarole, Arua and Hoima.
A visualisation of how districts perform in ordering for drugs  [Clickable navigation]

(SOURCE: Pharmaceutical Society of Uganda (PSU))
Jolly Tibemanya is the chairperson of Bundibugyo district where the general hospital is experiencing a critical shortage of health workers including a pharmacist.
"We have to work on the attitudes of young people coming out of school to interest them in working for society through the public sector.  If that is not done, even if we have medicines without health workers, people will not access medicines as expected," said Tibemanya.
This report was produced with the support of The African Story Challenge @ African Media Initiative (AMI)
A case for pharmacists: how their absence affects access to drugs