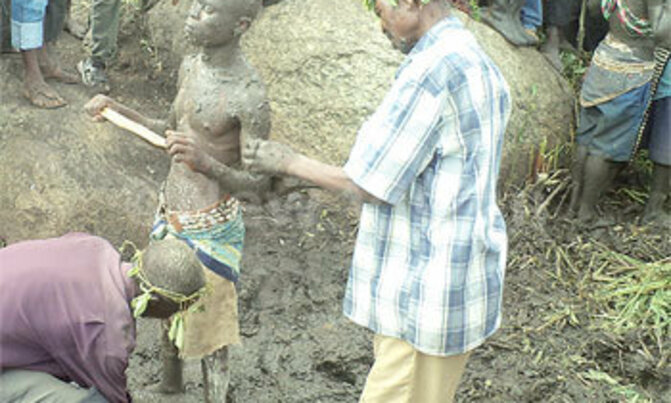 This year, as with every even year, the Bagisu are in high gear because it is a circumcision year. In the last couple of years, there has been debate about whether medical male circumcision should replace the traditional procedure.
This year, as with every even year, the Bagisu are in high gear because it is a circumcision year. In the last couple of years, there has been debate about whether medical male circumcision should replace the traditional procedure.
While many say traditional circumcision poses certain health risks, proponents discouraging the practice of imbalu would be denying the Bagisu a very important aspect of their culture, writes RICHARD WETAYA.

A tribal custom that has been running for generations can be hard to get rid of. The practice of female genital mutilation in Sebei, for example, is still rife despite concerted government and civil society measures to abolish it.
In Bugisu, the question of whether imbalu (cultural circumcision) should be abolished or preserved continues to stir debate.

true
Candidates for circumcision dancing during the opening ceremony of imbalu in 2012 in Mutoto Mbale
A group of outspoken evangelical Christians, who had taken their anti-imbalu crusade to a radio station in 2010 and 2012, were bombarded with threatening phone calls and insolent comments. However, there were a handful of people who sided with them.
 
The opponents of imbalu argue that it is a primitive custom that should be dispensed with. They say that all the blood sacrifices made during the ritual are satanic.
 
Yosia Wamaniala, an evangelical Christian in Nampanga, Sironko, says the imbalu custom is an evil bondage over the Bamasaba, one that they should be set free from.
 
"All the animal blood sacrifices, the reverence accorded to spirits and the other vices that unfold during the imbalu season are a manifestation of how wicked this ritual is. Those practices bond Bugisu land with evil and they need to be stamped out. But as is the character in Bugisu, advice is least heeded when most needed, so we shall continue to live under this avoidable spell," Wamaniala says.
 
Pitted against them, however, have been very strong proponents of the imbalu custom. Local historian, Benayo Wanabwa, says from days of old, imbalu has been Bugisu's cultural claim to fame.
 
"This is our heritage as Bamasaba and it will be, even for our posterity. Without our cultural heritage, we as a people or a community, have no identity. Those who have been advocating for the abolition of our revered culture are under an illusion," Wanabwa says.
 
Frances Muyesa, 87, of Siboye clan in Bumboi, Mbale, says any Mugisu who disparages and holds his culture in contempt should be ashamed of himself.
"I do not understand why anyone would demand the abolition of a culture which has got us recognition, respect and identity world over. Many Bamasaba who are devotees of this culture are not only here in Bugisu, but in Kenya too," Muyesa says.
 
Moses Magombe is a respected elder in Mutoto, Mbale, the place where the maiden imbalu ceremony was performed and where every circumcision year, a huge festival is held at which mass circumcision is carried out. Wakitoni says those agitating for the dissolution of imbalu suffer from a cultural cringe
 
"The cowards who try to negate, loathe and desecrate our culture are not people we shall entertain. They probably lacked the fortitude and grit to face the knife. Imbalu unites all Bamasaba. The rituals performed are largely symbolic and in accordance with what our ancestors did. There is nothing diabolical about them.
Wamaniala, however, says not everybody in the 26 clans of Bugisu is fond of the ritual. "People have realised how backward imbalu is, otherwise not many people would be taking their children to hospital for circumcision. It has outlived its usefulness. There are no virtues about a pagan-like culture that bridges the gap between us and spirits," he says
 
Bumali Mashipwe, an evangelist in Namatso, Bududa, concurs with Wamaniala. "Offering sacrifices to some unknown entities is something I find strange. If you are keen to observe, it is during the imbalu season that many vices, pregnancies and deaths occur within the Bugisu region.
This year (2014) is circumcision year, wait and see what happens. A custom like that cannot be one on which a tribe constructs its identity," he says.
 
Wakitonyi says those bent on casting slurs on what he calls an esteemed custom are wasting their time. "For the record, there is nothing pagan about our culture. That just shows how naive and ignorant these people are about their own culture.
The imbalu custom, which some people have failed to understand, aims at consolidating cultural continuity and social cohesion within our society. It is through this custom that our younger generation are taught not one, but many responsibilities," he says.

Process of imbalu

Every even year in Bugisu, boys between the ages of 15 and 18 are initiated into manhood. Anyone within that age group from the five districts of Bududa, Bulambuli, Manafwa, Sironko and Mbale are prepared for circumcision.
 
Most people are only aware of the actual circumcision. However, there are certain ceremonies one has to participate in from the beginning of the year to complete the imbalu ritual, says Ahamad Washaki, an elder and LC3 chairman of Bungokho sub-county, Mbale district.
 
Washaki says the circumcision year starts with a process known as isonja, in which the boys receive training in how to sing and dance.
 
"This process goes on for the whole year and it happens in every home with a candidate for circumcision," Washaki says.
 
"In August, there is a mass function called mutto where all potential candidates converge. After this, the celebration of unity and mass circumcision lasts an entire month," Washaki says.
 
Mutto is the former palace of the Umuyinga (the king of Bugisu), in Mbale town.
 
On the morning of circumcision, malwa (local brew from sorghum) and kamoshe (roasted bananas) are prepared for the candidates. Only men prepare this meal and the kamoshe is peeled using fingers, not knives.
 
To conclude the celebration, a special ceremony, inemba (cleansing of the newly circumcised) is organised in January and February.
 
At this event, pressure is exerted upon the newly circumcised adolescents to prove their manhood, in essence encouraging the 'new men' to have sex with a woman.
 
Imbalu: Culture, Christianity clash