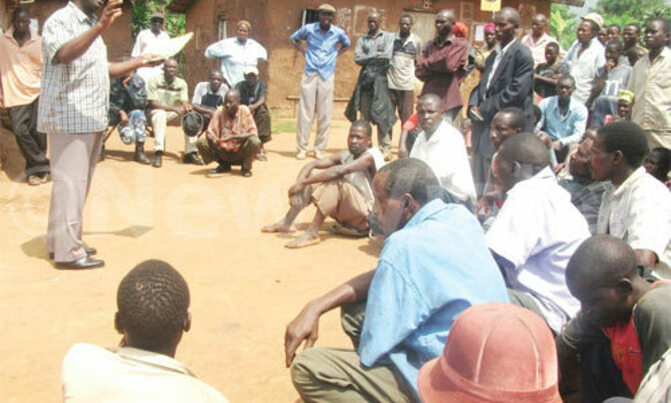 When real estate land dealers became more pronounced in the late 1990s, many Ugandans, including those working abroad, trusted them with their money because they would deliver.
By Chris Kiwawulo
When real estate land dealers became more pronounced in the late 1990s, many Ugandans, including those working abroad, trusted them with their money because they would deliver. However, with time, cases of fraud started to creep into the business with dealers selling land to more than one person, sometimes without issuing titles. It started with the arrest and conviction of former Property Masters proprietor, Patrick Kasulu, in 2004, over fraud.
More recently, the administrators of Hossana Real Estate Agency, are facing fraud charges with over 20 cases worth over sh300m, according to the Police.
Sunday Vision has learnt that besides Hossana, a few other real estate companies have been implicated in shady deals. Some buyers told Sunday Vision that they got loans from banks to acquire land, only to be ripped off. Many of the cases have been registered with Police; others are in court, while a number of clients are still living on promises that the agents are still processing their titles.
WHAT COULD HAVE GONE WRONG?
Investigations reveal that some real estate companies advertise land that does not belong to them. Some initiate the process of buying land, pay a deposit and then advertise the plots before they complete acquiring the land. In the end, the real estate agency could fail to complete the purchase, consequently its clients lose money.
Sometimes, a dispute emerges over ownership of the land and when one of the claimants places a caveat, clients who were promised the same piece of land lose out. "In some cases, dealers buy caveated land with full knowledge that there is a dispute over it and then sell it to unsuspecting clients. Sometimes, they even sell the same plot to more than one person and then switch off their phones.
This was unheard of in the past," says a source privy to the Hossana fraud case. In other cases, dealers, due to fear of competition, rush to pay for the land without carrying out due diligence to establish whether there are any encumbrances. "Most times, land agencies pay in installments.
When they delay to clear the balance, a competitor may offer a better deal, prompting the land owner to switch to a higher paying dealer with a promise to refund the initial buyer. A dispute then emerges and the owner places a caveat on the land," says Deo Semakula, whose land at Kawanda, Wakiso district, was sold under similar circumstances. He had to goto court.
true
A house in Nansana, Wakiso district, demolished over a land dispute. Such unfortunate circumstances may occur if family land is sold without the consent of all members, sparking wrangles
 
THE CASES
Aaron Tindiseega, a city businessman, in 2011 purchased a piece of land measuring 50 x 100 feet in Kawuku, 2km off Entebbe Road, at sh15m. He, however, claims that the land on has since been sold to another individual. "When I carried out a search in the lands ministry, the buyer turned out to be one Emmanuel Kasumba, who is one of the directors at Hossana," he says. Tindiseega accuses one Kafeero, who sold to him the land, of being a liar. Apparently, Kafeero has been promising in vain to give him the land title since 2011.
Tindiseega reported a case of fraud against Hossana at Wandegeya Police Station's lands section referenced as SD 63/28/10/2013. A middle-level manager in one of the private organisations in Kampala paid Hossana sh7m for two plots of land each measuring 50 x 100ft in their Kabubbu 4 estate in Gayaza in 2011, but he has never got his titles. An 80-year-old woman, Erivesta Nabwami, has also dragged Hossana to court over her late husband's land, which was allegedly transferred to Hossana without her consent. Nabwami is the widow of Bida Nasanairi, who passed away in 1959. Nabwami, a resident of Nakawuka in Wakiso district,  Ugandansargues that her family land measuring about 541 acres was fraudulently transferred to Hossana by the office of the Administrator General between 2010 and 2011.
The land has reportedly been divided into hundreds of plots currently on sale. When Hossana administrators showed up to convince their clients to give them some time to repay their monies, they were arrested by the Police. A journalist with one of the leading daily newspapers is among those living on the promises of Akright, another real estate agency. They have failed to provide him with a land title after paying sh8.5m for a plot in Nansana, Wakiso district. "I bought a piece of land from Akright estates in 2007.
I was taken to Nansana and shown a piece of land in an estate. I signed an agreement and started paying money in installments until I completed my dues worth sh8.5m in January 2009. When I went to ask for my land title, the company secretary, Anna Kamugisha, told me to wait; that the title would be handed to me shortly. I have never received it," he narrates. In September last year, Constitutional Court Judge, Solomy Balungi, sued Akright over a piece of land allegedly sold to her and later sold to another buyer.
The land is situated on block 394, plots 4 and 5 in Kakungulu Estate along Entebbe Road. The civil suit, number 398 of 2013, was filed in the High Court's land division. Through Kamuli & Ssozi advocates, Balungi argues that she has on various occasions tried to construct a residential house and a perimeter wall, but it is impossible because of the road that Akright illegally constructed on her land.
Balungi alleges that she purchased the land in August 2007 at sh76m. In December 2008, Rujumbura Member of Parliament (MP), Jim Muhwezi, sued Akright seeking to recover over sh623m. Muhwezi wanted court to order Akright to pay the balance on the land he sold to them. He said he sold 84 acres at Busiro at sh2.3b, but Akright failed to pay the remaining sh623,215,311. He also wanted Akright to pay damages for breach of contract and costs and return 6.7 acres to him.
When contacted, Akright's managing director, Anatoli Kamugisha, said he was aware of the complaints about the delay, adding that he was specifically working on the journalist's title. "There have been so many things, including issues surrounding investigations by lands state minister, Idah Nantaba, into the land disputes," he said. Kamugisha said he bought the Nansana land from Muhwezi at sh2.5b, which he borrowed from Tropical Bank and, thereafter,. the Rubanda West MP, Henry Banyenzaki, seized the land yet Akright had sold it to other people, sparking off a legal battle.
true
Erivesta Nabwami with her husband, Bida Nasanairi. Nabwami is currently battling Hossana Real Estates in court over alleged fraudulent transfer of his land
THE STORY
Banyenzaki, together with nine others, formed a land development company, the Executive Property Holdings Limited (EPHL) on July 3, 2006 and entered a partnership with Akright to buy Muhwezi's land on block 276, plot 44 in Nansana, Wakiso district. But after EPHL defaulted on its obligations, Akright obtained a loan of sh1.9b from Tropical Bank on April 24, 2007 and paid the balance owed to Muhwezi.
In 2008, Akright filed a case at the High Court, seeking a declaration that the joint venture be dissolved since the MPs had failed to fulfill their part of the bargain. "This has suffocated Akright in its bid to compensate the 120 people, who had bought the land and the cases are still in court," Kamugisha explains.
JUSTICE BALUNGI
Kamugisha says the problem with Justice Balungi's land came about when squatters contacted Nantaba, claiming they were illegally evicted and the minister ordered them back on the land. "The squatters broke her fence and took possession of her land," he explains. Kamugisha notes that the real estate business in the country is currently fragile because of unforeseen challenges and disappointments in buying and selling land. "Where there is no master physical plan on land use and tenure, land shall remain a big problem to trade in.
There are so many cases in which land has become encumbered after an agent has bought it and this affects land transactions." He says so many of Akright's land titles are held up at Wakiso district lands office with either the mother title lost, white pages missing or no title cover. Kamugisha says as a result, they have been forced to resettle clients to other pieces of land or refund their money in case they do not like the alternative plots. Jomayi, also a real estate agency, has also been accused of selling land without issuing titles.
One of their clients, Joshua Kato, said he bought a piece of land measuring 50 x 100 metres at sh3m from Kiweebwa Estate in Matugga, Wakiso district in November 2012, but he has never got his title. "They keep telling me that there are some issues in the lands office that have delayed the processing of my title," Kato says. A report by the lands ministry submitted to President Yoweri Museveni on February 22, 2013 also names Jomayi as one of the land-grabbing real estate companies. Jomayi was accused of illegally evicting a chain of people at Muguluka in Wakiso district. Upon receiving the report, Museveni issued a directive stopping the eviction of tenants. In May last year, Nantaba warned that more than 500 land titles procured by real estate dealers countrywide could be cancelled on grounds that they were fraudulently transacted.

Attempts to get a comment from Jomayi proprietor Yiga Magandazi were futile, but one of his administrators, Charles Kasozi, says there were some issues in the lands ministry that delayed the issuance of land titles.
Just like Kasozi, several land dealers have told buyers that the lands ministry halted the issuance of titles until further notice — the reason their titles have delayed.

DID THE LANDS MINISTRY STOP ISSUING TITLES?
The lands ministry spokesperson Dennis Obbo disputes claims that they stopped issuing land titles. He says the lands ministry only declines to issue titles on caveated land. He advises the public to always crosscheck with the lands office for disputes regarding pieces of land they may be interested in before paying.

Obbo says some of the real estate companies buy caveated land, which they cannot subdivide so as to have titles issued.
"As long as the caveats are not legally removed, following the laid down procedures, no titles for subdivisions will be issued to those companies," Obbo says.
TIPS FOR LAND BUYERS
 Always search for the title in the lands ministry or regional offices before paying for land.
Ask people in the neighbourhood if there are any disputes over the land.
Make sure the land you are interested in has a valid title.
 Avoid dealing with third parties. Deal with the owner.
 If it is family land, ensure that all members consent to the sale of land before paying. If possible, they should all sign on the sale agreement.
How land dealers are conning Ugandans