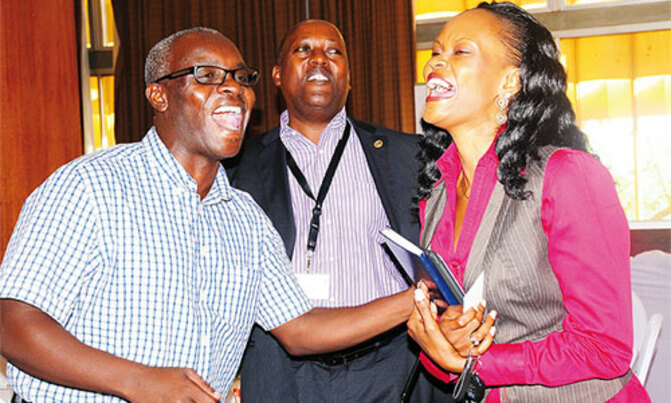 Vision group Chief Executive Officer (CEO), Robert Kabushenga warned that as a country, we're dead if we do not invest in education.
By Andrew Masinde                  
Vision group Chief Executive Officer (CEO), Robert Kabushenga warned that as a country, we're dead if we do not invest in education.
He was addressing News Papers in Education (NiE) sponsors hosted by Vision Group to a breakfast meeting at Kampala Serena hotel in Kampala.
trueAndreas Kemmer and George Ntabaazi of Friedrich Ebert Stiftung and Sarah Lambie, an advocacy and media consultant at the breakfast meeting. Photos by Maria Wamala
"You may never know the difference you are making in the lives of Ugandan children, but when you visit the schools we have worked with, that is when you will discover your contribution, when these children receive newspapers" he said.
He noted that it is important to have partnerships such that there is continued support to the children's education through newspapers
trueBarbara Burroughs, the country director Save the Children, chatting with Editor in Chief Barbara Kaija
He also said that education should be considered as everyone's business because it guarantees our future.
NiE is a movement that promotes the use of newspapers in the classroom. It is an innovation that has been used in the developed world to improve levels of literacy in schools, prisons, universities and adult literacy programmes.
The New Vision editor-in-chief, Barbara Kaija said the last 15years NiE programme has touched countless lives through learner-centred media-based education projects.
true(From left) Wendy Angu'Deyo, the MTN communications manager with Susan Nsibirwa, the Vision Group head of marketing chat with UNICEF's Lydia Sekandi (right)
"We reach out to every child especially those in hard to reach regions. Newspapers simulate the real world in the classroom and they can be used in any subject on the curriculum and at any level, she said.
Kaija further explained that international research has shown that learners who use newspapers have better scores than their counterparts who only rely on textbooks only.
Under the Media in Education Programme, Vision Group has directly reached over 1500 schools, trained over 3,000 teachers and benefited over 1.5 million pupils and students, a move that earned it an international award.
true
Dixon Ampumuza, Vision Group's Media in Education advocacy manager. He promised NiE partners wider coverage through Vision Group platforms.
It has also supported over 30 farming associations.

In partnership with other organisations, the group has also successfully executed a number of projects to enhance society.

These include the Water, Sanitation and Hygiene project sponsored by WaterAid; Proper drug usage (sponsored by National Drug Authority); Child Rights (sponsored by Save the Children; Financial Literacy Project (sponsored by United Bank For Africa and Environment project being implemented by Toto magazine.
true
  Lalaine Stormorken, senior adviser, Child Rights Governance, Save the Children Norway with Emily Kaakya of Save the Children Uganda
Vision Group CEO advises Ugandans to invest in education