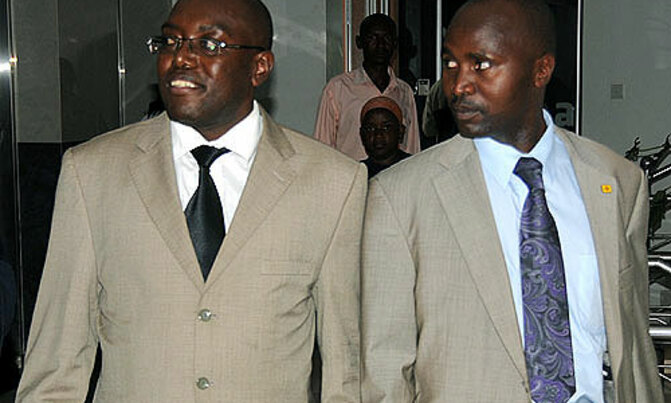 Court will deliver its judgment in a petition in which the NRM party seeks orders to have the 'rebel' MPs thrown out of Parliament.
By Hillary Nsambu

KAMPALA - The Constitutional Court will deliver its long-awaited judgment in a petition in which the NRM party seeks orders to throw out of Parliament the four MPs it expelled.

The four legislators are Theodore Ssekikubo (Lwemiyaga), Mohammad Nsereko (Kampala Central), Wilfred Niwagaba (Ndorwa East) and Barnabas Tinksasimire (Buyaga).

Mid-last year, the NRM Kibuku Constituency MP Sale Kamba and two other staunch party supporters – Maryam Agasha and Joseph Kwesiga – also joined the party seeking to dislodge the four alleged party rebel MPs from Parliament.         

The petitioners had argued that since the rebel MPs had been expelled from their political party, then they had automatically lost their parliamentary seats.

So they had asked court to declare the positions vacant.

But the four legislators, ever defiant, vehemently opposed the petition, arguing that despite being NRM members, they were not representing it in Parliament.

They stood firm on the argument that when they were elected into the House by "even non-members of the party (NRM)", their constituency widened beyond their original political areas.              

During the proceedings of the petition, the petitioners also sought for orders requiring the 'rebel' MPs to step out of Parliament until the petition against them is finally concluded. 

Court, on a 4-1 verdict, ruled that indeed they should step aside as the petition proceeded, despite several applications in which the MPs opposed the petition.

Upon the ruling throwing them out of Parliament before the hearing of the petition was concluded, MPs took refuge in the Supreme Court which on a 6-1 majority, overturned the Constitutional Court's ruling and ordered their stay in Parliament until the petition was finally concluded in court.              

However, the Supreme Court unanimously agreed that the Constitutional Court should be left free to carry on its constitutional duty.

The MPs had accused the Constitutional Court of being biased.

The Supreme Court noted that the MPs were clearly exercising their unrestricted right of appeal and that their intended appeal met the conditions precedent.
Court delivers 'rebel' NRM MPs fate today