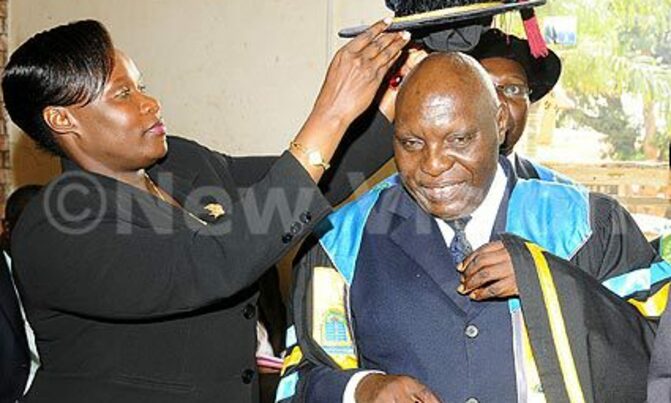 Former Makerere University Vice Chancellor Prof John Ssebuwufu was on Wednesday installed as the new Chancellor of Kyambogo University. He replaces Dr. Eric Adriko who steps down after ten years.
By Innocent Anguyo

Former Makerere University Vice Chancellor Prof. John Ssebuwufu was on Wednesday installed as the new Chancellor of Kyambogo University. He replaces Dr. Eric Adriko who steps down after ten years.

Prof. Ssebuwufu is also the Chancellor of Kisubi Brothers University College, located along Entebbe-Road, in Wakiso District.

Ssebuwufu was appointed last Thursday by President Yoweri Kaguta Museveni, on recommendation of the Kyambogo University Council, the institution's supreme decision making body.

Ssebuwufu reportedly got more votes during a council sitting last Wednesday, making him the preferred nominee for office of Chancellor.

The Council had earlier nominated Ssebuwufu and Louis Kasekende, the Deputy Governor of the Bank of Uganda for the position only for Museveni to settle for the former.

As titular head of Kyambogo, Ssebuwufu's first task will be to preside over the institution's tenth graduation ceremony scheduled for Thursday and Friday.

Education Minister Jessica Alupo was chief guest at the installation ceremony held at Kyambogo's main hall.

Makerere Chancellor Prof Mondo Kagonyera, Acting Kyambogo Vice Chancellor (VC) Prof Elly Katunguka, former Acting Kyambogo VC Prof Opuda Asibo, Deputy Kyambogo VC in charge of Academic Affairs Assoc Prof Fabian Nabugomu, Kyambogo Council boss Prof John Okedi and Makerere dean of students Cyriaco Kabagambe also graced the ceremony.

Born in 1947, Professor Ssebuwufu graduated in Chemistry from Makerere University in 1973 and the following year was offered a visiting scholarship to study for his PhD at Queen's University in Belfast, Northern Ireland.

He took up a post-doctoral research fellowship in the School of Chemistry at Queen's in 1977 and spent two further years in Belfast before accepting a lectureship in the Department of Chemistry at Makerere University in 1979.

In 1985 he was promoted to Senior Lecturer and became Head of the Department of Chemistry in 1987.

Appointed to the rank of Professor in 1990, he took up a post as Principal of a new Institute of Teacher Education (now Kyambogo University) which, within three years, had become one of the most respected institutions of higher education in Uganda.

He was Vice-Chancellor of Makerere University from 1993 to 2004. His tenure saw the total transformation of the university to a dynamic computerized institution responding to national and regional research and education needs with a multiplicity of global research and funding linkages.

Late last year, Ssebuwufu was appointed as the chairperson of the UbuntuNet Alliance, the Regional Research and Education Network for Eastern and Southern Africa.

Just before this, he was the Director of Research Programmes at the Association of African Universities (AAU) in Ghana.

He is a member of several international Committees and Boards, including the World Bank Millennium Science Initiative where he acts as one of the Technical Experts for Uganda.

The renowned scholar is also the Non-Executive Director and Chairman of the Board of Directors at CITIBANK (Uganda) Ltd; a subsidiary of Citigroup New York.

Ssebuwufu is also the Chairman Board of Directors of Uganda Management Institute (UMI); Chairman Board of Directors of National Environment Management Authority; Chairman National Council for Science and Technology.

He is a former member of the Governing Council of the Association of Common Wealth Universities; a former chairman of the Inter University Council for East Africa and a founding member of the National Council for Higher Education.
 
Prof. Ssebuwufu installed as Kyambogo Chancellor