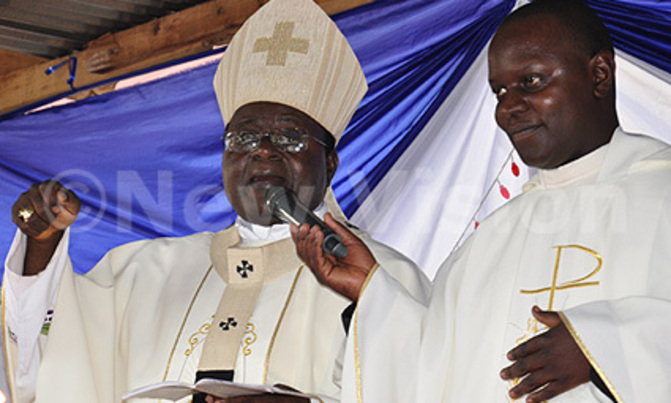 The Archbishop of Kampala launches a Uganda Martyrs'' campaign which will traverse all parishes in Kampala Archdiocese.
By Juliet Lukwago                   

The Archbishop of Kampala Archdiocese, Dr Cyprian Kizito Lwanga has launched Uganda Martyrs' campaign which will traverse all parishes in Kampala Archdiocese.

The campaign dubbed "Kikungo"  started at Holy Family Catholic Parish Namayumba Thursday. During the function, Archbishop Lwanga said the campaign will climax on October 18, when the Catholic Church will mark the Golden Jubilee of the Uganda Martyrs.

He asked every Christian to reflect on their behaviour to see to the aspirations of the martyrs the Church will be celebrating.

"The main issue of this campaign is to explain to the congregation who are the Uganda Martyrs, to know the problems people are facing starting from the communities and parishes, to meet their leaders including the Archbishop, and to talk them so that they see their challenges down to the grassroots and encourage them," Lwanga said.
true
Archbishop Lwanga in a procession with other priests at Holy Family Parish Namayumba. PHOTO/Juliet Lukwago
This team led by the Archbishop Dr Lwanga, Fr Atanansi Bazzekuketta Musajjaakaawa of Bunnamwaya parish, Fr Augustine Mpagi of Nandere Seminary in Luweero, Fr Joseph Mukasa Muwonge, the promoter of Uganda Martyrs in Kampala Archdiocese, Brother Fr Anatoli Wasswa and Revocato Kalema.

Kalema is famed for having been healed of disability which he was born with following the intersession of the Uganda Martyrs in 1964.          

He called upon the congregation to avoid witchcraft which is just a ploy to steal their money. 

Lwanga was accompanied by a former witchcraft practitioner-turned Christian, Paul Jjemba, who displayed the tricks used in shrines by witchdoctors; like lighting water in a bucket using chemicals to confuse people.     
true
Jjemba demonstrates how witchdoctors dupe people in shrines
"People go to bewitch others and lose money after which they lament of poverty instead of using such money to develop themselves," Lwanga said.

During the launch at Namayumba, Archbishop Lwanga baptized over 40 children who were named after the Uganda Martyrs and also a number of couples over 25 registered and to get holy matrimony.
true
Archbishop Lwanga presiding over baptism at the launch of the Uganda Martyrs' campaign. PHOTO/Juliet Lukwago

Residents of Namayumba told Lwanga they engage in witchcraft because of poverty, unemployment, family tradition, the search for riches, sickness, group influence among others.

He called upon them to form SACCOS so that they develop themselves and he pledged to assist them.  

On a lighter note, Lwanga revealed that some married couples get misunderstandings because of mobile phones, with some couples snooping their spouses' phones.

"Mobile phones are good and they help us to get to our people any time we want them, many people are using them for business. This doesn't mean that you are in love with everyone who calls you, "Lwanga said.

The prelate later on moved to Kankobe Catholic Parish along Masaka Road in Mpigi district, where he met another big congregation under the same campaign.
 
Catholic Church launches Uganda Martyrs'' Campaign