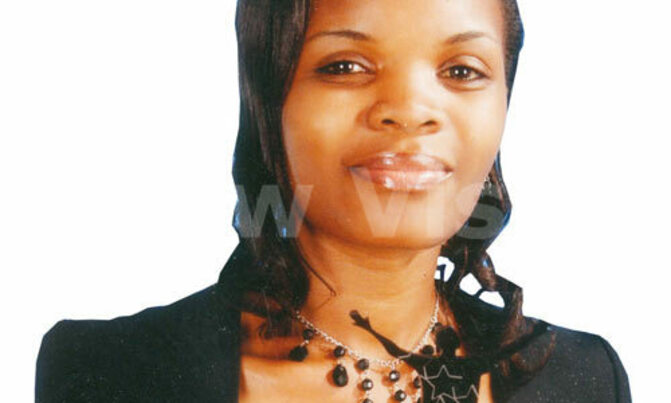 She starts by narrating a story of a woman in her neighbourhood in Naguru, a Kampala suburb, who used to suffer both physical and emotional abuse from her husband, who had failed to take care of the family.
trueVision Group, in association with Twaweza Initiative and Buzz Events, is seeking to recognise artistes whose compositions advance society. Today, Gloria Nakajubi brings you Stella Bukirwa ,a gospel musician whose music is a message against domestic violence among women
She starts by narrating a story of a woman in her neighbourhood in Naguru, a Kampala suburb, who used to suffer both physical and emotional abuse from her husband, who had failed to take care of the family. Bukirwa continues to narrate that the mother of four would wake up everyday to sell simple merchandise from her verandah as the husband went out to drink and on return he would ask for food yet he would never leave money to buy food.
Sometimes he would ask her for money to go drinking and if she refused to give it to him, he would batter her. She adds that every time the woman told him there was no food or no money, he would hurl insults at her and threaten to lock them out of their oneroomed rented house. "I could not give her money because I didn't have it, but I knew by singing a song, the Government and other stakeholders would provide sustainable solutions to this vice not just for her, but for many other women suffering domestic violence," she says.
Bukirwa says this experience is what inspired her to write the song, Stop Violence and when she was approached to compose a song for the International Conference for the Great Lakes Region focusing on genderbased violence that was held in November 2012, she could not have had a better chance.
Stop Violence was selected as the theme song for the conference and she had an opportunity to perform at the opening ceremony that was attended by the different heads of state in the region. She praised God for the great platform that would see her take the message to the different  heads of state since her song was selected as the theme song for the conference. "I was raised by a single mother and I know how it feels to have no one support you, even worse when the person you trusted turns out to be a monster," she says.
She adds that her experience with the youth at the National Students Association and currently National Youth Council where she has worked since 2000, has enabled her meet young people, who have been sexually abused and others eventually dropped out of school. The only way she could ably lend a helping hand was through music.
Who is Bukirwa?
The last born of four, Stella Maris Bukirwa is daughter of the late Joseph Kabanda and Mary Treasure Kabanda of Entebbe. Her father, who was an Airport Commandant at Entebbe International Airport disappeared and her mother believes he was killed and buried in a mass grave in 1977 when she was just months old.
Bukirwa went to Nsuube Primary School in Nkonkonjeru and then joined St Joseph's Girls Nsambya up to Senior Two, then Rubaga Girls School where she completed O'level. She later joined Kitagobwa High School on Gayaza Road for A'level after which she joined Makerere University Business School for a diploma in Secretarial Studies.
Her first job was with the National Students Association as a secretary up to 2007 and she later joined the National Youth Council where she works to date.
Joining Music
Bukirwa says after becoming a born-again Christian in 2000, she asked God how he wanted her to serve him and one night as she was praying, she had a voice clearly telling her that she was supposed to sing. Immediately her fi rst song, Yesu Jangu Otulokole was clear in her mind. "God commissioned me to sing and I believe he uses my music to change people's lives and the society as a whole," she says.
Bukirwa's music has now captured international appeal and in July this year, she will travel to Alabama in the USA to attend the Rhythm of Gospel awards where she scooped nominations in three different categories; Alternative Christian Gospel CD, International Artist of the year and Holy Hip Hop/Jazz/ Reggae gospel CD of the year.
Other music
Unite Africa is the other song she released in 2010 following the wars that have been ravaging the continent for a number of years and some are based on tribal differences. "I believe if we came together as Africans, we would be able to build a strong and powerful continent both socially and economically," she says.
With this song, Unite Africa, Bukirwa was able to perform during the Afro- Arab conference in 2010, which was attended by the Late Libyan leader Colonel Muammar Gadaffi . Obufumbo is a song about marriage that she released in 2010. She highlights restoration of values in marriage. Of late, many marriages are breaking up and many people, who have joined this institution are regretting. "This song was meant to encourage people to stick to the vows they made," she explains.
She adds that this song she talks about the roles and responsibilities of each partner to avoid contention. "Marriage is a gift from God and, therefore, it should be treated with respect and held in high regard or else, it cannot be sustained," she notes.
What others say about Bukirwa's music
Moses Musana, founder of ABETO (Always Be Tolerant) says they have been using Bukirwa's music for their peace advocacy campaigns and many people have been changed. "Sometimes the best way to send out a particular message is through a song and Bukirwa's songs such as Unite Africa have helped us a lot to achieve our objectives as a peace advocacy organisation," he notes
INSPIRED BY BUKIRWA'S SONGS
Maureen Kintu, a music director
Bukirwa's music has the African element that I love and more so the message it puts across is so inspiring to us the youth. I believe if we all could take time and listen to the message in her songs, then we would have a better world to live in.
Edgar Barigye
I love the passion with which she sings and her songs have inspired me to fight for the rights of others especially the young children
Catch Musicians Making a Difference Recognition ceremony live on the four Vision Group TV stations of Urban TV, Bukedde 1, Bukedde 2 and TV West on January 31 from 7:30pm - 8:30pm
Bukirwa's music rounds against gender violence