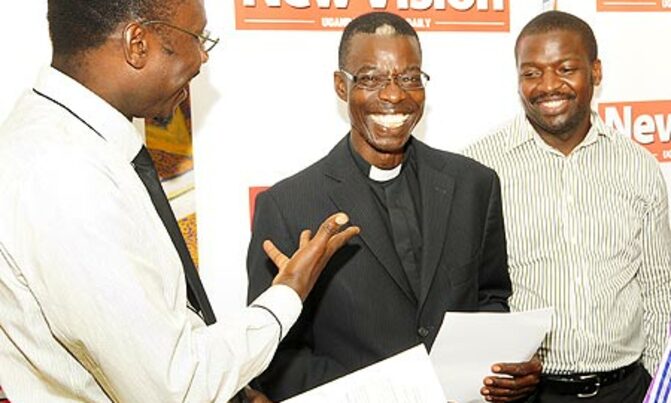 Vision Group partners with the Church of Uganda to promote use of newspapers as a teaching tool for vulnerable children.
By Raymond Baguma                                 

Vision Group has partnered with the Church of Uganda through Namirembe Diocese, to promote use of newspapers as a teaching tool for vulnerable children in rural schools within the diocese.

The contract will see newspapers distributed under the Newspapers in Education (NiE) project, to the Masuliita Community Development Project in Wakiso district where the diocese supports vulnerable families.

New Vision's Newspapers in Education (NiE) is a Young Reader Development program that helps to provide affordable reading materials to turn students into lifelong readers and learners. NiE provides teachers, students, and parents with safe, funny and interesting educational resources.

Ben Opolot, the New Vision Managing Editor for English titles hailed the partnership with the church saying that the project would instill a culture of reading and private inquiry in the child beneficiaries.

Masullita Community Development project is a child focused project which reaches out to the communities through a Self Help Group (SHG) approach. The 6-year project which started in 2010 is expected to close in 2015. The project aims to improve the social economic welfare of 2500 households in Masuliita Sub County.

Under the partnership, New Vision will supply 240 copies of the Wednesday issue which has NiE and Toto Magazines to children groups in Masuliita to promote literacy and self-esteem. New Vision will also train facilitators to teach children using newspapers.

"When the Church of Uganda under the diocese of Namirembe, through this project, looks for ways to support rural education, it's very commendable," said Opolot.

Dixon Ampumuza, the Advocacy Manager - Media in Education said that the grant will make a very big contribution to improving the levels of literacy in the rural-based children.

Ampumuza said that the project will support the development of self-esteem of the vulnerable children and positively impact on their lives.

Ruth Musaazi, the Namirembe diocese's project coordinator said the project would enhance the reading capacity and develop speaking, reading and writing abilities of the children, who are less advantaged compared to their urban-based counterparts.

Musaazi said the project will engage children to read newspapers outside school through the community women's groups that meet regularly.

Henry Lubwama the planning and development coordinator for Namirembe diocese said, "We shall ensure that this partnership serves its purpose."

Vision Group recently received an international award from the World Association of Newspapers and News Publishers (WAN-IFRA) in recognition for its role in improving literacy skills among school children. 
Vision Group, Namirembe diocese sign deal