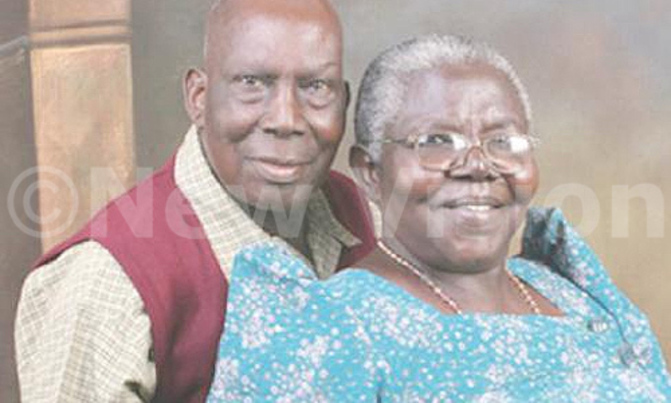 Martin Obbo died on the morning of January 7, 2014 — almost exactly a week to the day his wife died in 2010. Charles Onyango-Obbo celebrates his life
By Charles Onyango-Obbo
Martin Obbo died on the morning of January 7, 2014 — almost exactly a week to the day his wife died in 2010. Charles Onyango-Obbo celebrates his life.

MARTIN OBBO died of cancer, just like our mother, Mary Therese. And like her, it started as a cancer of the colon (although he also developed a prostate cancer) that spread.
We referred to our father in many different ways. We called him Bujje as small children and Number One as adults — nicknames we used with pride and affection.
Martin Obbo was born on October 3, 1929 in Maliri. Back then it was known as Bukedi District but today we know it as Tororo. His father was Thomas Onyango, or Mase, as he was popularly known, and his mother was Eseza Alowo. Alowo had two children — No. 1 and our late Uncle Valerian Okecho. 
But you would never have known it, as she took in and adopted many children. Dad's family, of course, is much larger than this as his father had three wives.
No. 1 was baptised as Nathan in the Protestant church but he converted to Catholicism when he went to study at Nagongera in Tororo. He was then baptised in the Catholic Church as Martin.
He started primary learning at Apokor Primary School, then went to Nagongera, St. Peter's College Tororo and Mbarara Teacher Training College. In the latter two he cemented his friendship with Tom Mugoya. Later in 1966 and 1969 he went to Makerere University for a diploma in education upgrade.
He married our mother, Mary Therese in 1955. His best man was Mr Kiyondo who had graduated a year or so ahead of him at Mbarara Teacher Training College, and with whom, alongside Moses Opany and other rubble rouser comrades, they formed a fairly formidable fraternity they called "The Orientals".  They remained friends to the end.

trueCharles Onyango Obbo with his mother before she passed away in 2010

His first teaching position after graduating from Mbarara was at St. Peter's College Tororo. His next posting was to Bukedea Junior Secondary School, which he was assigned to open. From there he went to Toroma, again to open the Junior Secondary School.
He also taught at Teso College Aloet and Mbale College before becoming the first African deputy principal to St. Augustine's Teacher Training College in Fort Portal.His final assignment was in 1973 as principal of St. Aloysius College, from where he retired early in 1983.
He is survived by seven children — Fred Ochieng-Obbo, George Okoth-Obbo, Charles Onyango-Obbo, Richard Obella-Obbo, Charles Owor-Obbo, Jane Frances Alowo, and Christine Abbo Katarikawe — plus 15 grandchildren and two great-grandchildren.
THE TEACHER

No. 1 was a rather unusual and, right to the end, mysterious man. He was the quintessential rebel and maverick.  He spoke seven Ugandan languages fluently; he was a maths and science genius; a supremely accomplished crossword hacker; a current affairs junkie; a football and motorsport petrol-head; a punctual and time-obsessed man; a champion cynic; an unashamedly proud and plain-speaking bloke; argumentative; totally unafraid; a very good father; a committed child of the Church But it is in his passion, teaching and working in education, that he sometimes would puzzle many.

When he was deputy principal at St. Augustine's College, he was also the school bursar and accountant — he had taught himself bookkeeping! He was later to be sports coach, scout master, geography tutor, history tutor, science tutor, english tutor, deputy principal, and what he loved most — maths tutor. 
Indeed when he was at Makerere he was one of the contributors to the series of maths textbooks that ushered Uganda from the imperial to the metric system.
Many of us neglect the small print, especially when we are young. But it is possible that a whole generation of Ugandan school children, and this country's mathematicians who are over 40, crunched his numbers in maths' class. For his maths zeal the students nicknamed him "Binary".
He was old school, and could be an iron-gloved enforcer. During football, he would harshly eject an under performing student player from the college. But they did not just sit on the substitution bench. He ordered them to go and wait outside his office. 
After the game, wearing his hat as principal, he would hand out a punishment. It is inconceivable that any coach in the world would manage their team this way today.
In all he liked his world black and white in this way, and uncluttered. Thus when he arrived at Ngora as principal, the college had many rules for student conduct. He could not stand the clutter — it was too disorderly. He scrapped the many rules and introduced just two: "If you are a man, behave like a gentleman." "If you are a woman, behave like a lady."
HIS WAY, HIS PHILOSOPHY
No. 1 had very few demands of his children: (1) Do not steal (he was incorruptible). (2) Get good marks in school and make something of yourself. (3) Do not get into politics (4) Obey your parents — especially HIM.

trueMartin Obbo's daughter, Christine Abbo Katarikawe

His aversion to politics was difficult for most people to understand. And being a secretive man who revealed little about himself, most of the reasons for that went to the grave with the person who knew him best — our mother.
On a few indiscrete occasions, though, our mother revealed that No. 1 was actually among the first Ugandans to get into political trouble after independence. After the elections that ushered Uganda into independence in October 1962, with Uganda People's Congress (UPC) leader Milton Obote as prime minister, No. 1 was outraged. He believed that the UPC had fiddled the independence elections.
As a good Catholic, and therefore a Democratic Party (DP) supporter, he felt his party had been cheated out of power. So early in the new year of 1963, he and a group of friends in Mbale staged a rowdy anti-government protest. They had their knuckles rapped good. It was impossible to get him to speak about those events, although they shaped many of his views.
Several years later, he went to vote in December 1980. He was principal at St. Aloysius so he was able to throw his weight around in order to be allowed to look in as a citizen observer at the Ngora polling station.
The race pitted the amiable UPC's Stephen Ariko (who was to become minister of Justice and Attorney General under Obote II), against a DP candidate who was No. 1's friend.
He consistently alleged that UPC was trounced, and "got only one vote" in Ngora. The boxes were taken away for counting. When the results were announced, the DP candidate had a sprinkling of votes and Ariko, as he said: "had been given all his opponents votes".
Just over a year later, Obote was doing a tour of the country and stopped in Kumi, the bigger town a few kilometres from Ngora. The UPC organisers came to St. Aloysius College with two main requests: that the college provide catering services for the Obote visit and that it should send the female students to serve food and be ushers at the event.
The predictable happened; he firmly told the UPC yes-men to go and jump in Lake Kyoga. The college did not cater the Obote event, nor did it send female students to assist with the occasion.
The UPC government was incensed and Ariko, now a minister, took to ticking off No. 1 whenever he met him. He would not have any of it. In a feat of pride he retired early, packed his bags and went to the village in Asinge to make a new life — and how rich it was!
In many ways some of the more off-road ways of Obbo were shaped more by his mother, the tall, long-necked beautiful Alowo, than his father and his grandfather (our great grandfather). Alowo was a mercurial and outspoken matriarch. In the home, she was nicknamed "Hitler" — and gladly prided in it.
Mase had veered off the family's martial and political tradition to become a musician. Alowo was a singer in his "band", so to speak. Mase was probably among the first Ugandan musicians to marry the girl in the band although he would not be the last. But he was a quiet thoughtful man.
Mase's father, and No. 1's grandfather was Okilangole, as controversial a character as there can ever be. In that part of Uganda, Okilangole was the "original" rebel. He passed on some of his contrarian traits to his grandson Obbo.
Mase himself, after a humiliating experience at an official event, gave up music and joined the fold. He became a chief in a move that proved to be costly. In 1960 the famous Bukedi Tax Riots broke out. Mase, as chief, was seen as a symbol of oppression. The revolutionaries attacked his homestead, where our present home stands, and torched all the huts except two.
Hearing of the riots, No. 1, who was at Mbale College, hastened to Asinge to rescue his parents. But as he approached he realised he could not risk being identified as the chief's son — it could be deadly. So he took off his western clothes, stuffed them in a bag, and wore dried banana leaves (bisanja), the uniform of choice of the tax rebels. He made it through the rioting masses, and got to his father. He dressed him in bisanja and had him smuggled to Tororo-Mbale Road. He went separately to Mile 8, stopped a taxi and bought all the seats so he could ride alone to meet up with Mase, whom he spirited to safety.
His most salient trait might have been timekeeping and he never stopped denouncing Africans for being sloppy with it. He handled his meetings like several men of his generation who were fastidious about these things. For instance, if he arrived early for an appointment he would wait outside the office, home or other location being visited until the exact time that had been agreed upon!
His family often became victims of his penchant for time keeping. One of us hitched a ride with him from Ngora to Mbale. The agreement was that, for the return leg, he would meet Bujje at the Mbale Clock Tower at 3:00pm sharp. The lad arrived about two minutes late.
As he crossed the road towards where the car was parked he could see No. 1, who could also clearly see him. He nevertheless still drove off and left him. When the lad eventually got home the following day, he had a major case to answer for both the original tardiness and for getting home later than scheduled.
He was always immaculately dressed, whether in a suit or in his favourite black T-shirts. This earned him the nickname of 'Obbo Smart' which was whispered behind his back whenever he passed in his shining shoes, spotless clothes, neatly combed hair and gleaming polished car.
He enjoyed his retirement as much, if not more, than his working years. He became a member of the board of directors of St. Anthony's Hospital in Tororo and the Board of Atiri Secondary School, among others. And he immersed himself in church work, which allowed him to work more closely with his long-term friend, Archbishop James Odongo. He was the money and numbers man nearly everywhere he worked.
Often, especially in the years as he was slowing down, officials from the various institutions he worked with would come home to discuss the figures. And if you listened in on one of these meetings you could hear classic Obbo critiques of sh9 unaccounted for or a comma missing in the report.
His obsession with words and correct spelling meant that if he was not doing anything else, he was tackling a crossword puzzle. We brought all sorts of crosswords (and later Sudoku) books from our many travels. He must have the largest collection of solved crosswords in Uganda.

trueMartin Obbo fills out a crossword puzzle as one of his granddaughters watches intently
When you visited him in Asinge and found him in the middle of his crossword, unless you had come from far, you had to wait for him to finish it. If you, nevertheless, still greeted him, he would ignore you.
But crosswords were also a source of his grief—and the journalist in the family bore the brunt of his wrath. The calls tended to come early in the morning. Whether the error was in New Vision or The Monitor, he would jump into the subject, often without even a greeting: "If you do not understand English, why don't you leave crossword puzzles alone? Who are these ignorant people you fellows have put in charge of handling puzzles?" On a couple of occasions, he would sometimes hang up
IN HIS TRIUMPHS, THERE WAS FRAILTY TOO
But this story would be incomplete, without reflecting on some of No. 1's failings — at least according to 21st Century sensibilities. He loved his cigarettes. Wherever we lived, he had a flower garden dug outside their bedroom window. He would toss the cigarette butts through the window into the flower garden. Inexplicably, our mother, who was in charge of most things around the house including the lawn, would leave them to pile up. Occasionally, she would suggest, however indirectly, that cigarettes would be the old man's undoing. He battled with the addiction and won the war in 2006 when he swore off cigarettes.

But it was probably too late. Also No. 1 was mostly distant and aloof — you had to earn his intimacy. One of his grandsons writes aptly of him as "a very quiet and brooding man — a mysterious figure that walked quietly around and only mumbled over his crossword puzzles".

Reflecting on this much later when we were older and a little wiser, we surmised that he was afraid that too much closeness would cloud his objectivity. He could also be inflexible and cruelly dismissive. For example, his favourite book was George Orwell's Animal Farm. He could quote virtually the whole book. However much he read later, his conclusion remained the same — no one had ever written anything equal to "Animal Farm".

His favourite columnist was the late Austin Ejiet, who wrote a satirical column in The Monitor. As far as he was concerned Ejiet was the greatest. The rest were amateurs who occasionally achieved excellence, but otherwise were pretenders to the throne (he did not trouble himself to humour his own family who were in journalism!). And to him the only cartoon worth mention that has ever been done in Uganda was by Ekanya.

His political views took the same line. Upset by what he saw as the election fiasco of December 1980, he was upset that "his" party, DP, did not push back harder against it and seemed to have got comfortable as the official opposition in Parliament.

Small wonder then that he admired Yoweri Museveni and the NRA/NRM for having the gumption to take a stand. He liked men like that. As a result after the NRM took power, he became the first chairman of the Asinge Resistance Council (RC)... with our mother as defence secretary! They resigned not too long after, when dissidents in eastern Uganda were targeting RC officials.

But he was never really an NRM man as such, more a Musevenist. But there was another rule in his homestead. While you could not become a politician, you could argue about it — but not fall out over it. Over Christmas and Easter holiday, the home in Asinge would be a beehive of friends and their children from Uganda and Kenya. On many an occasion there would be lively discussions, especially after the press had reported about corruption in the government.

true
Martin Obbo's son, Richard Obella-Obbo, with his niece Sharon Onyango Obbo

There would be a chorus of criticism of the government and No. 1 would be the lone soul holding the Movement corner. After a while, he would keep quiet and listen. Eventually, he would get up to leave, and act like the last two or even three hours of argument had not happened: "You think the Museveni government is corrupt, tell me which other government does not have its fair share of crooks?", he would say as he walked off.

The point here is not so much about No. 1's politics, but his loyalty — to family, to Church, to the leaders he likes, to friends like Mugoya, and to country. He would face any storm for you if he believed in you, and for any cause that was dear to him as his career demonstrated. But also cut you off totally if you failed him.

His battle with cancer was very difficult in the last months, and in the last days was extremely hard to watch. But it seems true after all that God works in mysterious ways. Up to Baba's last breath, he never took away his keen mind. Almost as if to say, "that one is too special, I won't touch it".

There is nothing he could have done that he left undone. No example he could have set that he did not set. No one he could have lifted whom he left on the floor. He paid all his dues. He had his share of faults, but that is what completed him.What a man!
January 7, 2014-Martin Obbo,An extraordinary life