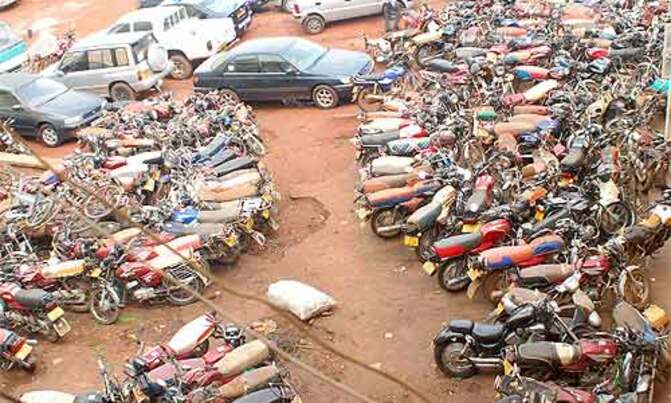 Matia Busingye bought his motorbike in June last year, hoping to start his own business. "I was supposed to pay in installments over one year and soon after I bought it, I was also made to pay for a stage where I could operate. I then handed it over to one of my nephews who had no job to ride."
By Charles Etukuri & Simon Masaba

Matia Busingye bought his motorbike in June last year, hoping to start his own business. "I was supposed to pay in installments over one year and soon after I bought it, I was also made to pay for a stage where I could operate. I then handed it over to one of my nephews who had no job to ride."

The two agreed to a fee which was supposed to be paid daily. "I had not completed paying the entire amount, so I left the logbook with the dealer on condition that I would get it once I completed the payments," Busingye says. But as fate would have it, his motorcycle was impounded by traffic policemen on Jinja Road, two months after he had bought it.
That day, there was a crackdown on boda bodas carrying more than one passenger, those not wearing helmets, and those who did not have permits or adequate documentation.

"My nephew was found carrying four children to school and the bike was impounded," Busingye says.
Police found quite a number of riders without driving permits, let alone registration cards. Busingye's motorcycle was among the over 450 bikes that were impounded throughout Kampala. Most of the bikes were taken to different Police stations around Kampala.

When he attempted to go to the station to claim his bike, he was told he could only pick his motorcycle after producing a driving permit and a registration card. But he had none of this. "Personally, I had never thought it was necessary to have a permit in order to ride a motorcycle," he says.

Speaking to the media shortly after the exercise, the Kampala Metropolitan Police traffic commander, Lawrence Nuwabine, described the operation as a routine measure to ensure traffic safety.
"Some of the cyclists whose motorcycles were seized were carrying up to seven school children in various city suburbs," Nuwabine said.

The boda boda industry in Uganda has been blamed for numerous deaths due to recklessness. "Despite the fact that they are faster and snake through traffic jam easily, the Police believes they are the leading cause of deaths and injuries on most roads.

In Mulago Hospital there is a special ward for victims of motorbikerelated accidents," Nuwabine says. He adds: "Criminals hide in the boda boda industry and commit violent crimes in our society. And this is because the industry is not streamlined."
There have been reported cases of riders who snatch ladies' bags at night or in secluded places. The same riders have often been used to trail robbery victims and also transport stolen properties.

Because of such cases there have been several attempts to regulate the industry and reduce on road carnage and their criminal activities;  the most recent being the move by the Kampala Capital City Authority (KCCA) to forcefully register them, a move that received a lot of opposition.

What happens to the bikes?

Most of the impounded motorcycles are still parked at different Police stations, while others have been sold under very dubious  circumstances. According to Nuwabine, thousands of motorcycles have not been claimed.

"Culprits (riders of the motorcycles) might still be in prison serving their sentences, but other owners have deliberately refused to pick them up due to lack of documents like logbooks, while others are suspected to have been stolen," Nuwabine says. He adds that the bikes that are not claimed are publicly auctioned.

Police implicated

Insider sources in Police have told Sunday Vision that unscrupulous Police officers were secretly profiteering from the motorcycles.
"They start by selling the bikes to themselves and there are some senior Police officers who own fleets of boda bodas," the source says. Some of the officers have also specialised in dismantling the bikes or exchanging worn out spare parts at the station.

"I know of some officers who siphon fuel or even sell spare parts," the source says. Last year, a boda boda rider, Joseph Kasirivu, who operates from Kyebando, Kisalosalo, reported the theft of his impounded bike. "My bike was impounded and then the number plate plucked off.

It was placed on another bike which had been stolen but later recovered and parked at Police station," he says. The bike was then stealthily removed from the station and given a new number plate. It would later be sold in Arua, where it was impounded again by the Police who, on close examination, found the original number engraved on the fuel tank.

"I was lucky enough that I had marked it," Kasirivu says. Once impounded, the bikes whose market value is about sh3m, are then sold at extremely low prices.
"Sometimes you find them being sold for as low as sh200,000. Some of the officers first sell it to themselves and then later sell them to third parties at a slightly higher price," the Police source told Sunday Vision.

Police within their rights

Kampala Extra regional Police spokesperson, Ibin Senkumbi, defends the Police action of selling the bikes, saying it is a normal procedure for any unclaimed motor vehicle or motorcycle at Police stations, including the ones with no pending court cases. He says they sold through public auction after advertising in print media within a period of six months.

"The Police record unclaimed vehicles and forward them to court for clearance to enable the auction process," he adds. Another source says most of the bikes find their way to neighbouring countries like Congo and South Sudan.

"There is a racket of businessmen who collude with some officers. They get to know when the auction will take place and send money. The bikes are then bought and parked in trucks and either taken across the borders or disassembled and the spare parts sold," the source said.

Another player

But it is not only the Police being blamed. Many riders blame Bodaboda 2010, a group formed in 2010, allegedly with support from some senior Police officers and State House officials for being behind the impounding of motorcycles.

They stage in strategic places like Mini Price near the Old Taxi Park, Queensway and at Makindye Military Police barracks, reigning terror on boda boda riders and groups that did not support them.

There was an uproar last year when the group openly came out to oppose the registration of boda bodas by KCCA, even beating up those who opposed them. They also confiscated motorcycles on frivolous claims and some of them have since not been seen.

One boda boda rider told Sunday Vision that the group, which was heavily protected, would impound the bikes and later keep them at different Police stations around the country.

Some of the group members would later sell these bikes to themselves at a give-away price. They went underground late last year after their deeds were exposed.
CSI: Police in bodaboda racket