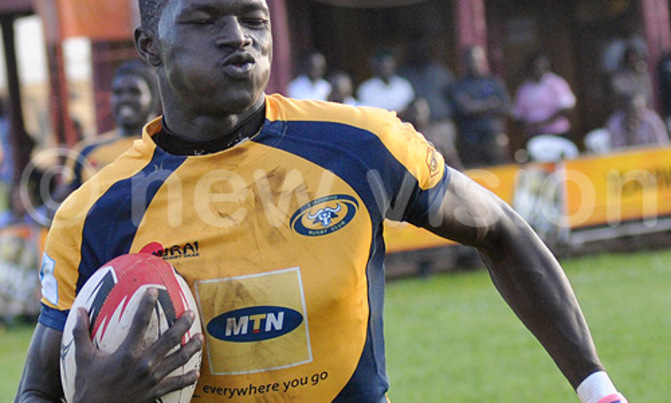 HEATHENS whipped Lira Buffaloes 114-5 in Nile Special Premier Rugby League fixture to reclaim second position
By Johnson Were 
Nile Special Premier Rugby League
MTN Heathens 114 Lira Bulls 5 
D'Mark Kobs 39 G4S Pirates 9
Ezee Money Rhınos 11 Mutonı Warrıors 17
Toyota Buffaloes 20 Sadolin Mongers 10
Standings
D'Mark Kobs 44pts
Heathens 34
Buffaloes 33
HEATHENS whipped Lira Buffaloes 114-5 in Nile Special Premier Rugby League fixture on Saturday to reclaim second position which they had lost to Toyota Buffaloes.
Heathens who suffered a 10-5 defeat last weekend at the hands of Entebbe Mongers were more focused and got a bonus point that lifted them to second with 34 points, one point ahead of Buffaloes who were denied a bonus point in a 20-10 win against Entebbe Mongers.
"What we wanted was a win with a bonus point and we got it. Our focus is not to lose any game again," Michael Wokorach Heathens team captain stated.
Philip Wokorach who made his first appearance since he fractured his leg last year in March returned scoring a try, four conversions and a penalty that earned him the Man of the match accolade.
"I'm glad to return and score 16 points and also this award has motivated me to score more points in the next game," Wokorach stated.
"I'm still determined to be the top scorer despite returning in the second half of the season but my major focus is to make it to the national team since I missed out last year," Wokorach added.
In the other game Ezee Money Rhinos were shocked 17-11 by Mutoni Warriors while D'Mark Kobs continued to rule the roost with a 39-9 thumping of G4S Pirates at Legends Rugby Club.
Kobs now lead the table with 44 points followed by Heathens with 34 points while Buffaloes are third with 33 points.
Stuttering Heathens reclaim second place