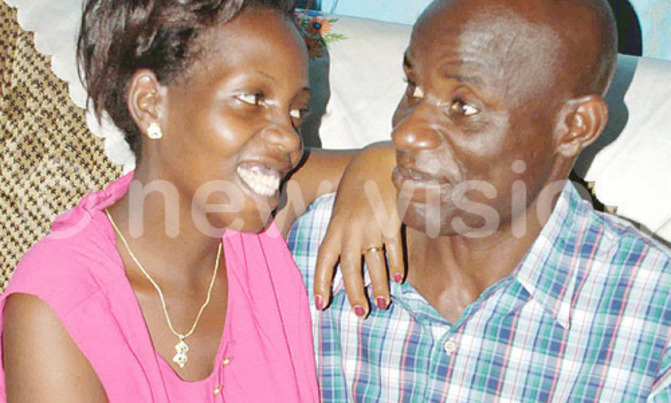 ABRAHAM Semakula was born blind, but can now see, thanks to his new-found love, Miria Ainomugisha. They met recently, courtesy of Bukedde TV's match-making programme, Abanoonya
By John Masaba
ABRAHAM Semakula was born blind, but can now see, thanks to his new-found love, Miria Ainomugisha. They met recently, courtesy of Bukedde TV's match-making programme, Abanoonya, and wed on December 7, 2013 at Ggaba Community Church.
Semakula's journey to finding a wife started in September last year, when he was wheeled into a theatre to correct a debilitating hernia.
An ardent Born-again Christian, he thinks God caused the hernia so that he could open new gates for him. The operation was successful, but shortly after he was discharged, the wound became septic because of poor care, which was worsened by the fact that Semakula lived alone.
"I thought to myself; if I had a wife, life would be different," he says. 
But all his earlier attempts at finding a wife hit a dead rock. When he made 20 years, his father convinced several girls to marry him, in vain. Sometimes, he succeeded in convincing the girls, but not their parents.
"Those who accepted to marry my son would change their mind at the last minute," Semakula's father said at his wedding.
Semakula says the numerous rejections, at one time, made him ponder suicide. "But the spirit of the Lord guided me on the right path," he says.
SEARCH FOR WIFE GOES TO TV
One day, Semakula says he heard of people who were finding love on Bukedde TV. He says he requested his neighbour who had a television set to let him "watch" the 9:30pm programme on Saturdays.
"I listened carefully and recorded five phone numbers of women who were looking for suitors. The following day, I called all of them, only to be disappointed. One of them asked that we meet at Shoprite Entebbe Road, but when I got there, she was nowhere to be seen. I returned home heartbroken," Semakula narrates.
To date he has not forgotten that day. He thinks he should have told the girl that he was blind, before asking to meet her. "I have a feeling the girl came around and watched from a distance as I moved around helplessly with a blind man's stick," he says.
Having failed to hook up with the girls on TV, Semakula turned to the Internet. "I visited cafés in town and logged onto YouTube in order to connect with Phillip Kaggwa, the Abanoonya programme his phone number," Semakula says.
I called him the following day and I asked to feature on the programme. Luckily, Kaggwa did not send me away because of my disability," he says.
Semakula says after featuring on the show, he received over 100 calls from girls asking to meet him.
"My phone battery ran low at one point because of the so many calls I received," he says.
With the help of a trusted church member, Semakula sieved the girls, until they zeroed in on four, whom they thought were serious. 
"It became difficult for me to choose from the four because they all seemed good. I decided to seek God's guidance through prayer," he says.
MIRIA COMES INTO PICTURE
But Miria was not among the four girls that Semakula had zeroed in on. She called him much later, saying: "I saw you on Bukedde TV and I would like to be your friend," he says.
The phone call came when Semakula was busy attending to his customers at Munyonyo, where he owns a kiosk, selling fruits and second-hand T-shirts.
"I told her I wanted her to be my wife and she refused. I kept insisting, but I soon realised that that would ruin our friendship and decided to go slow.
From the moment Miria appeared on the horizon, Semakula realised that she was meant for him and the warmth he had developed with the four girls disappeared.
MIRIA'S VISIT
Miria's first phone call was followed by many others as the two bonded. "She would encourage me a lot and that drew us together. Soon, I invited her to visit me," he says. In June, she agreed to pay me a visit. 
"I was both overjoyed and worried. I thought she would reject me after discovering that I am poor," he says. 
Instead, Miria started appreciating Semakula for who he was. 
"She told me that she was surprised to find an enterprising blind man," Semakula says.
With such a statement from her, there was no doubt that he was winning the plot.
"When I discussed the idea of marriage with her, she said it was ok, but only after seeking her parents' approval," he says.
CONVINCING HER FAMILY
Semakula says they worked together to convince Miria's parents to approve of their relationship. He says Miria warned him of one particularly tough aunt of hers and he did his homework well. He says she gave him her phone number and he called her.
"I told her being blind would not make me a bad husband. Although she was hostile in the beginning, she eventually gave in," he says. 
On December 5, 2013, Semakula was introduced to Miria's parents in Ssembabule, where he took three head of cattle and goats as part of bride price.
Two days after their introduction ceremony, the couple tied the knot.
WHAT HE LIKES ABOUT HIS WIFE
Although they have been together for only a month, the bond between Semakula and Miria seems strong. They keep flirting and praising each other. Semakula says his wife is patient and principled.
"She enjoys watching Bukedde TV, but since we have no TV, we go to a neighbour, but she doesn't complain," he says. He says they have found joy in their marriage because of God. 
"When we are confronted by any challenge, we go on our knees and pray," he says.
Semakula is grateful to his pastor, Stephen Kasirivu of Ggaba Community Church, whom he says has been supportive and a good mentor.
HIS IMAGINATION OF HIS WIFE
"She is an angel and has a nice figure. I think she is chocolate brown. Even if you bring 10 women, I can easily pick out my sweetheart. 
"I know how she breathes and how her hair feels like. Her smell is unique," Semakula says.
He says he treats his wife like a baby. "I am patient and open to her. This makes her feel confident about me," he says. 
He also says keeping his wife cheerful is his full-time job.
"Even if I have no money, I try to be hopeful," he says.
Asked what he would do if he caught her cheating, his tone is calm: "I would give her a second chance. However, I pray to God not to put me to such a test because it would be sad," he says.
ADVICE TO DISABLED PEOPLE
According to Semakula, people with disabilities can reach his achievement if they stop looking down on themselves and wallowing in self-pity.
"They can challenge the able-bodied people if they are purpose-driven and determined," he says.
WHO IS SEMAKULA?
He was born in Bunga Ggaba. "We are three; two boys and one girl and we were all born blind. When I get some money, I help my sister, Nakitende," he says.
His brother, Ronald, is lucky to be employed with the National Union of Disabled Persons of Uganda (NUDIPU).
true
The couple during their introduction.
Semakula studied at Bishop Willis Demonstration School and Iganga SS, before joining Makerere International Institute of Environment, where he obtained a diploma in environmental protection. He is an environmental activist, who moves to schools teaching environmental protection on a voluntary basis.
INSIDE MIRIA'S MIND
I was born in 1987 in Matete, Sembabule. I went to school up to P7, after which I enrolled for a knitting course. I have seven siblings who live in Sembabule.
What attracted you to Semakula?
I was watching TV when I saw him. I had never watched that programme, but on that day, I do not know what came over me.
I found it interesting. When they profiled Semakula, I felt sympathy for him, especially when he said he had been disappointed by women. I think I saw a tear roll down his cheek and this almost made me cry. 
I decided to save his number such that I would call and encourage him to be strong. I wanted him to be my friend. However, when I called, he said he wanted me to be his wife. I told him that could not be possible, but he insisted, saying I should look beyond his disability. But I could not see myself marrying him.
So what did you do?
I insisted that we remain friends. I am always sympathetic to the less fortunate, so I was seeing him in that light. When he asked me to visit him, it was like coming to encourage a brethren.
What happened when you visited?
When I visited his workplace in Munyonyo, I was amazed at his creativity.
You find able-bodied people complaining about jobs, yet a blind man is able look after himself. I was touched. 
Later, his friends came and tried to convince me, but I had already made up my mind to give him a chance.
I told him I was going to consult my people, so he should pray for their approval.
How did you go about it?
It was difficult breaking the news to my family. When I told my dad, he was shocked. Semakula's disability aside, my father had always wanted his daughters to marry from a particular tribe. 
However, he later agreed, but on one condition; to seek approval from my aunt.
But that was a difficult thing because she is tough.
I remember calling her and telling her that I wanted to tell her something. But when I got to her home, lost all the courage and I left without saying anything.
How did you handle her?
I decided to share the challenge with Semakula. I gave him her number and asked him to call her. When he called, he made sure he described his disability to her. She was hesitant, but he persuaded her.
What about your mom?
I kept it away from her, but after my father and aunt had accepted my choice, I knew I had the numbers. It is my dad who broke the news to her, and although it was difficult at first, she accepted.
Was Semakula your dream man?
I had always wanted a calm man and Semakula is exactly that. I am also a clean person, so when I visited him, he was perfect. Even though he is blind, he is orderly and you never find any smelly things in his house.
You cannot get a person with 100% qualities, so with these qualities, I do not regret my choice.
What does it take to look after a blind man?
It is challenging. I have lost friends. Some call me and ask if I am sane. Sometimes my friends do not pick my calls. These days, I dread picking some calls because some of my friends reprimand me for choosing a blind man. 
However, amidst these challenges, I have been encouraged by some born-again friends. I also feel encouraged when I go to church because the pastor's sermons lift me up. 
My husband also has his share of pressures. People tell him that he has married a gold-digger, who wants to enjoy his money and run away. That, sometimes, worries him. When we share these experiences, we become stronger.
How many children do you hope to have? 
He wants six children, but I think that is a big number. However, we shall pray about that so that God helps us to reach an understanding.
Any future plans?
If God gives us money, we hope to set up a charity to look after disadvantaged people. Advice to women if you decide to get married and you have backing from your parents, go ahead. 
However, if you are not decided, do not. There may be challenges that you may not handle if you are not determined.
Blind man finds love on TV