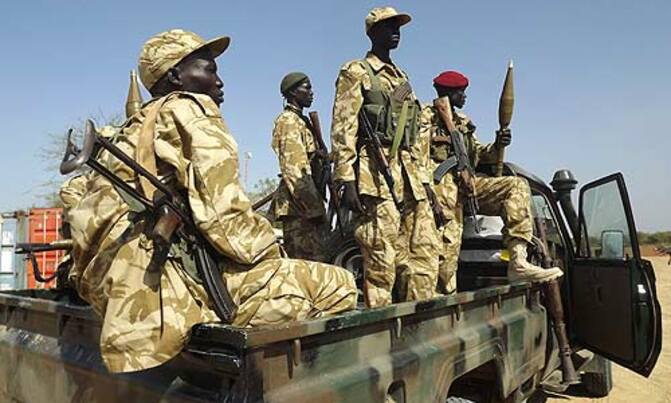 South Sudan''s warring parties were set to begin direct talks Saturday in a bid to end the conflict pushing the country towards civil war
ADDIS ABABA - South Sudan's warring parties were set to begin direct talks Saturday in a bid to end the conflict pushing the world's youngest nation towards civil war as fighting intensified for control of a key oil town.

On Friday the army moved on rebel-held Bor as government and rebel negotiating teams gathered at a luxury hotel in neighbouring Ethiopia's capital Addis Ababa.

"We have enough forces who will defeat the rebels within 24 hours," army spokesman Philip Aguer said in South Sudan, with reports of intense battles involving tanks and artillery on the outskirts of Bor, a dusty oil town that has already exchanged hands three times since fighting began.

"These forces -- the rebels -- are now retreating back," Aguer insisted, quashing rebel claims that they had been marching on the capital Juba.

Rebel leader and former vice president Riek Machar told Britain's Telegraph newspaper that his forces would hold back from attacking Juba in the hope of achieving a "negotiated settlement".

Government forces should also stop trying to take territory under his control, Machar added.

The US embassy in South Sudan ordered a further pullout of staff because of the "deteriorating security situation" and said it had successfully evacuated 20 embassy personnel on Friday.

But Washington insisted it remains committed to ending the violence in South Sudan.

"Even as we draw down our personnel, we continue to be engaged in and strongly support regional and international efforts to bring the violence to an end," State Department deputy spokeswoman Marie Harf said.

About 45 troops remain stationed in Juba to provide additional security for the US embassy.

Thousands of people are feared to have been killed in the fighting since it erupted on December 15, pitting army units loyal to President Salva Kiir against a loose alliance of ethnic militia forces and mutinous army commanders nominally headed by his rival, former vice president Machar.

The ongoing battles prompted the top UN aid official in South Sudan, Toby Lanzer, to warn that soldiers and rebels must protect civilians and aid workers, or risk worsening a situation he described as critical.

In the calm of the hotel in Addis Ababa, rivals met special envoys from regional nations and Ethiopia's foreign minister confirmed that direct talks are expected to start on Saturday.

"We just finished the first round of proxy talks with both negotiating teams of South Sudan," the minister, Tedros Adhanom, said on his Twitter feed.

"Will proceed to direct talks tomorrow (Saturday)," he said.
true
Kenyans who fled the fighting in South Sudan arrive at Wilson airport in Nairobi. PHOTO/AFP
 
true
Members of the S. Sudan gov't delegation board a plane headed for Addis Ababa. PHOTO/AFP
 
true
A group of South Sudanese soldiers patrol the streets of Juba. PHOTO/AFP

Britain's Foreign Secretary William Hague, who earlier this week urged both sides to commit to an immediate ceasefire, said he had called Ugandan President Yoweri Museveni to discuss the South Sudan talks and Uganda's "constructive role".

Civilians in dire need of aid

The fighting started when Kiir accused Machar of attempting a coup in the oil-rich but impoverished nation.

Machar denied this, in turn accusing the president of conducting a violent purge of opponents. He has so far refused to hold direct talks with Kiir.

Fighting has spread across the country, with the rebels seizing several areas in the oil-rich north.

Aid workers have stepped up warnings of a worsening crisis for civilians affected by the conflict in the landlocked country of almost 11 million people.

Britain's Hague said he had also discussed with Museveni the issue of access for humanitarian aid in the parts of South Sudan affected by the fighting.

The violence has forced around 200,000 people to flee their homes and "affected many hundreds of thousands of people indirectly", the UN's Lanzer said.

About 57,000 are seeking refuge with badly overstretched UN peacekeepers.

The UN peacekeeping force said this week that atrocities are continuing to occur across the country, which won independence from Sudan in 2011 after decades of civil war.

One of the hardest hit areas is Bor, the capital of Jonglei state and situated just 200 kilometres (125 miles) north of Juba.

Tens of thousands have fled, many paddling in simple boats across the crocodile-infested White Nile river to escape the fighting.

The conflict has been marked by an upsurge of ethnic violence pitting members of Kiir's Dinka tribe against Machar's Nuer community, and the army has set up committees to probe the killing of "innocent people".

The United Nations has reported extra-judicial killings of civilians and captured soldiers and the discovery of large numbers of bodies in Juba as well as in the towns of Bor and Malakal.

Machar told AFP this week he was not yet ready to agree to an immediate ceasefire nor hold face-to-face talks with Kiir.

Kiir has described the war as "senseless" but has ruled out power-sharing with the rebels.
AFP
South Sudan: direct ceasefire talks due