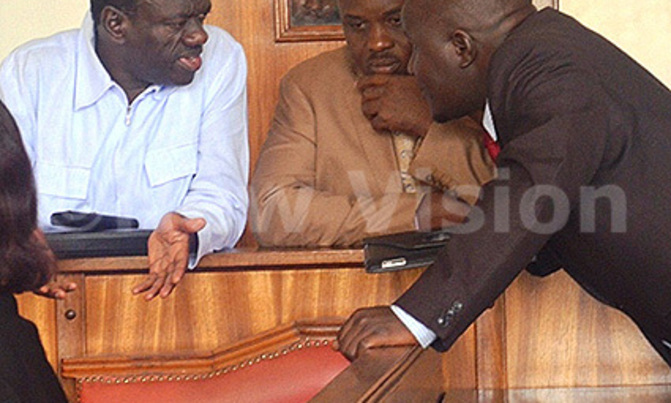 The lawyers of the two politicians ask court to remove charges against their clients, citing unlawful detention.
By Michael Odeng              

The lawyers of former FDC party president Dr. Kizza Besigye and ex-Lord Mayor Erias Lukwago have asked court to drop charges against their clients, citing unlawful detention.

The two politicians were last month arrested and produced in court to answer charges related to the outlawed 4GC (For God and My Country) and Activists for Change groups.

Their case ended prematurely at Buganda Road Court on Thursday for failure of prosecution to respond to the application filed by defense lawyers who want the charges to be dropped.

Prosecutors did not show up in court.

The application was filed on ground that the accused duo had spent more than the constitutional 48 hours under police detention without being formally arraigned and charged before courts of law.

Following this protest, Besigye and Lukwago declined to take plea to the charges preferred against them and chose to remain quiet.

The defense lawyer Asuman Basaalirwa told court that plea taking under circumstances of being in custody for over 48 hours is "unconstitutional" and that "there is no way plea can be taken under those circumstances".

Magistrate Julius Borore was then prompted to extend the bail of the accused persons.

The case was pushed Friday (today) for a ruling on charges against the two opposition politicians.

Speaking outside court after the adjournment, Besigye said detaining a person for more than 48 hours in police cells without being produced in court is illegal and hence an abuse of human rights.

"This is a political prosecution because we were not charged for the reason why we were detained," Besigye added.

Last week court issued criminal summons to the duo for failure to appear in court.

Prosecution argues that Besigye, Lukwago and others still at large, on July 19 this year held themselves as members of the outlawed activist groups.
Besigye, Lukwago lawyers want case dropped