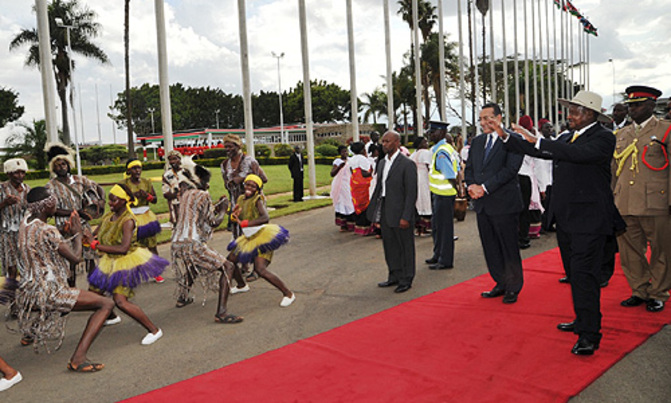 President Yoweri Museveni is one of several heads of state attending Kenya's golden jubilee celebrations at Safaricom Stadium, Kasarani on Thursday.
By Taddeo Bwambale & AFP

NAIROBI - President Yoweri Museveni is one of several heads of state attending Kenya's golden jubilee celebrations at Safaricom Stadium, Kasarani on Thursday.

East Africa's largest economy is marking 50 years of independence from British rule. Her neighbour, Uganda, clocked 50 only last year on October 9.

President Uhuru Kenyatta is leading his nation in the jubilee celebrations at the same venue where he was inaugurated as the country's fourth president in April this year.

His Ugandan counterpart arrived in Nairobi on Wednesday ahead of the celebrations that have drawn over 20 heads of state including Salva Kiir Mayardit of South Sudan, DR Congo's Joseph Kabila and Goodluck Jonathan of Nigeria.

Others are: Isaias Afwerki (Eritrea), Lt-Gen Ian Khama (Botswana), Pierre Nkurunziza (Burundi), Ismaïl Omar Guelleh (Djibouti), Ali Bongo (Gabon), Joyce Banda (Malawi) and Mohamed Abdelaziz (Sahrawi Arab Republic).

Also expected are Hassan Sheikh Mohamud (Somalia), Jakaya Kikwete (Tanzania), Mahinda Rajapaksa (Sri Lanka), Ikililou Dhoinine (Comoros) and Prime Ministers Hage Geingob (Namibia), Hailemariam Desalegn (Ethiopia), Pierre Damien Habumuremyi (Rwanda) and Aminata Touré (Senegal).
true
President Museveni touched down at Jomo Kenyatta International Airport on Wednesday. PHOTO/PPU
Celebrations got underway at midnight Wednesday, with the Kenyan flag raised in Uhuru Gardens -- meaning "freedom" in Swahili -- in a reenactment of the moment 50 years earlier when Britain's rule since 1895 came to a close.

Climbers are also raising another flag on the snow-capped peak of Mount Kenya.

In another echo of history, President Kenyatta will address crowds and regional presidents later on Thursday as his father Jomo Kenyatta did in 1963, when he became the first Kenyan to lead the east African nation.

Back then, Kenyans sang and danced wildly in the streets at the end of the British colonial rule.

Today, anti-colonial rhetoric is being drummed up again, amid international pressure on President Uhuru Kenyatta ahead of his international crimes against humanity trial early next year.

Kenyatta, who denies all charges of masterminding violence following contested elections in 2007 in which over 1,00 died, has campaigned hard to have his trial at International Criminal Court suspended, appealing for support from fellow African presidents and at the African Union.

The president is expected to echo recent speeches vowing to defend Kenya from her "enemies".
true
Kenyan African Union leader Jomo Kenyatta pictured with the official document of independence in Nairobi on December 13, 1963. CREDIT/AFP
"Our forefathers rejected colonialism and imperial domination in their time," Kenyatta said in a speech in October for Hero's day, commemorating those who died in the Mau Mau uprising, a largely ethnic Kikuyu insurgent movement in the 1950s brutally suppressed by colonial powers.

"We must honour their legacy, and stay true to our heritage, by rejecting all forms of domination and manipulation in our time."
Government advertisements in newspapers to celebrate the independence jubilee have included full page pictures of the Mau Mau, urging unity in the country.

A competition has also been launched to design a Mau Mau memorial for central Nairobi for those who suffered during the insurgency, with backing by the British government.

'Mixed bag' of achievements

But for many Kenyans, the anniversary is a date to rather look forward to build their nation rather than dredge up the ghosts of the past.

Many are critical.

"This will be a season of hagiography," wrote Patrick Gathara, a well-known media commentator and cartoonist in a recent article.

"Kenya will put on its Sunday-best gear and apply some patriotic perfume to cover the stench of the last five decades."

This week the World Bank cut its growth forecast for Kenya for 2013 and 2013 to five percent, suggesting Kenya is drifting behind regional nations.
true
Kenyan presidents: Jomo Kenyatta (top), Daniel Arap Moi (L), Mwai Kibaki (C) and current leader Uhuru Kenyatta.
Gado, one of Kenya's most famous cartoonists, drew an image for the Daily Nation newspaper, showing a map 'figure' of the country holding a list of challenges faced in 1963 – poverty, illiteracy and disease –  and again in 2013, including the same problems, but tribalism and corruption tacked on too.

Last week, the army was forced to put down bitter clashes between two rival ethnic groups near Kenya's border with Ethiopia that had spiralled into a wave of brutal killings, a stark reminder of the challenges that remain to reconcile deep ethnic and political divisions.

Security too remains a challenge, with Somalia's Al-Qaeda linked Shebab threatening Kenya with more attacks following its Nairobi Westgate mall massacre in September, in revenge for Kenya's two year military invention in southern Somalia.
 
In central Nairobi, special bunting has been placed on the statue of Mau Mau leader Dedan Kimathi, striding out carrying a rifle with the fighters' trademark dreadlocks flowing.

"It is good to remember those that brought this country to freedom," said Mary Wambugu, a teacher.

But for the youth hawking goods at the tourists, important matters are for jobs and more services.

"If they spent the money on clean water and hospitals, then that would be something to really mark independence," said George Odula, who lives in one of Nairobi's crowded slum districts, tightly packed shacks of corrugated iron, which rub shoulders with luxury estates heavily protected with razor wire and guards.

"More speeches and a parade won't change anything for people like us."

The bitter legacy of the grabbing of land by privileged elite soon after independence angers many too.

"It is undeniable that progress has been made," Gathara added, but noting that an honest appraisal of the past 50 years were "at best... a mixed bag."

"Less will be said of the fact that Kenya is actually one of the most unequal places on earth, that much of the progress, especially the growth in incomes, has largely been concentrated in the top five percent of the population," Gathara added.
 
Museveni in Kenya for golden jubilee fete