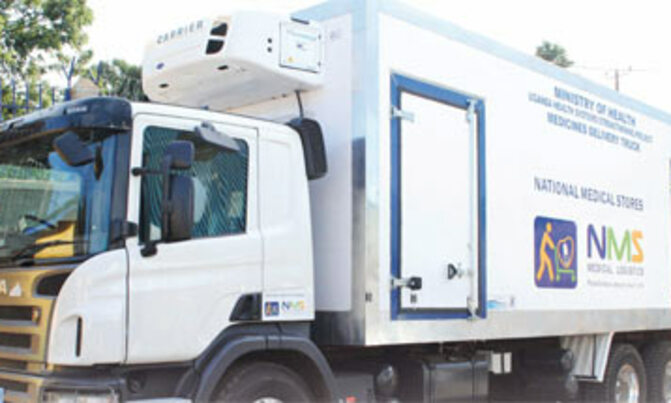 It is 20 years since the Government set up the National Medical Stores (NMS). NMS is an autonomous state corporation that was established by an act of parliament in 1993
NATIONAL MEDICAL STORES HAS THE BIGGEST WAREHOUSE IN EAST AFRICA, WRITES PASCAL KWESIGA

It is 20 years since the Government set up the National Medical Stores (NMS). NMS is an autonomous state corporation that was established by an act of parliament in 1993. It was established to take over the drugs procurement and distribution function from the former Central Medical Stores.

ROLE
The corporation has the mandate to procure, store and distribute medicines and medical supplies to all government health facilities in a financially viable and sustainable manner. It procures and distributes essential drug kits, drugs for sexually transmitted infections and family planning products in line with the national drug authority policy. It is also expected to ensure efficient and economic procurement of medicines and other medical supplies of good quality, secure safe and efficient storage, administration, distribution and supply of medicines.
It is also meant to establish and maintain systems to ensure the quality of goods supplied and estimate the current and future needs as a basis for procurement, planning and budgeting. By the time the corporation was set-up, there were less than 40 districts. The number of districts has since increased to 112. As the number of districts increased, the number of health facilities also increased.
This meant that NMS has to expand its coverage as a national medical procurement and distribution institution. A few years later, NMS, which initially was supposed to procure and distribute drugs and other medical supplies exclusively to public health facilities, was asked to start providing its services to the police, army and prison facilities. The number of health facilities served by NMS currently stands at 3,000, including the heart institute, cancer institute, Butabika mental hospital and the national blood bank. NMS has seven regional customer-service centres.

IMPROVEMENT
According to NMS acting head of stores and operations, Norbert Kazibwe, when the corporation started, it had 17,949 square metres of storage space. But the storage facilities were located in Kampala city, Entebbe and Banda, a Kampala suburb. With the rental storage facilities scattered, Kazibwe says processing an order for drugs for a health facility took several days. He says the corporation reduced the storage space to 7,200 square metres after the construction of its own ware house in Entebbe-the biggest drugs warehouse in East Africa.
With all the drugs and other medical items under one roof, now it takes a maximum of three hours to process an order for medicines. "It used to take a whole week to process an order in the past. We are proud of this achievement," he explains. Before a new warehouse was established, boxes of drugs would be piled on the fl oor, rendering the medicines susceptible to damage. "We were not utilising space well. But in the new ware house, we use shelves and we are utilising space better," Kazibwe says.
The new ware house has 8,000 pallet locations (shelves) and can hold 2,700 different types of medicines. The ware house has seven cold rooms, five of which serve as vaccine storage facilities while the two are used for keeping some of the essential drugs. On average, Kazibwe explains that NMS offloads five trucks of medicines and other medical supplies every day.

NMS, according to him, processes 200 drugs orders from health facilities on average every day. In order to successfully handle the enormous work associated with provision of drugs to a population that suffers from a number of ailments, NMS operates day and night shifts for workers, who run the ware house. The corporation has 15 drugs distribution trucks, seven of which, have inbuilt cold storage facilities. The trucks were acquired in 2009. The warehouse is run by an electronic enterprise resource planning system that tracks transactions of employees. The system is also used to monitor stock levels and manage replenishments from the suppliers.
Click here for advert

Parliament amends regulations for NMS

By Pascal Kwesiga
Shortage of medicine and medical supplies was the hallmark of many public health facilities in the late 1980s and early
1990s. This happened largely due to the mismanagement of funds disbursed to the districts to purchase medicines.
For a long time, the finance ministry sent funds directly to the districts to procure medicines and other medical supplies for government health facilities.
But one could not figure out how the district local governments were utilising the money because chronic shortage of drugs remained a hallmark of public health facilities despite the fact that funds were being provided by the central government. Either the medicines were not purchased or drugs meant for government health facilities would end up in private health facilities. In a bid to fix the drug shortages, the Government took a decision to recentralise the procurement, storage and distribution of medical supplies when it set up the National Medical Stores (NMS) on December 3, 1993.
Twenty years down the road, a lot has changed in procurement and distribution of drugs and medical supplies to government health facilities. The Hoima district chairmen, George Bagonza Tinkamanyire, says since the recentralisation of drugs procurement and distribution, chronic shortages of essential medicines in public have become a thing of the past. In Hoima, he says Congolese take advantage of the availability of drugs in health facilities along Lake Albert shores to receive treatment in Uganda. "Drug shortage is no longer a problem. It may not be possible to
have all drugs in a health facility at the same time, but the situation has changed greatly," he explains.

According to the Lira district assistant medicine supplies officer, Tony Bua, who has worked in public service for about 30 years, NMS has transformed drugs procurement and distribution in the country. "There is no time in the past years
as far as I can remember when drugs supply was as good as it is now," he adds.
true
Dr. Ruth Aceng, the director general of health services accompanied by Moses Kamabare, the general
manager at the National Medical Stores headquarters in Entebbe. Photo by Francis Emorut
Bua explains that some health facilities face irregular shortage of drugs that they do not include in the procurement plans submitted to NMS every month. "But even when drugs run out, there is a provision for you to call for an emergency medicines supply," he says. The in charge of the Aromo health center in Lira, Geoffrey Ocen, observes that with the monthly drugs supply, it's difficult for health facilities to run out of drugs. "When NMS is delivering the drugs you have requested on a monthly basis, you cannot run out of drugs completely," According to Alfred Natamba, the NMS head of procurement, they procure 2,400 health commodities using a stock list guided by government health facilities procurement plans.
Among the health commodities procured by NMS for all government health facilities are hospital sundries and consumables, hospital equipment, antiseptics and disinfectants and orthopaedic supplies. Others are edible and nutritional supplements, laboratory and diagnostic products, hospital stationary and dental supplies. "We provide 100% of medicines for all government health facilities," he says.
Regulation and supply As one way of minimising drugs theft, NMS embosses all the drugs with words Uganda Government (UG), not for sale. By embossing the drugs, the Government thought people would report health facilities found selling drugs meant to be given away freely in government health facilities. But due to low levels of awareness and lack of the whistleblowing spirit among the population, drugs clearly marked 'Uganda government, not for sale' can easily be sold to patients in private health facilities. But as NMS marks 20 years of existence, the managers at the government parastanal are optimistic that procurement and distribution of medicines and medical supplies will soon improve.
This is after parliament recommended that the Public Procurement and Disposal of Assets (PPDA) makes separate procurement regulations for NMS, given the unique demands and nature of its work. "We are happy that Parliament approved our recommendations this year and once the separate regulations are implemented by PPDA, procurement and distribution will improve further," Natamba says.

He adds that the separate procurement regulation will ensure procurements are concluded fast and drugs are distributed to the population as soon as they are procured. "The current PPDA regulations subjects NMS to a long procurement process and bureaucracies. With these procurement regulations, we have just been doing our best to have drugs in time," he adds NMS has framework contracts with suppliers of medicines and medical supplies that require them (suppliers) to supply drugs at the time they are needed in any quantity. "They no longer have to supply us drugs in fixed quantities in a certain period of time. We can get drugs in quantities we need all the time," Natamba adds. He says NMS has also expanded the drugs supplier base to include local and international suppliers. This gives them an opportunity to procure high quality medicine that meets the health needs of the population.

He says the old PPDA procurement regulations pose major challenges to the NMS procurement process since they do not allow them to procure drugs beyond a certain amount of money yet the list of essential medicines for public health facilities keeps growing. He appeals to the ministry of health to develop a standard list of essential drugs for public health facilities to ease their work. "Sometimes doctors in hospitals prescribe medicines that are not on the list of essential medicines that we know should be in all public health facilities," Natamba adds

How drugs are procured and distributed
Alfred Natamba, the headof procurement, says NMS keeps a prequalified list of local and international suppliers of medicines and medical supplies. He adds that NMS is a customer-centred organisation, which ensures the procurement process of drugs is initiated by the customer (hospital).
The customers communicate their drugs procurement needs in monthly procurement plans. The procurement plans from various facilities are incorporated into one procurement plan for NMS submitted to the suppliers. This means drugs that are not captured in the procurement plans submitted to NMS by the various health facilities cannot be provided by the suppliers.
NMS managers say health facilities run out of drugs that they do not include in their procurement plans. To make matters worse, some health facilities delay to submit the monthly procurement plans while others do not submit any for months. Faced with a barrage of criticism from the public over shortage of drugs in some health facilities, the NMS general manager, Moses Kamabare, recently said they would consider supplying drugs to health facilities even if no procurement plans have been submitted.
"We shall not wait for the procurement plans and assume people are not consuming drugs. We want to start delivering drugs to all health facilities that have not submitted procurement plans after a certain time," he explains. But critics said delivering drugs without procurement plans from health facilities would not solve drug shortage. They said the move will only worsen drugs theft