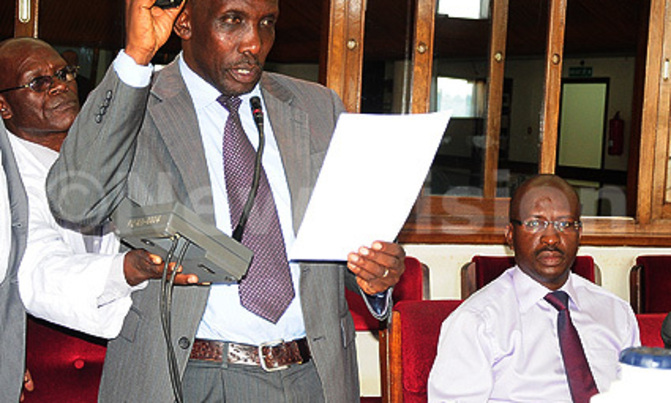 Legislators on the Local Government Accounts Committee have called for a forensic audit of Mbarara Municipal Council.
By Moses Walubiri & Paul Kiwuuwa

Legislators on the Local Government Accounts Committee have called for a forensic audit of Mbarara Municipal Council after the Auditor General returned a disclaimer for its financial statement for the financial year 2010/11.

In accounting parlance, a disclaimer means that the auditors couldn't conclusively state whether the municipality actually expended the sh7.6b reflected in its books of accounts in 2010/11.

The auditors highlighted a slew of accountability flaws ranging from doubtful procurements, irregular payment of allowances, undisclosed assets and failure to remit revenues to lower divisions.

During Thursday's interface, Mbarara Town Clerk, Stratus Mushabe, attributed failure to keep a general ledger in breach of Local Government Financial and Accounting Manual 2007, to "staffing gaps" subsisting at the time of audit.

A general ledger is a summary of transactions entered into in a given financial year.

"It was observed that the general ledger was not kept contrary to regulations. I was therefore unable to verify figures reflected in the financial statement," the Auditor General noted.

 Although the Municipality has since recruited the requisite staff, its Senior Accountant, Moses Mwesiga, admitted that no ledger exists for the financial year under review to-date.

"Since that year had already been audited, we couldn't go back," Mwesiga said when asked by committee chairperson, Jack Sabiiti, why the Municipality has not bothered to keep a general ledger for 2010/11.

The auditors also queried works in progress balance of sh389m which had no supporting ledger, noting that it couldn't be "verified."

The report also notes that sh378m in revenues accruing from property rates were not recorded in the year's (2010/11) revenue, while council wrote off sh116m in bad debts.

There was drama, however, when Mwesiga tendered documents purportedly refuting the Auditor General's query about failure to remit sh305m to Divisions for 2010/11 financial year, only for the documents to turn out to be for the current financial year.

"Telling lies under oath is criminal," Nantume Egunyu said, as Sabiiti ordered the detectives attached to the committee to "take an interest in the matter", including taking statements from the officers giving inconsistent statements.

When asked why he was telling the committee lies, Mwesiga admitted that the money in question was not remitted but the "issue had been resolved for subsequent years."

The committee vowed to recommend that sh98m paid to five teachers who were granted sick leave for a period ranging between 22 to 33 months in contravention of the Public Service Standing Order (PSSO) 2010 be refunded.

The PSSO requires a person on leave to receive full pay for 180 days, after which the matter comes up for review.
Mbarara Municipality in sh7.6b accountability query