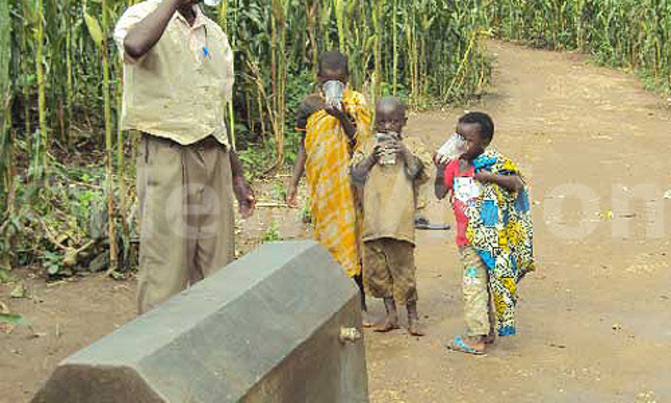 Refugees and the host community in Rwamwanja Refugee Settlement, Kamwenge district are excited about accessing cleaner safer piped water after two key water projects are commissioned.
By Jeff Andrew Lule        
Refugees and the host community in Rwamwanja Refugee Settlement, Kamwenge district are excited about accessing cleaner safer piped water after two key water projects were commissioned recently in their area.
The projects which cost sh400m were implemented at Kaihora C and Rwamwanja Secondary School by Water Mission International (WMI) in partnership with the United Nations Children's Fund (UNICEF).
While commissioning the projects last week, the Minister of State for Relief and Disaster Preparedness, Musa Ecweru said lack of safe clean water was a threat to people's lives especially women and children in the settlement.
"Government is grateful that this long standing problem has been solved," he said.
"We are going to work with WMI to see how we can expand these systems to other parts of the district and other parts of the country where water is a problem."
The minister said this will reduce the rampant water-borne diseases in the settlement.
"I am surprised one motorized borehole can serve large communities with ease at different locations. This is going to decongest the fight for water and reduce conflicts among the host communities and refugees," he added.
true
Minister Musa Ecweru commissions a water project at Kaihora in Rwamwanja Refugees Settlement. PHOTO/Jeff Andrew Lule
Ecweru believes bringing water closer to homes will stop girls from moving long distances for water which usually leaves them with no time to go to school.
The minister thanked UNICEF and Japanese Government for funding the project and the United Nations High Commission for Refugees (UNHCR), Human Rights Commission and Kamwenge district authorities for their support.
Micheal Bazira , who is the country director of Water Mission Uganda (WMU), the lead implementers of the projects, said the systems is to provide piped safe water to 13, 775 people in the settlement (Kaihora, Rwamwanja S S, Kalambo and Kyempango B).
The two projects have four water points each, with 16 outlets for residents to access water within 500 metres of their homes.
The systems use solar pumping with generator backup, and a solar phone charging option, for sustainability purposes.
Country director Bazira said four refugees from the settlement were trained on the job of managing the systems – two for each project.
Two boreholes were identified as water sources for each system and were motorized with solar powered submersible pumps and a diesel generator back up.
The water is pumped from a borehole through a Potable Water Chlorinator to storage tanks and supplied to various outlets for consumption.
true
The minister, with officials, takes a sip of the safe clean water. PHOTO/Jeff Andrew Lule
Two water tanks were established at Rwamwanja Health Centre III and at Rwamwanja Secondary School for emergency water storage.
Shetra Boora, a resident of Kaihora said her children used to walk miles in search for water but "now the problem is solved".
UNICEF's country representative, Prakash Lamsal said UNICEF is committed to protect the rights of children and women in humanitarian situations.
He said studies show that improved water supply reduces diarrhea mobility by 21%, improved sanitation reduces diarrhea by 37.5% while washing hands at critical times reduces diarrhea by 35%.
He urged communities to use the water properly for improved health.
Rwamwanja refugee settlement commandant, David Mugenyi said water had been their main challenge. The settlement has 51,000 Congo refugees and 50 boreholes with now four of them motorized to serve a larger population.
WMU has implemented over 50 projects in different parts of the country.
On its part, WMI, a Christian-based engineering ministry, transforms lives through sustainable water solutions.
A key lifeline for Rwamwanja Settlement community