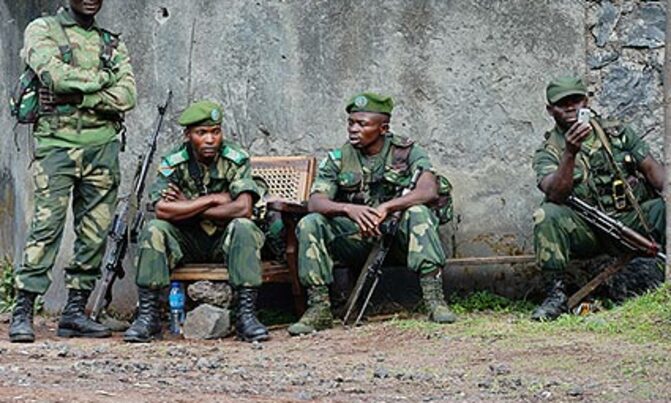 Congo's army said on Thursday it was hunting rebels deep into forests and mountains along the border with Rwanda and Uganda.
GOMA - Congo's army said on Thursday it was hunting rebels deep into forests and mountains along the border with Rwanda and Uganda, the last insurgent hideouts after they were driven from towns they held during a 20-month rebellion.

Ugandan mediators said talks had restarted on Wednesday in Kampala between the government and M23 rebels, but Kinshasa's U.N.-backed army appears on the verge of defeating the most serious uprising to plague the mineral-rich east since the end of the last major war a decade ago.

"We are going to pursue M23 and push them into a corner, wherever they hide, because they are criminals," Congo army spokesman Colonel Olivier Hamuli told Reuters.

"We must not leave them time (to reorganise) because they have martyred the Congolese people for too long. Now is the time to bring peace," Hamuli said.

M23 officials said they withdrew from towns under diplomatic pressure. Bertrand Bissimwa, M23's political leader, told French radio RFI that the military losses would not alter their demands in talks.

Clashes were reported in the hills above Bunagana, the last rebel-controlled town to fall this week, and around Runyoni, a hill that was the birthplace of the rebellion last year.

At their peak last November, M23 occupied the regional capital, Goma, after the army fled and rebels marched past peacekeepers. This defeat led to the U.N. force and mandate being bolstered, an overhaul of Congo's army command and pressure on rebel support, changing the tide of the fighting.

While the deep roots of conflict - ranging from the presence of Rwandan Hutu rebels, ethnic tensions and simmering conflicts over land and minerals - remain, the pace of the advance of Congo's army is unprecedented.

"The M23 may be nearing its end," Jason Stearns, a Congo expert, wrote on his blog, Congo Siasa. "This would be historic - it would be the first time the Congolese government had defeated a major rebellion."

"And it would be the first time since 1996 that an armed group allied to Rwanda is not present in the eastern Congo."

POLITICAL DEAL

U.N. experts and human rights groups have repeatedly accused Rwanda of backing M23, the latest in a series of rebellions in eastern Congo that has been linked to Rwanda's political and military elite.

Rwanda, which has repeatedly sent its army into Congo on the pretext of hunting Hutu rebels who fled there after the 1994 genocide, denies the accusation.

Residents poured into the streets of Bunagana on Wednesday to welcome Congo's army, which is better known for its chaotic command and poor discipline than lightening advance.

"We have spent a year with M23, we could never imagine that one day we would be liberated by the army," said a resident in Bunagana, the border town that provided rebels with funding from cross-border taxation and unfettered access to neighbours.

"We have lived in terror (with M23), we were traumatised."

Diplomats say a political deal is needed alongside the military gains to ensure progress is not reversed by rebels returning, as they have in the past, due to frustrations over the Kinshasa government's poor handling of its remote regions.

Lieutenant Colonel Paddy Ankunda, spokesman for Uganda's army and the mediation team, said progress was being made at talks between the two sides though questions remained over which rebels would be granted an amnesty.

"Technical committees are reviewing all the remaining areas and we hope the final agreement will be signed soon," he said.

Fatou Bensouda, prosecutor of the International Criminal Court, on Wednesday warned that she might broaden investigations into crimes in Congo and called for all those responsible to be prosecuted.

U.N. peacekeepers have confirmed they are investigating reports of mass graves in areas vacated by rebels.
 
Congo army says hunting rebels deep into mountain bases