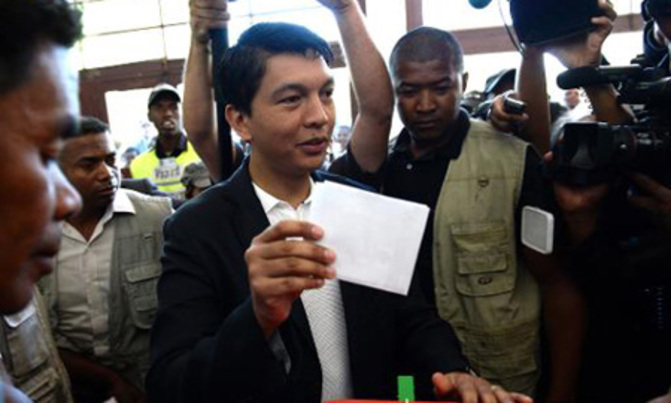 A local government official was killed as violence flared up in southern Madagascar during the first presidential vote after a coup four years ago, a government source said.
A local government official was killed as violence flared up in southern Madagascar during the first presidential vote after a coup four years ago, a government source said.
"A district chief was killed at a polling station" in the town of Benenitra, an interior ministry source told AFP.
Another person was kidnapped from a polling station in Bezaha, elsewhere in the south, the official said.
Meanwhile in northern district Tsaratanana, "unknown people have burnt a polling station," he added.
The long-delayed presidential elections are meant to restore democracy and pull the island nation out of the crisis it plunged into after a 2009 coup.
Around 7.8 million eligible voters were to elect a successor to an interim government after strongman Andry Rajoelina, 39, seized power four years ago, sending then-president Marc Ravalomanana into exile.
Some of the main political players -- including Rajoelina and Ravalomanana -- have been barred from running to prevent their long-standing political wrangling from jeopardising the vote.
"I think Madagascar will emerge from the crisis in this election," said voter Alain Yves as people trickled in, voter ID cards in hand to cast their ballots in Ampasandratsarahoby, a suburb in Antananarivo.
"Up to now the election is calm."
With 33 candidates on the ballot and no clear favourite, chances of a first-round outright winner looked slim, raising the possibility of a run-off in eight weeks' time.
Despite the number and variety of candidates -- including ex-ministers, a conservationist and a rock singer -- analysts say only about six are serious contenders.
Rajoelina voted in a suburb of the capital Antananarivo, saying he was "ready to transfer power according to the rules of the game."
"Our challenge is to end the transition in peace and above all to avoid that the country descends into civil war or confrontation."
He did not name a preferred successor, but former finance minister Hery Rajaonarimampianina is perceived as his favourite and was given massive media exposure compared to other candidates as campaigning wrapped up.
Rajoelina said he would support a candidate in an eventual second round of voting scheduled for December 20, along with legislative polls.
Since independence from France in 1960, the Indian Ocean island nation of 22.3 million people has lurched from one crisis to another.
The seizure of power by Rajoelina, who was then mayor of Antananarivo, plunged the country into a political, social and economic quagmire.
Donors shunned their former darling, investors stayed away and poverty increased to 92 percent of the population -- the worst level in any country outside war zones, according to the World Bank.
After several failed attempts to return home from South Africa ahead of the elections, exiled Ravalomanana pushed his wife Lalao to run, but was blocked. His former health minister Robinson Jean Louis is now in the race.
But it may not be over for the Ravalomananas: Jean Louis suggested one of the pair might become prime minister if he won.
Islanders urged to vote
Voting opened at 6:00 am (0300 GMT) and closes 11 hours later at 20,000 polling stations scattered across the world's fourth-largest island, slightly bigger than former colonial master France.
The polls used one unified ballot for the first time, instead of several papers in past elections which had been seen as confusing.
"It wasn't very complicated. It took me only one minute to vote," said Fara, who declined to give her last name, after learning of the new ballots through television campaigns.
Early partial results are expected to start trickling in by Friday night.
Close to 6,000 observers, including 800 foreign monitors, will watch the polls amid worries about the electoral commission's logistical capacity.
Concerns were raised about the safety of ballot papers and boxes, which in some remote rural areas have been entrusted to village chiefs, ahead of polling.
Distribution of voter identity cards was late, forcing the electoral commission to declare that people without them should be allowed to vote if they can produce their ordinary ID cards.
Regional bloc the Southern African Development Community (SADC), which brokered the peace deal and drew up the road map that has culminated in the election, urged the islanders to come out and choose a new leader.
"This is a rare opportunity that cannot be left to chance," said former Mozambique president Joaquim Chissano, who has led mediation efforts since the coup.
AFP
One dead in Madagascar poll violence: government source