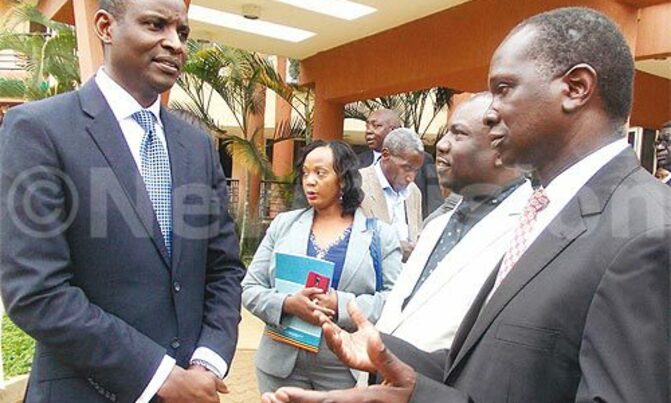 A six-year programme aimed at transforming urban infrastructure in 14 municipalities has been launched.
By Paul Watala

A six-year programme aimed at transforming urban infrastructure in 14 municipalities has been launched.

The $150m (about sh380b) programme is to enhance the capacities of local governments in the 14 municipalities to generate own resources, revenue, improve planning and strengthen financial management, procurement, environmental and social systems.

Lands minister, Daudi Migereko, launched the World Bank-funded Uganda Support to Municipal Infrastructure Development Programme at Protea Hotel in Mbale on Tuesday.

State minister for urban development, Rosemary Najjemba, mayors, town clerks, speakers, engineers and auditors from the 14 municipalities attended the launch.

Migereko said the Government is aware of the serious infrastructure gap, especially in the urban areas, adding:

"It is for this reason that the Government has prioritised development of infrastructure in its national development agenda. This programme is an intervention that you have demanded for long and should not be abused," he said.

Migereko cautioned the authorities against getting excited over the money in the programme to organise weddings and marrying more women, adding that supervision will be strengthened. He said Uganda is urbanising at 5.2% per annum and it is projected that by 2050, the country will have a population of 110 million people, 50% of who will be living in urban areas. He said this has serious implications of demand for land, infrastructure, housing, jobs and food.

Najjemba warned authorities in the beneficiary towns to guard against embezzlement of the funds, adding: "You are aware that programme deeply involves the Auditor General, Inspector General of Government and the Public Procurement and Disposal of Assets.

Everyone's eyes are open to see who will misuse the funds and allow us have what to show come 2016," she said.

World Bank country manager, Moustapha Ndiaye, said the beneficiary municipalities are Arua, Gulu, Lira, Iganga, Mbale and Soroti and Tororo. Others are Moroto, Jinja, Entebbe, Masaka, Mbarara, Fort Portal and Hoima.

He said these demonstrated the capacity to handle the increased investment under the programme. Ndiaye disclosed that the Government will contribute $10m (sh25b) in cofinancing it.

 
Municipalities get sh380b for infrastructure