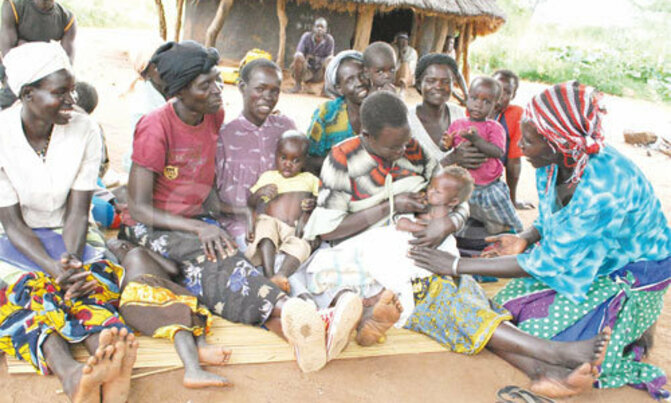 Evelyn Aywek, 26, a mother of three and a resident of Danya in Lagoro sub-county, Kitgum district, is busy preparing ekitobero; a mixture of simsim paste, silver fish and beans in her kitchen
Today marks the end of the series of articles New Vision has, for three months, been publishing about individuals and organisations that have dedicated their efforts to fighting malnutrition in the country

By Agnes Kyotalengerire
Evelyn Aywek, 26, a mother of three and a resident of Danya in Lagoro sub-county, Kitgum district, is busy preparing ekitobero; a mixture of simsim paste, silver fish and beans in her kitchen. Her 10-month-old daughter tags along pulling her wrapper, while demanding food.
"She already wants to eat and cannot wait to be served," Aywek explains. Aywek narrates how her daughter is recovering from malnutrition. "She would be dead had it not been for the intervention of the East Africa Maternal Newborn and Child Health (EAMNCH) project," explains Aywek.
Four months ago after she embarked on the weaning process, the baby developed diarrhoea and lost weight. Her hair became silky and her stomach swelled.
It was not until Aywek joined the parent support group under EAMNCH, learnt better child feeding practices and started preparing ekitobero for her that the girl's health improved. A baseline survey done by the project in 2011 revealed that over 4.8% children were wasted in Lagoro and 6.9% children in Mucwini.
About 17.4% children were stunted in Lagoro, while 19.4% were too short for their age. The parent support group helps mothers during pregnancy and breastfeeding and teaches them proper feeding practices for both the mother and the child. They are also encouraged to attend antenatal clinics and to take their children for immunisation.
Aywek's daughter is among the hundreds of children whose lives have been saved from malnutrition that ravaged the region during and after the two-decade civil war in northern Uganda. Malnutrition still ravages the country, affecting millions of children and women.
The Uganda Demographic Health Survey 2011 indicates that 33% of children aged five years and below are stunted, 14% are underweight and 5% are wasted. In Uganda about 250,000 children aged five years and below suffer from acute malnutrition, with 360 children in this age group dying daily from conditions such as diarrhoea, anaemia and respiratory infections.
Nutrition interventions could save at least 120 of these children daily. Failure to breastfeed and to implement adequate complementary feeding are some of the major contributors of malnutrition and ill-health in the country. The Cost of Hunger Report 2013 by World Food Programme and National Planning Authority estimates that the country loses sh1.8 trillion (5.6% of its gross domestic product) as a result of under-nutrition.
There is evidence that countries with a high burden of malnutrition have a slow economic growth; malnutrition affects development in terms of education and productivity. EAMNCH is a regional initiative implemented in four East African countries; Uganda, Kenya, Tanzania and Rwanda. In Uganda, the project operates in two sub-counties of Mucwini and Lagoro in Kitgum district by ensuring a range of health care services from the household level to the health facilities.
The project aims at improving maternal, newborn and child health care in the communities. "Our focus starts from pregnancy, considering that the 1,000 days; a period between conception, through the child's second birthday, is critical in ensuring the child is well-nourished," said Richard Muhumuza, the project manager EAMNCH

Benefits

EAMNCH-project benefiting community

Child feeding practices
Through the parent support groups, hundreds of mothers have been taught and encouraged to breastfeed to ensure their children grow up healthy. Susan Lalweny, 28, a mother of five says she did not get a chance to exclusively breastfeed her first four children for the recommended six months because she was ignorant of the benefits.
However, a year ago while pregnant, Lalweny joined a parent support group in her village learnt how to breastfeed exclusively. "The longest I exclusively breastfed my babies was four months, before introducing semi-solid foods.
But with the knowledge I have acquired, I have managed to breastfeed my baby for six months and I am now planning to introduce semi-solid foods," she confesses. Bako says initiation of breastfeeding in the first hour of birth is crucial as it determines the child's growth patterns.
true
Mary Achayo a beneficiary picks vegetables in her backyard

What the project does
Boosting maternal nutrition Agnes Bako, the head of nutrition at the health ministry, says fighting malnutrition begins with properly fed mothers. A well-balanced diet gives an expectant or breastfeeding mother adequate breast milk. To ensure maternal nutrition, households received a pair of rabbits and chicken.
Susan Adong, a mother of seven and a resident of Akayolitwac, says due to the project, she now rears chicken and rabbits, which supplement their diet. Muhumuza says they chose to give out rabbits and chicken because they are a good and cheaper source of proteins, they are easy to rear and they multiply faster.
Alice Anyeko, a mother of seven, says the project has taught her how to grow vegetables in her backyard to supplement her family's diet. She was also given an improved and fast maturing variety of sweet potato vines.

Community outreach
EAMNCH incorporates antenatal and post-natal care, family planning services and elimination of mother-to-child transmission (EMTCT) in the immunisation outreach programmes because many mothers who take their babies for immunisation also require these other services.
Patrick Odong-Otto, a father of four and a resident of Likol B in Mucwini, says due to the sensitisation drive by village health teams, he now accompanies his wife to antenatal clinics, something he never used to do.
Child growth monitoring
Christine Abwol, a mother of four and a group leader of a parent support group, says they teach the mothers how to feed their children on a balanced diet and encourage them to take them for immunisation. George Opwonya, a father of two testifies that the health of her children has improved because he takes them for routine immunisation during the outreaches organised by the project.

Challenges
Muhumuza says they still face challenges of accessibility because of bad roads. In addition to the poor health seeking behaviour, the community has a high rate of teenage pregnancy, yet the teenage mothers fear to seek services due to stigma. He says they lack manpower for the antenatal outreaches.
Alcohol abuse is common in the area, which, according to Muhumuza, forces pregnant mothers to shun medical services as they are drunk. This affects their health and that of their unborn babies.

Sustainability
The project works with the health ministry and the district local government. Muhumuza is optimistic that the district will continue implementing the initiatives when the project closes.
Mothers' support project improves lives in the north