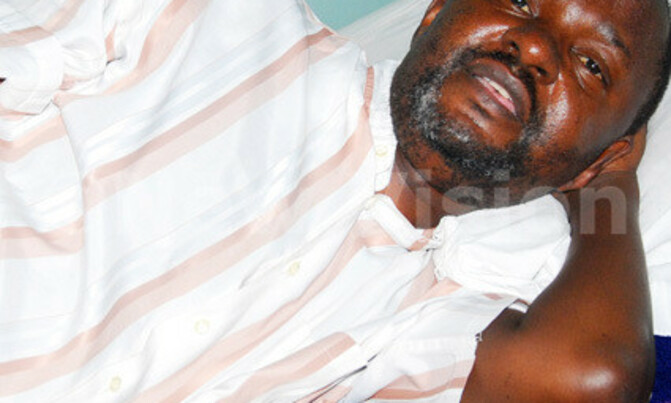 53-year-old Bernard Tayebwa is appealing to philanthropists for sh115m, to undergo a kidney transplant in India.
53-year-old Bernard Tayebwa is appealing to philanthropists for sh115m, to undergo a kidney transplant in India, due to End stage kidney disease.

Speaking from his bed at Mulago National referral hospital ward 6B, a former Makerere University lecturer and author of the popular Basic economics pamphlet for A-level told New Vision that the ailment resulted from hypertension and diabetes from which he has suffered the last 15years.

On Tuesday 18th August there will be a fundraising meeting at the Hotel Africa pool side at 4:00pm. Well-wishers can also wire their contribution to Centenary bank on account number 3710000588, Tayebwa Bernard or mobile money 0772415594.

Three months ago, his feet started swelling and tests revealed elevated levels of urea in his system because the kidneys were failing.

"I was put on dialysis (the artificial process of eliminating waste from the blood) and the doctors hoped that the kidneys would finally catch up in vain, now I need a transplant," Tayebwa narrates.

Tayebwa was forced to quit work and barely has any savings left owing to the costly treatment, which has so far cost about sh15m. Currently, his family is spending over sh500,000 weekly on dialysis.

He undergoes two sessions a week, each costing sh200,000, exclusive of medication of sh150,000 a week.

Tayebwa has been an outpatient, only going to hospital to undergo dialysis but with the on and off infections he has had to be admitted.

"When I get infections, I vomit excessively and sometimes I have to be rushed here in an ambulance," says Tayebwa.

Robert Kalyesubula, a nephrologist and head of the renal unit at Mulago says that End stage kidney disease means the condition is irreversible.

"He needs dialysis but a transplant is the most viable solution because dialysis is very expensive and time consuming," Kalyesubula explains.

The nephrologist further explains how hypertension led to kidney failure.

"The kidney has small blood vessels. High blood pressure can damage blood vessels in the kidneys, reducing their ability to work properly. When the force of blood flow is high, blood vessels stretch so blood flows more easily. Eventually, this stretching scars and weakens blood vessels throughout the body, including those in the kidneys," he explains.

He further notes that when the kidneys' blood vessels are damaged, they may stop removing wastes and extra fluid from the body.

Extra fluid in the blood vessels may then raise blood pressure even more, creating a dangerous cycle.

A letter from Mulago National referral hospital, details a breakdown of the required funds including transplant surgery, air tickets for donor, patient and attendant, intensive care unit, drugs, hotel costs and dialysis treatment at a total of 115m .


Related to the story

Kidney Failure- Akello in dire need of a transplant

Red meat lovers have more kidney cancer:study


Renowned economics lecturer seeks sh115m for kidney transplant