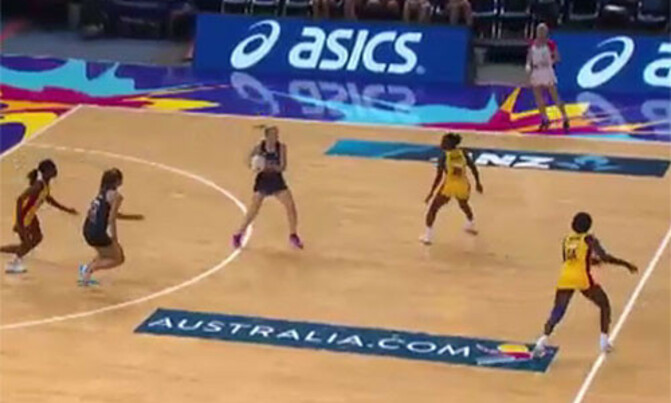 The She Cranes suffer their heaviest defeat of the 2015 Netball World Cup against second-ranked New Zealand.

true
  By Joseph Kizza




The She Cranes suffered their heaviest defeat of the 2015 Netball World Cup against second-ranked New Zealand in their final group game inside the Allphones Arena on Friday.

The Silver Ferns, who are unbeaten in this tournament, easily brushed aside their Ugandan opponents 76-33 to storm the semifinals as Pool E winners.

For Uganda, next is the playoffs on Saturday ahead of the placing games.

 

(Credit: nwc2015.co.au)


The She Cranes, already out of the race coming into this game, rested goal shooter Peace Proscovia and goal attack Racheal Nanyonga – for Stella Oyella and Florence Amono – for the first quarter.

But the fresh introductions failed to cope with the speed and sturdiness of their more illustrious opponents. Oyella only scored one of her two attempts while Amono managed two from four attempts. New Zealand, on the other hand, had hit 20 goals by the end of the opening quarter.

In a bid to reduce further ship-wreck, skipper Proscovia and Nanyonga were swiftly recalled – and their influence was instantly evident. Their presence on court in the second quarter did well to slow the onslaught by the dominant Silver Ferns.

Proscovia was 100% accurate in this quarter, scoring 10 of all her attempts, while counterpart Nanyonga buried three from five attempts. By half time, New Zealand was leading 39-16.

In a first ever encounter between the two sides, the gulf in class played out ever clearly on court as the Kiwis stretched their lead further in the third quarter, finishing as strongly as they had in the opening quarter.

Leading by 32 goals, the Silver Ferns returned for the final quarter to wrap up a contest already long settled.

Friday's was She Cranes fourth successive defeat, having started the campaign well with wins over Zambia and Fiji. The other three defeats have been against Wales, Malawi and Jamaica.
 

The She Cranes (in yellow) struggled to keep up with the Silver Ferns. (Credit: @netballworldcup/SnappyTV)

Meanwhile, African sides Malawi and South Africa failed to make the semis. The Malawi Queens were edged 63-62 by Jamaica in an earlier Friday duel in Pool E.

Later, in Pool F, despite an improved second half performance, the South Africans were beaten by England 62-46, to earn the Roses a semifinal place as group runners-up.

Saturday's semifinals will see holders Australia, four-time champions New Zealand, world number four Jamaica and England, who are ranked third, battle it out for two places in the final.

The 2015 final is due on Sunday at the Allphones Arena in Sydney.

Meanwhile, Zambia, the only African side not to make it to the top eight, registered their first win of the tournament by convincingly beating Singapore 67-36 in Pool G.



Where Uganda's goals have come from

Goal shooter Peace Proscovia (captain) – 194 goals

Against: Zambia (56), Fiji (37), Wales (26), Malawi (38), Jamaica (18), New Zealand (19)


Goal attack Racheal Nanyonga – 110 goals

Against: Zambia (10), Fiji (24), Wales (21), Malawi (15), Jamaica (29), New Zealand (11)


Goal attack Stella Oyella – 9 goals

Against: Zambia (8), New Zealand (1)


Goal shooter Florence Amono – 2 goals

Against: New Zealand (2)

TOP 10 GOAL SCORERS SO FAR
true





Also related to this story

World Cup: She Cranes fail to reach semis

Road to semis: She Cranes fail Malawi test

Netball World Cup: Uganda suffers first defeat

Uganda beats Fiji in Group D meet

She Cranes ease past Zambia in opener



New Zealand too strong for She Cranes