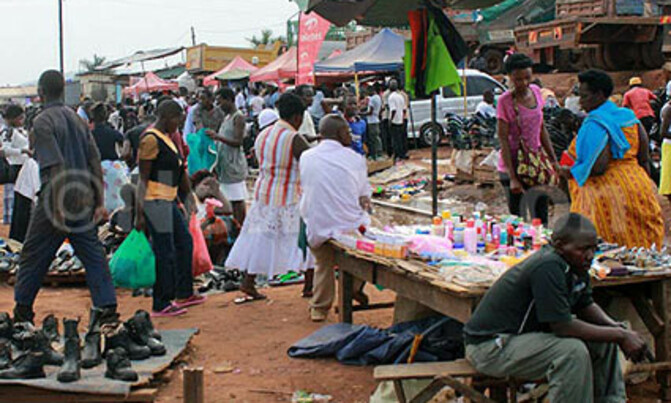 Come a major football match final or Martyr's Day, and this area becomes a beehive of activity.

By Titus Kakembo

Come a major football match like the Nations Cup qualifier final or Martyr's Day, and this area becomes a beehive of fans, hawkers, flesh peddlers, drunkards and pilgrims. That is when hardware shops and other retailers instantly diversify their business to include beers and spirits.

Welcome to Kireka.

Some residents improvise compounds to serve as parking spaces at the Rehabilitation Center, The Maize Mill and compounds along Namugongo Road for sh1000. Placards are carried showing directions and the rates charged.

Face painters make money with their art brushes and paints at sh1000 per head. Music blares from speakers as revelers sing along popular hits like Eddie Kenzo's Sitya Loss, Angela Kalule's Katikitiki or Jose Chameleon's Katupakase.

Among the popular hangout joints you will find here are Victoria Bar, Eastern Route, Whispers, Blue Pub and Planet One.

Karamoja MPs frequent Monica's nameless pub where a skewer of pork goes for sh3000. And as they sip a chilled beer, hawkers besiege them with popcorn, boiled ground nuts, second-hand shoes and clothes.

Commuter motorcyclists (boda bodas) have a field day shuttling a trip for between sh1000 and sh5000 depending on one's haggling skills. One rider, John Otim, says on a good day he goes back home with more than sh80,000.
 

Like a pair tongs, deft pick pockets make fast bucks from unsuspecting pedestrians and drunkards in crowds. To avoid them, highbrow folks opt for serene places – Sports View, Eastern Route or Caravan Hotel.

In Kireka, an ordinary day always begins with sirens as Kabaka Ronald Mutebi II's convoy sizzles down from his palace. On board are his guards neatly dressed in white tunics and strapped with bark cloth. They are armed with spears and shields. The boda bodas elongate it right to the Kampala/Jinja highway with hoots blaring. A music vendor slots in the Buganda Kingdom anthem.

"In the morning he goes jogging with his dog," reveals an elderly resident, John Lugya.

"Sports is in his blood. I remember his dad Sir Edward Mutesa II was such a skilled dribbler of football. He even qualified for the national team but his royal status could not allow him on the pitch.

"But in the 1950s he was a regular in Nakivubo and Wankulukuku stadiums. You would see him move a limb, raise an arm when a shooter missed a scoring opportunity," recounted Lugya with nostalgia.

And talk has it that President Yoweri Museveni once resided in Kireka before waging the Luwero Triangle war.

"I do not know the specific house but he stayed with his colleague Ruhakana Rugunda (now Prime Minister)," recalls Moses Sebuwufu.  "That was before the construction of Mandela stadium. The only restaurant we had was Nassanga. And there was a butcher operating under a mango tree where the main market is."

"Where the Northern Bypass is today was a den of thieves," recalls Sebuwufu, adding: "St Stephen Church of Uganda was too small and we called it Ka kanisa. The Kamuli section was very rural with gardens and burial sites."
 

Ever since Namboole stadium was built, Kireka has never been the same again. (Titus Kakembo)

At a glance, Kireka carelessly sits astride the Kampala/Jinja highway, with mud and wattle houses being replaced by malls. The traditional duka (shop) is in stiff competition with modern super markets.

"I love the customer care service in a duka," confides Ramla Kagimu. "There the attendant chats about politics, family and the economy. Not the kind of service you get in the more modern big supermarkets."

The weekly market day along the railway line is still a crowd puller. There you get cheap second-hand or pirated products. The bargain habit has been elevated to a profession.

In the Katale (market) you will be sure to catch some dramatic scenes unfold amongst buyers and seller: You could be just in time to watch a buyer faking a walk-away – in protest – so that the dealer reduces the price. And when he is called back, for the new deal, the buyer hurriedly digs into his pocket for cash and slaps the money in the seller's hands before dashing off. Both parties happy? Perhaps.

Now that's Kireka for you!
true
KATALE DAY:  Every alternating Thursday is market day along the railway line. (Credit: Titus Kakembo)

You will be able to buy a variety of stuff during the market day. (Credit: Titus Kakembo)

 

Activity grinds to a halt as the train snails its way to or from Kampala at 20km per hour. (Credit: Titus Kakembo)
true
Victoria Bar/discotheque, where the volume knob turns only to the right. (Credit: Photo by Titus Kakembo)

'SIDE MIRRORS':  Roasted pork ears are booked two days in advance, considering the demand for them is much higher than the supply.  (Credit: Titus Kakembo) 
true
Sports View Hotel where the sophisticated class dine and wine. (Credit: Titus Kakembo)
 
Up and about in . . . Kireka