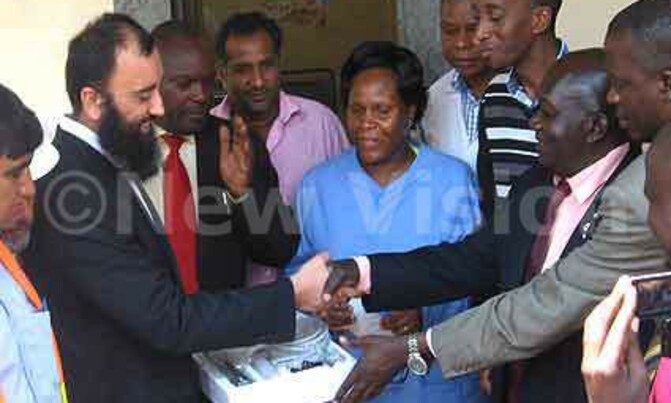 Lahore University has donated a consignment of dental equipment to Masaka regional referral hospital.
By Dismus Buregyeya   

Lahore University has donated a consignment of dental equipment to Masaka regional referral hospital.

The University Chairman, Prof Raoof Awais delivered the equipment on Monday this week.  The equipment included surgical beds and dental elevators.

He said the Pakistan-based university offered to equip the Masaka Regional referral dental unit due to the insufficient and old equipment they found in the unit last year.

The Unit also lacks a dental surgeon, according to the hospital board chairman, Dr Joseph Musitwa.

Prof Awais said they were shocked to find one dental officer attending to over 50 patients in Masaka dental unit.

 
Hospital staff look on as Pakistani officials unwrap the equipment
He said Lahore University will  continue to strengthen the capacity of the hospital dental unit in the near future to improve service delivery.

"In Pakistan each dental officer handles at least 5 patients a day, I was shocked  to find one dental staff in Masaka hospital handling 50 patients per day; we decided to donate the latest modern dental equipment in appreciation for the hard work of the Masaka hospital dental  staff," he said.

He noted that the over congestion of patients in Masaka hospital dental unit was due to the one operational chair in the unit.


Prof Awais and Masaka district officials tour the proposed site of the modern diagnostic centre
He said the regional hospital dental unit needs at least 24 operational chairs.  He said hospital dental units should avoid factors which may lead to infections.

Prof Awais said the Pakistan government and Lahore University have embarked on the construction of a modern diagnostic centre in Masaka Regional Referral hospital to boost its capacity in handling complicated diseases.

 He said the construction of the five storied centre in Masaka hospital will cost over US$5m.  He said under the programme, Lahore University will construct Equator University of Science and Technology in Masaka.

The Masaka deputy RDC,Joseph Ssekasamba commended Lahore University for empowering the hospital to suit the referral standards.

The dental unit in-charge, Dorothy Lugemwa, said the unit has been referring patients to other hospitals due to lack of adequate and modern equipment.

"We have not been able to handle many dental cases, but now the unit is well equipped," she said.

Dr Lugemwa said the unit lacks adequate staff. The Masaka district LC 5 Chairman, Joseph Kalungi attended the function.

 
Pakistan donates modern dental equipment