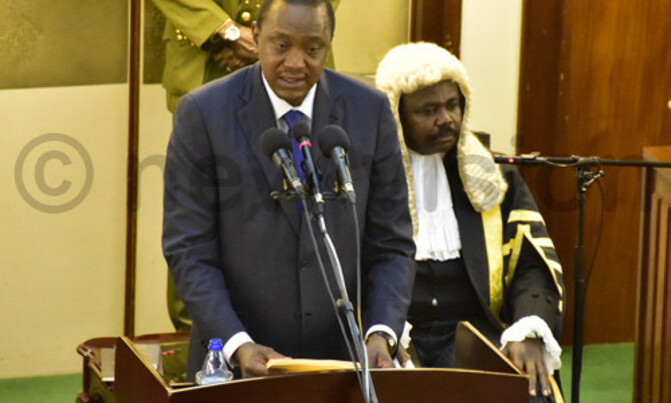 Dressed in a dark blue suit, President Uhuru Kenyatta was accompanied to Parliament by President Yoweri Museveni
By Mary Karugaba and Moses Mulondo
IT was one of those rare exciting days when two presidents address the national parliament.
Dressed in a dark blue suit, Kenyatta was accompanied to Parliament by President Yoweri Museveni. The two presidents were received at Parliament by deputy speaker of Parliament Jacob Oulanyah and the clerk to Parliament Ms Jane Kibirige. 
At half past midday, the two Presidents entered the chambers, to applause from a fully packed House. Some members had to listen to the presidents' presentations while standing prompting President Museveni to refer to the chambers as 'Kafunda' ( small congested house).
"I didnt know that you are still staying in Kafunda . This chamber was built in 1960 for only 82 members. This is where I have problems with my friends, what they call history, I call it current affairs. You are now almost 500 but that is a topic for another day," Museveni said in his opening remarks sending members into laughter.
In his speech, the President emphasized the issue of integration which he said centers on security and prosperity.
 true
true
true
"You cannot have prosperity without production. When you produce, someone must be there to buy. If this does not happen, you cannot thrive,' he said.
The jovial Kenyatta talked about issues of economic integration, security in the region and infrastructure development.
He thanked the Ugandan government especially President Museveni for his efforts in ensuring peace in the region.
He emphasized the need for the two countries to work together achieve the common goal.
"When you want to walk for a long distance, walk with others.  The boundaries that separate us are boundaries that were created by colonialists and as leaders, our efforts should be directed to how to remove these barriers," he said.
 true
true
After his speech, several MPs positioned themselves strategically to shake his hand. He talked and joked with many of them.
Kenyatta and his wife, Margaret arrived in Uganda on Saturday for a three day state visit at Museveni's invitation. He is accompanied by an entourage comprised of a number of his cabinet ministers.
The last Kenyan president to address Uganda's parliament was Mwai Kibaki in January 2012 when he called upon countries in East Africa to diversify their economies, mechanize their agriculture, industrialize and enhance tourism, among other issues.
Earlier in 2007, Queen Elizabeth of England too addressed Ugandan lawmakers during the Commonwealth Heads of Government Meeting in Kampala.
Inaugurated in April 2013, Uhuru's presidency has seen a marked improvement in relations between Uganda and Kenya with the two countries sharing ambitious infrastructural projects.
The highlight of these projects is the standard gauge railway set to link Uganda and Rwanda to Kenya's maritime port of Mombasa.
Kenyatta hails Uganda-Kenya ties