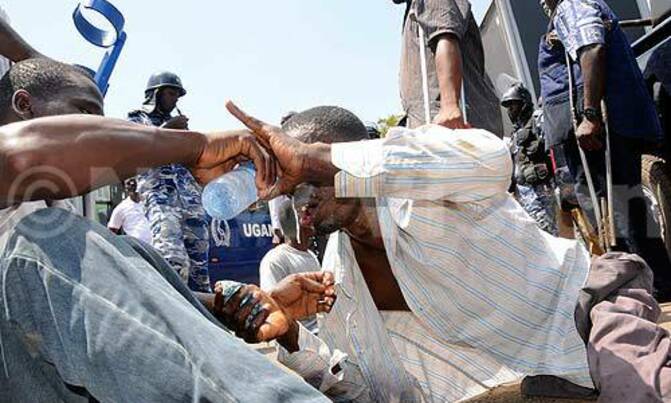 Persons with disabilities (PWDS) have protested the move by a Pentecostal pastor to evict them from ''their'' land in Wandegeya, a Kampala suburb.
By Umaru Kashaka 

KAMPALA - Persons with disabilities (PWDS) under their umbrella body, Abalema United Efforts Association, have protested the move by a Pentecostal pastor to evict them from 'their' land in Wandegeya, a Kampala suburb.

This association of over 27 members which has survived eviction on several occasions, on Monday staged a demonstration at the Uganda Land Commission offices in Kampala opposing the eviction by by Bishop Patrick Baligasima and Tirupati Company.

Lying in the middle of the road on Parliamentary Avenue with their placards raised in the air, the group blocked traffic for almost two hours, forcing Police to intervene by teargasing several of them.
 
true
A PWD lies beneath a police patrol Pick up in the middle of the road during the demonstration. PHOTO/Abu Mwesigwa
"We want our land and we're not going to leave this place until we've met the lands chairman (Joash Mayanja Nkangi). We've been turned away many times at the High Court land division without even hearing from us," their chairman, Daniel Kizza, said.

He added: "We want the Court to give the case ample time before determining the fate of 'our' land because even the minister (Idah Nantaba) directed that we shouldn't move from this land until the order comes from State House which gave us the land."

The land in question which measures about half an acre is located on Plot 175 Bombo Road in Wandegeya.

They claimed that it  was given to them by President Museveni in 2005 to use it for development but rumours are abound that it has already been sold to a pastor.

The land is dotted with a washing bay, kiosks and eateries that were set up by the PWDs.

Documents obtained from the protesters indicate that they were raised by Salvation Army but hatched an idea of forming an association that would bring them together upon resettlement.

It's alleged that the Salvation Army connived with the Uganda Land Commission to take over their land under pretext of continuing to look after them.

The Land title, they said, is with the Salvation Army which claims the land in question legally belongs to them.

Nkangi who finally emerged from his office, urged them to remain calm and appeal the imminent ruling if not in their favour.

"This matter was taken over by the state minister for lands (Nantaba) and even the High Court is going to give a verdict this week. Why can't they wait and see,"Nkangi told journalists.

The High Court is expected to deliver the ruling on the matter this Thursday.
PWDs protest ''illegal'' eviction