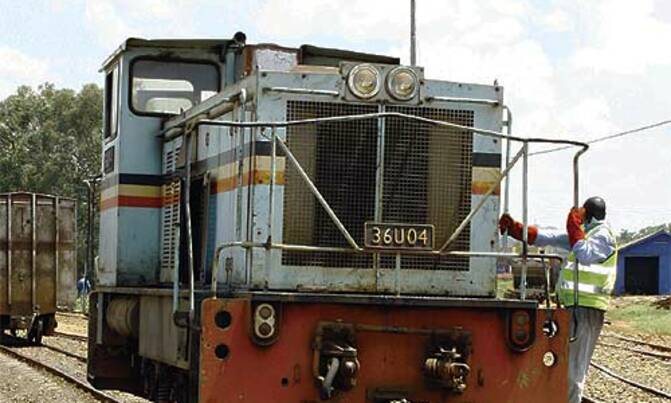 With free movement of goods and labour, it would be much easier to employ the best minds and access markets for his cheese, milk and butter and competing on a level playing field.
By Samuel Sanya & David Mugabe
If he had his way, Edison Muzora would supply much of East Africa with milk from his farm in Kigezi.
With free movement of goods and labour, it would be much easier to employ the best minds and access markets for his cheese, milk and butter and competing on a level playing field.
 
The young business graduate earns under $100 each month. He is quick to admit that his dreams may not see the light of day unless certain radical steps are taken by the East African Community as a bloc.
 
More than 70% of Uganda's population is below 30 years. The situation is similar in Kenya, Tanzania, Rwanda and Burundi due to a generally high fertility rate in the region.
 
A high fertility rate and large youthful population make the task of reaching middle income status more daunting for the region.
 
Wolfgang Fengler, a World Bank economist, notes that at current rates of economic growth the East African region can hit middle income status in the 2030s.
 
Kenya has the highest annual average income per individual at $784 in 2011, Rwanda at $556, Tanzania at $546 and Uganda at $526.
 
Achieving the average $1,000 middle income level will require a hat trick of high economic growth, significant poverty reduction and reduced income inequalities.
 
World Bank reports indicate that Uganda needs to create at least two million jobs every two years for the next ten years to absorb the bulging youth labour force and to grow incomes at a household level.
 
Amelia Kyambadde, the trade minister, noted that countries in the East African Community (EAC) are opting for joint energy and infrastructure projects due to the enormous cost and scale of some ventures.
 
The number of shared projects between countries in the EAC and the wider Common Market for East and Southern Africa (COMESA) are on the rise. It is hoped that lower costs of business, free movement of goods and labour, reliable power and efficient transportation systems will improve business margins and individual incomes as the region steers towards middle income status.
 
Mombasa- Nairobi-Kampala-Kigali railway


Construction and rehabilitation of the railway linking Mombasa to Kigali through Uganda will kick off in November this year and be completed by March 2018.
The weight of heavy cargo trucks on Uganda's roads causes wear and tear worth an estimated $21m (sh54b) annually in maintenance costs. The railway will cut this cost.
 
When successfully completed, the new rail infrastructure will spiral the region's competiveness by moving larger cargo volumes much faster and deliver larger business margins.
 
The railway is expected to cost $5b (sh13 trillion), nearly Uganda's total annual budget.
 
Presidents from the five East African countries agreed recently in Mombasa to set up monitoring and evaluation mechanisms to ensure the project finishes on schedule. Also included is the Tororo-Gulu-Nimule railway line which will be upgraded to standard gauge railway line by March 2018 to unlock the South Sudan markets.
 
The railway line from Kigali to Bujumbura will be also extended by March 2018 to connect the entire EAC region, boosting integration efforts. East African Community partner states are expected to confirm their participation in the development of the Uganda oil refinery by October 15, 2013.
 
Already EAC countries have noted that necessary measures will be taken to ensure that the South Sudan- Lokichar- Hoima crude oil pipeline will be integrated into the larger South Sudan – Lamu port pipleline project project.
The Government is currently in discussion with oil companies to finalise the oil sector commercialisation plan.
 
The discussions are nearing the end after which specific measures will be taken at the East African level by December 31, 2013.
 
Single visas, national IDs

Provisions for a single East African visa for visiting tourists and the use of national ID cards as travel documents will be implemented by January 1, 2014. This will improve competitiveness of region.
 
South Sudan and Somalia have applied to join the East African Community; negotiations between the countries and the EAC council of ministers are currently under way.
 
Once admitted, the EAC markets will grow by 20 million people to 155 million and increase the EAC combined GDP by $21b to $105b.
 
Much progress has been made in linking the tax systems of Uganda, Kenya and Rwanda as well as the decision to limit weigh bridges.
 
However, William Busulwa of the Uganda National Transporters Association (UNTA) points out that there is need to harmonise trade and transportation laws in East Africa.
 
While Kenya revised its transport laws this year to allow a maximum weight of 50 metric tonnes per truck, Uganda still applies a 2011 transport law which stipulates a 48 metric tonne limit. The discrepancy causes delays and unnecessary fines.
 
"We are really happy with the changes President Kenyatta has implemented in such a short time. We need the Ugandan Parliament to harmonise our laws with Kenya's laws," he said.
 
He explained that specific weight and size standards should be given to shipping lines and that proper inland truck parking spaces should be gazetted to avoid having trucks parking by the roadsides.
 
The Tanzania-Rwanda situation

In addition to the single tourist visa, there are several projects between individual EAC country states that will fast track regional integration.
 
Despite the standoff between Tanzania and Rwanda over the expulsion of Rwandan settlers in the Kagera region, the two countries are finding a diplomatic solution.
 
Tanzania and Rwanda share a lot of of history and have plans to develop a railway linking Isaka in Tanzania to Kigali and from Tanzania to Musongoti in Burundi through Rwanda. Lawrence Mujuni of the Ministry of East African Affairs says everything is moving according to plan.
COMESA infrastructure meet

Uganda joined the preferential trade area of the Common Market for East and Southern Africa (COMESA PTA) and will adjust its laws to allow tax free imports and enjoy similar treatment within the region.
 
Ministers and donor organisations are set to meet in Uganda this weekend to raise funds aimed at fast-tracking joint infrastructure projects within the region.
 
Presentations for projects worth a combined $60.7b (sh158 trillion) which are either ready for implementation or in the pipeline in the 19 COMESA countries will be made and funding commitments made by donors at the Imperial Royale hotel.

Power interconnection projects, ICT projects and railway projects will connect Uganda and East Africa to Southern Africa to create a mega market of 400 million people.
Intra-COMESA trade is currently at $18.4b and is likely to grow with better terms of trade and more efficient infrastructure.
Joint projects to usher in middle income status