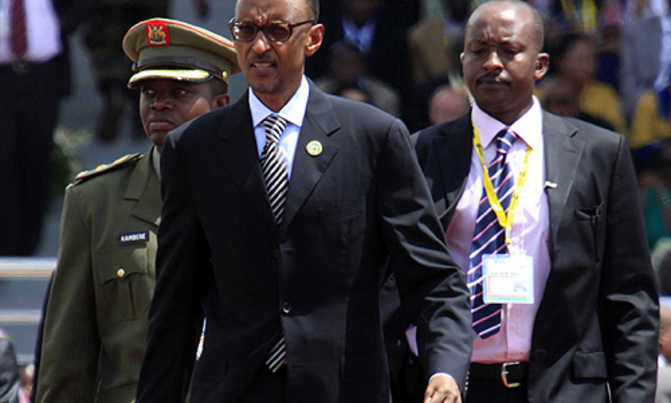 Rwandans vote Monday in parliamentary elections set to bolster the ruling party and highlight the stability of a country wracked by genocide.
KIGALI - Rwandans vote Monday in parliamentary elections set to bolster the ruling party and highlight the stability of a country wracked by genocide nearly 20 years ago.

With Rwanda's economy one of the continent's fastest growing, the government is keen to show off the elections as a badge of its democratic credentials, despite fierce criticism dismissing the polls as a sham.

In stark contrast to election campaigns in many other African nations, the race for 80 seats by 410 candidates has so far generated little if any excitement in the capital Kigali.

Only a few posters -- mainly for the ruling Rwandan Patriotic Front (RPF) of President Paul Kagame, who has held power with an iron fist since 1994 -- suggest the vote is coming.

Experts say there will be little if any real political challenge to Kagame's ruling RPF, which heads a coalition of smaller parties.

"There won't be any surprises," said Andre Guichaoua, an expert on Rwanda at the Sorbonne in Paris.

Some six million people are eligible to vote, with direct voting Monday for 53 seats, followed by a further 24 seats reserved for women to be chosen Tuesday by women's groups and local councils, and then on Wednesday, representatives of the youth and the disabled will be named.

The last elections in 2008 brought in the only parliament in the world where women held a majority, with 56.3 percent of seats.

Rwanda has undergone a dramatic transformation in the past two decades, with powerful economic growth and the strangling of corruption credited to the strong rule of Kagame.

The World Bank's ease of doing business index for 2013 ranked Rwanda 52nd out of 185 countries, and third best in sub-Saharan Africa -- after Mauritius and South Africa.

The small nation was left in ruins by the brutal genocide of 1994, in which 800,000 people, mostly from the ethnic Tutsi minority, were butchered by Hutu extremists.

But critics say the economic growth and security have come at the expense of freedom of expression.

Alongside Kagame's coalition are the Liberal Party, Social Democratic Party and the PS-Imberakuri party, but even though they are outside the RPF-led group, they too have backed the party of the president.

The Liberals and Social Democrats both backed the overwhelming election of Kagame in 2003, and while they put forward candidates for the next polls five years later, that did not stop Kagame from an overwhelming win again with 93 percent of votes.

Meanwhile PS-Imberakuri, whose former leader was jailed in 2010 for crimes against state security and "sectarianism", is now believed to have been effectively taken over by supporters of the ruling party.

These three parties are "satellites circulating around the party in power without challenging its hegemony," said Kris Berwouts, an independent analyst specialising in Central Africa.

Registered political parties "do not play the role of a political opposition", Human Rights Watch said in a recent report, arguing that they do not oppose the RPF but rather "actively support" it, criticising the "harassment" and "obstacles" against those who do challenge it.

Rwanda's Green Party won official recognition last month but chose not to field candidates as it said it did not have time to prepare.

Another large opposition group, the Unified Democratic Forces, is not recognised. It was set up in exile and led by Victoire Ingabire, who is currently appealing an April conviction for conspiracy and minimising the extent of the 1994 genocide in Rwanda. The group has said the elections have "no legitimacy".

Kagame's RPF and its allies held 42 of the 53 directly elected seats in parliament's lower house.

Voting opens Monday at nearly 15,500 polling stations at 0500 GMT.
Rwanda polls to boost ruling party