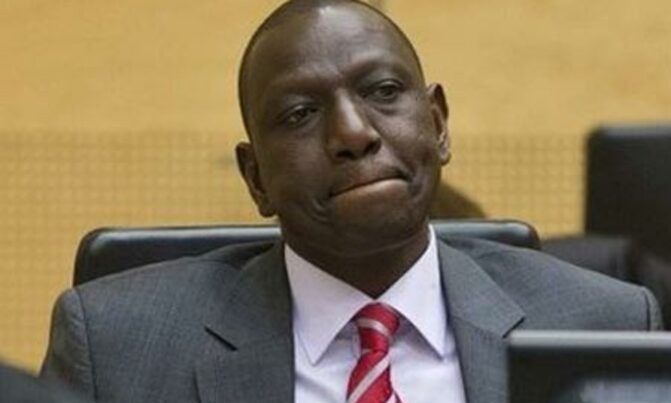 Kenya's deputy president played an important role in the post-election bloodbath that engulfed Kenya in early 2008, the International Criminal Court's prosecutor told judges at the opening of his trial on Tuesday.
THE HAGUE/NAIROBI - Kenya's deputy president played an important role in the post-election bloodbath that engulfed Kenya in early 2008, the International Criminal Court's prosecutor told judges at the opening of his trial on Tuesday.

The most senior serving politician to appear in the dock at the Hague court, William Ruto pleaded not guilty to crimes against humanity in a case that some Kenyans fear could reignite the political violence they have struggled to put behind them.

Ruto and co-defendant Joshua arap Sang are accused of working with other conspirators to murder, deport and persecute supporters of rival parties in the Rift Valley region.

"He assigned responsibilities, raised finance, procured weapons," over the 18 months leading up to the elections, prosecutor Fatou Bensouda told the court. "When the election was lost, he gave the order to attack.

"The crimes of which Mr. Ruto and Mr. Sang are charged were not just random and spontaneous acts of brutality," she said.

"This was a carefully planned and executed plan ... Ruto's ultimate goal was to seize political power for himself and his party in the event he could not do so via the ballot box."

Ruto appeared relaxed ahead of procedings, laughing and smiling with his lawyers, while Sang gave the thumbs-up to a reporter. Dozens of supporters packed the visitors' gallery.

Prosecutors said their first witness, who had been due to speak this week, would not appear until next Tuesday. Some witnesses have pulled out in the run-up to the trial, a setback prosecutors said was due to intimidation.

Ruto's spokesman said the deputy president would return to Kenya on Wendesday, after the prosecutor said witnesses had yet to arrive in the Netherlands. He would then go back to the Hague next Tuesday when the first witness is expected to testify.

Ruto's lawyer accused prosecutors of using tainted evidence and false testimony, and called on them to drop the charges.

President Uhuru Kenyatta, Ruto's former rival and now his political ally, will be tried on similar charges in November.

RAMPAGE

Rival members of Kenyatta's Kikuyu and Ruto's Kalenjin tribes, wielding machetes, knives, and bows and arrows, went on the rampage after the disputed election, butchering more than 1,200 people and driving hundreds of thousands from their homes.

Last year, Kenyatta and Ruto buried their differences, joining forces to win a March election in an alliance they say makes violence unlikely. Their supporters say the court cases risk undoing years of painstaking reconciliation.

Ruto's lawyer, Karim Khan, listed what he said were shortcomings in the prosecution's case.

Contrary to the claim that Ruto, a Kalenjin, hated the Kikuyu tribe, his sisters had both married Kikuyus, Khan said. And, he asked, how likely was it that Ruto had amassed guns and grenades under the eyes of the local Kikuyu police chief?

Khan played a video in which Ruto called for "peaceful" action after the 2007 elections and another in which he pledged to cooperate with the court despite describing the charges he faced as "something only possible in a movie".

The case is a major test for prosecutors at the decade-old ICC, who have had a low success rate and face accusations of focusing too much on Africa. It may also complicate relations between Kenya and the West, which sees Nairobi as central to the fight against Islamist militancy in East Africa.

"LET JUSTICE TAKE ITS COURSE"

At the heart of the violence in the lush Rift Valley town of Eldoret, 300 km (190 miles) northwest of the Nairobi, locals crowded around a television at a restaurant to watch the trial.

"We would have wished that the cases don't take place since we have already reconciled, especially with our Kalenjin neighbours," said Patrick Muchiri, 53, a Kikuyu farmer who was evicted from his home by Kalenjin youths and now lives at a camp housing hundreds of displaced victims of the clashes.

"But since the matter is before the ICC, let justice take its course. However, our concern is that this might create for us a big problem should they find Ruto liable. It would revive old wounds," he said.

In Naivasha, just north of Nairobi, where the worst revenge attacks by suspected members of a Kikuyu militia took place, Josiah Otieno, 34, a tailor, looked forward to justice.

"After years of waiting and suffering, we now believe that justice will be done, and those responsible for our problems punished," said Otieno, who said he was assaulted by militia who set his belongings ablaze.

Kenyan public backing for the ICC has slipped, however. An Ipsos-Synovate poll in July showed only 39 percent still wanted the trials to proceed, down from 55 percent in April 2012.

Kenya's parliament voted last week for Kenya to withdraw from the ICC's jurisdiction, though cases already in progress will continue. President Kenyatta threatened to suspend cooperation with the ICC if he and his deputy were summoned simultaneously, leaving no head of state in residence.

Judges said the cases would alternate at one-month intervals.
 
Ruto orchestrated post-election violence - ICC