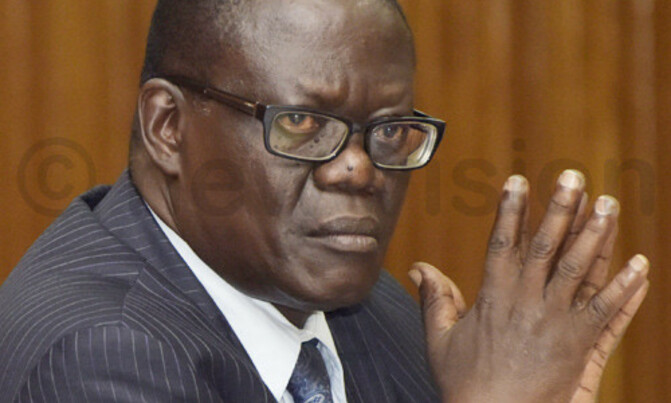 THE former Minister of Works, Eng. Abraham James Byandala, has been remanded by the Anti-Corruption Court after he appeared together with 5 suspects
By Charles Etukuri, Betty Amamukirori & Michael Odeng
THE former Minister of Works, Eng. Abraham James Byandala, has been remanded by the Anti-Corruption Court after he appeared together with 5 suspects and charged over the Katosi Road scam. 
Byandala has been remanded until August 11, when court will again hear the case for bail and mention.
Byandala was arrested on Tuesday over his role in the Mukono-Kyetume-Katosi/Kisoga-Nyenga Road scandal, where Government lost billions of shillings.  
He was arrested alongside five others and charged with 24 counts which included abuse office, causing financial loss, theft, influence peddling, obtaining money by false pretense among others.
 true
Eng. Byandala (L) arrives at the Anti-Corruption Court in Kololo. Photo by Abou Kisige
Eng. Byandala tries to shield himself from the cameras at the court. Photo by Abou Kisige

The arrests follow an investigation by the Office of the Inspectorate General of Government (IGG).  
The others who were arrested include officials of the Uganda National Roads Authority and a city businessman.
The arrested are Sebuga Kimeze (former Ag. Executive Director), Joe Ssemugooma (former Ag Director Finance and Administration), Marvin Baryaruha (former legal Counsel), Apollo Senkeeto alias Kalyesubula Mark (businessman) and Mugote Isaac (former Banker, Housing Finance Bank Ltd).
 true
Eng. Byandala, Apollo Senkeeto, and Sebuga Kimeze were all remanded to Luzira Prison. Photo by Abou Kisige
In November last year, the IGG suspended the project pending investigations into the award process.
"This is therefore to order and direct the Accounting Officer UNRA and the UNRA Procurement and Disposal Unit NOT to entertain any bid by M/s Chongquing International Construction Corporation (CICO) for the works for upgrading Mukono-Kyetume-Katosi/Kisoga-Nyenga Road in the recommended new procurement.
 It is also hereby ordered that no payments should be made to either CICO or EUTAW in respect of the works until further orders from this office or until conclusion of the IGG investigation," a statement from the office of the IGG read in part.
Related stories
I lied to the President, confesses Byandala
Minister Byandala named in Mukono road scandal
MPs grill minister Byandala over Katosi road fund
Tumwebaze to Byandala: Don't drag me into your woes
Mafias want me sacked, says minister Byandala
Minister Byandala remanded over Katosi Road saga