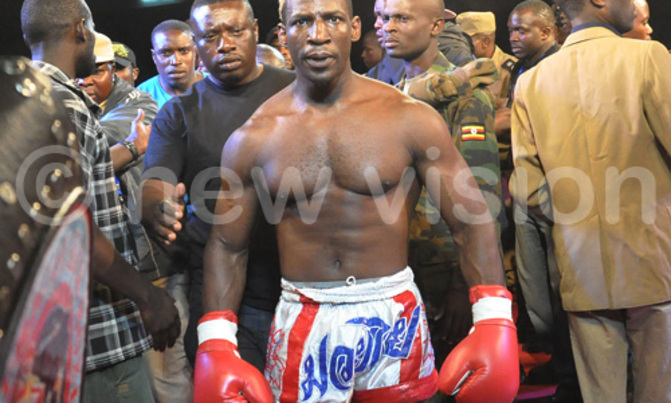 FRESH off the shortest fight of his career, the motor mouthed fighter opens up about his quest for a Heroes medal and retirement plans
By Pius Arinawe 
MOSES Golola has been on the path to redemption after having to cope with fierce criticism from fans after a crushing defeat in 2012. Fresh off the shortest fight of his career, the motor mouthed fighter opens up about his quest for a Heroes medal and retirement plans.
You are coming off the shortest fight of your career. Was that your sweetest win given the circumstances?
I had to put Titus Tugume in his place so it was a sweet win. A knockout can be a plan for any fighter but the preparation for it is the most important part so it starts in the gym and my Dutch coach Andrelina helped me prepare for it.
When in our amateur ranks, I beat Tugume because he was in my weight category. I was shocked he was saying all those things before the fight because I'm sure he knows how good I am. He has never respected me but I deserve plenty of respect for what I have done for kickboxing even if I am not the best kick boxer out there. I have put the game on the Ugandan map.
Tugume isn't a bad fighter but I think he hasn't been through professional hands yet, which is the only way to make him better. Until recently, I was trained by local coaches and they got me to a certain level but they couldn't take me any further.
That is why in education, you don't carry your teacher from nursery school to primary, secondary and university levels. The levels are different. 
I didn't have a professional trainer when I started kickboxing but I knew I had to step up a level and I almost went to Thailand for training but I settled for Nairobi because I found Andrelina was good enough for the job.
If you want to become a better fighter, why then are you reluctant to go abroad and compete there?
Everyone urges me to go abroad and pursue professional kickboxing but I've always had my heart set on making it big at home. You know what they say, east or west, home is best.
The referee jumps in to stop the fight after Tugume was knocked out cold by Golola. Photo by Michael Nsubuga
I love my country so much because I get so much support here. I don't think there is anyone singing Kassim Ouma's name in the US right now. I thrive so much on support something I can't get abroad.
Tugume cried foul after the fight. Is there hope for rematch?
I don't mind a rematch but it isn't the best thing for Tugume. When he got off the canvas, he asked when the fight was going to begin but it had already ended! Professionally, he has to rest for at least 6 months so it will not be the best thing for his career. Right now he is like a computer which has lost RAM.
Kickboxing fans are eager for a fight between you and your good friend Ronald Mugula. Will that ever happen?  
Mugula is my friend but I don't mind fighting him. He is definitely one of the best Ugandan kick boxers, he is very skilled and it would be a great spectacle for fans but it will have to happen at the right time for me. I have nothing left to prove.
I'm grateful for what Mugula has done for the sport locally. I remember one time when we were still amateurs returning from a trip to Kenya and he turned to me and told me he wanted to move to Europe because he was frustrated with the lack of progress at home but I am glad he didn't desert his country.
You were treated to a lot of criticism after you lost to Mate Zsamboki. How did you deal with that?
That was the lowest point of my career. The backlash was severe despite the fact that I was genuinely injured. I love this game so much and I have given it my all and when I was starting out, I didn't have a punching bag or even a pair of gloves so I was heartbroken.
I was called all sorts of things 'Golola simply drinks porridge, Golola is a thief' and things of the sort. I even heard one lady on radio challenging me to a fight. I couldn't get out of the house for a week and many thoughts crossed my mind during that time.
It wasn't until a couple of weeks later when I went to Nakivubo for the opening ceremony of Masaza Cup and got massive cheers; that really lifted me. After that, all I could think about was to redeem myself and I was very determined to do so.
Is Zsamboki the most formidable opponent you've faced thus far?
Not at all. Tanzanian Japheth Kaseba who is now into boxing was probably the strongest I have ever faced. It was in 2006 in Zanzibar. He had very strong low kicks and my legs were swollen after the fight. Andras Nagy was good too but I lost that fight because my preparations were shabby.
Golola suffered a crushing defeat at the hands of Mate Zsamboki. Photo by Michael Nsubuga
My management team was disorganised; I didn't have gloves just an hour before the fight began and so many things went wrong that night and by the time I took to the ring, I was angry and disoriented.
You've talked about development of the game a lot but we've seen many sports die over the years. Can kickboxing survive without you?
I'm glad God blessed my tongue and I'm able to entertain people that way and attract fans to the sport and I want to dedicate my life to kickboxing.
Look at boxing. It used to be very popular but it isn't anymore. You can't blame the president when you have people he has put directly in charge of the ministry; they have let him down. The people in the ministry know nothing about the plight of sportsmen so I don't feel like we are being represented accurately. 
He shouldn't waste resources hiring people to come and preach about patriotism…if this money is put into sports, talented kids will grow up wanting to represent their country and feel proud about it.
When I retire which will be soon, I won't desert the game; I'm only getting started. There are some very talented fighters like Ddamulira 'Ring doctor' Richard, Bukenya Sharif and many others who I want to help develop.
My dream is to have so many top fighters in different divisions and I want there to be at least one major fight monthly.
So you actually habour retirement plans?
I will retire at the end of next year. I have at least 3 good fights left in me but at the moment I am in good shape so I will fight again soon and October is a possibility. I also plan to fight against a Thai fighter before I hang my gloves.
After I retire, I want to dedicate my efforts towards development of the game. I have secured equipment like punching bags and gloves that are going to be distributed all over the country for kids to use. I want to inspire as many kids as possible.
When you eventually retire, what legacy do you want to leave behind?
I want to be known as the man who gave kickboxing its legs in Uganda; its hero. Someone who developed the sport and inspired many others to join the sport. Simple as that. I am also waiting for the president to give me a medal.
Golola plans to retire in 2014