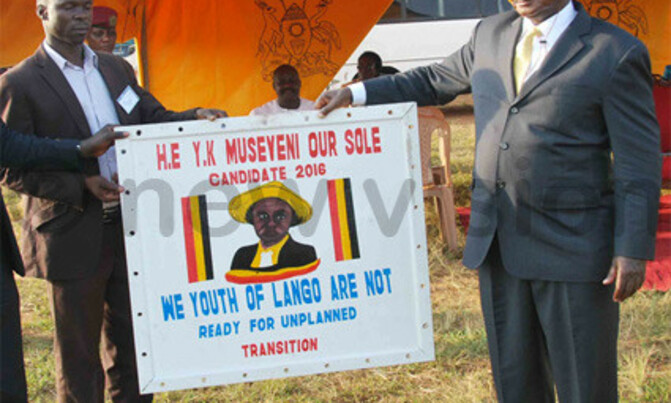 PRESIDENT Yoweri Museveni has said the Karimojong cattle rustlers are no longer a security threat to people in the sub region because of UPDF disarming them
By Patrick Okino
PRESIDENT Yoweri Museveni has said the Karimojong cattle rustlers are no longer a security threat to people in the sub region because the Uganda People`s Defense Forces (UPDF) collected 40,000 guns from warriors during the disarmament process.
Addressing residents of Alebtong district on Wednesday at Alebtong Primary School, President Museveni said there is total peace in the country because the army is strong and accommodates soldiers who were in the previous government.
"Because of the strong army, we have been able to bring peace to the country," Museveni told hundreds of residents who braved the hot sun.
Museveni was in Apac, Kole and Alebtong to popularize the Operation Wealth Creation program being headed by army.
"The Karimojong were spoiled because of guns. These guns were fire, we tried to talk to them to bring back the guns but they could not listen," said added. 
Karimojong acquired guns from Moroto barracks when former President Idi Amin`s regime collapsed and they invaded the barracks and vanished with hundreds of rifles. Since then the warriors started rustling cattle from Lango, Acholi and Teso including killing people.
President Museveni recalled that former President Obote had only 8,000 soldiers and Amin had 20,000 but the guns UPDF disarmed were two times the number of Amin`s army.
"We got 40,000 rifles from Karimojong," Museveni said attracting applause from residents some of who have suffered both at the hands of the warriors and the Lord`s Resistance Army (LRA) insurgency.   
While welcoming President Museveni, residents sung in praises of the NRM chairman led by Ajuri county legislator Denis Hamson Obua.
Museveni, who also commissioned the storeyed district administration block constructed at a cost of sh1.5b, gave an ambulance and a tractor to Alebtong women group and advised people to shift from substance farming and focus on commercial farming.
The district LC5 David Kennedy Odongo (UPC) pledged to vote for President Museveni if Omoro Sub County is split into two new sub counties.
"There is no need to look for votes when this is done," Odongo said. 
Minster of state for northern Uganda, Rebecca Amuge Otengo who is also Alebtong district woman MP also donated one ambulance.
She commended President Museveni for restoring peace in Northern Uganda and working to develop the area. 
Museveni commends UPDF for disarming cattle rustlers