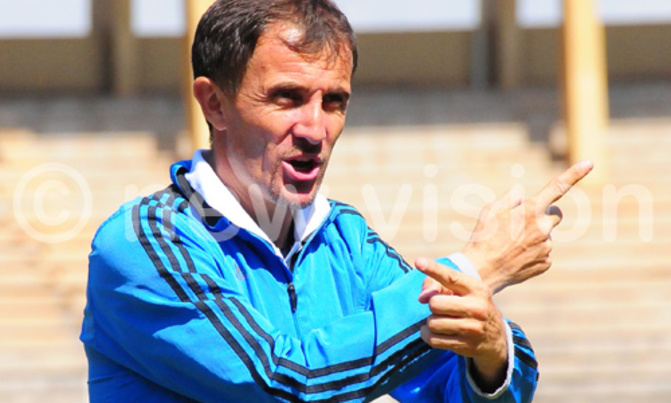 IF Cranes are to successfully mastermind a historic and landmark result against Senegal next week, they will have to find answers to two critical areas
By Fred Kaweesi
International friendly
Saturday
Botswana v Uganda
World Cup qualifier
September 7
Senegal v Uganda
IF Cranes are to successfully mastermind a historic and landmark result against Senegal next week, they will have to find answers to two critical areas.
Apart from ensuring a remarkable improvement on the physical side of their game -an area that saw them bullied throughout the course of the pulsating 1-1 draw in the first leg game, Coach Micho Sredojevic will crucially have to identify a formula that will nullify Senegalese danger man Dame Ndoye.
In brief, if Cranes succumb to the Lokomotiv star, like they honourably did during the Kampala leg, then their World Cup hopes will remain a far-fetched dream.
Ndoye was part of the 23-man star-studded squad that coach Alain Giresse announced on Wednesday for the make-or-break World Cup qualifying fixture in Marrakesh, Morocco on September.
And although the prominent exclusion of Chelsea striker Demba Ba and Papiss Cisse (suspended) offers a certain sense of relief, the biggest challenge that Micho will confront in the next couple of days is how to prepare his back-four and youthful right-back Denis Iguma in particular for the colossal task that will come through Ndoye.
Although Cisse was the man that snatched that all-important lead against Cranes in the first round game, it was Ndoye that run the show for the Lions of Teranga. 
Aside from troubling Cranes in set-piece situations, he rattled then right-back Simeon Masaba all afternoon and from one memorable attack, dribbled through a forest of Cranes legs before setting up Cisse for the lead on 37 minutes.
Over the last couple of months, Micho has been credited for Cranes impressive run in both the World Cup and Africa Nations Championship qualifiers.
But the Lions of Teranga and Ndoye in particular will present an unfamiliar challenge that even his broad shoulders will find somewhat too heavy to carry.
"It's going to be a tough game but if we follow the programme I have organised in Botswana and Turkey then we can have a good chance. We will give everything," Micho told New Vision Sport earlier.
Height disadvantage
The other decision that Micho will need to make in Istanbul is whether to opt for man-to-man or zonal marking in a bid to plot a way round Senegal's 6ft plus stars during set-piece situations.
Man-to-man marking is a defensive strategy where defenders are assigned a specific opposition player to mark while zonal marking is a defensive strategy where defenders cover an area of the pitch rather than marking a specific opponent.
Now the danger with the former is Cranes' back-four of Iguma, Isaac Isinde, Andrew Mwesigwa and Godfrey Walusimbi, whose average height will be 5ft9, are bound to territorially struggle in the air, meaning Micho will have to call upon every bit of muscle to strike a counter-balance.
The visitors will assemble a back-four of Cheikh M'Bengue (6ft), Pape Djilobodji (6ft4) with Lamine Sane (6ft3) and Pape Souare (5ft10) occupying the right and left-back positions respectively. Bouna Coudoul, who is expected to occupy the team's goalkeeping posts, is 6ft2.
The Cranes arrived in Gaborone and will be joined by the foreign-based cast later today.
Cranes will frustrate Senegal only if...